Brownie Bowl Sundaes are an adorable treat to stay cool with this Summer. Smothered in Hershey's syrup and covered with toppings of your choice, every bite will be sure to please.

Sundae, Sundae, Sundae, how can you pass up trying one of these little cuties? So fun to serve and personalize your own delectable dessert. Kids love these, and I loved how easy they were to make. Brownie Bowl Sundaes are perfect for these hot summer nights to cool off , relax, and enjoy every bit of melted ice cream on your spoon.


It is fun to make desserts or mid afternoon treats that kids and adults can customize to their liking. The options are endless and the taste is scrumptious. I used fat free frozen yogurt in mine and lite hershey's syrup to keep the calories a little under wraps and they still were a huge hit. My niece and nephews loved loading up on the toppings and a few of the older kid doubled up on their scoops of frozen yogurt mixing flavors and having fun.


Nothing makes me happier than putting a smile on someone's face as they devour their dessert and are satisfied when they are done. Brownie Bowl Sundaes are simple to make and take on the personality of whoever is creating their own little brownie masterpiece. So stay cool this summer and enjoy every ounce of chocolate that comes dripping off your spoon as you enjoy these Brownie Bowl Sundaes. xoxo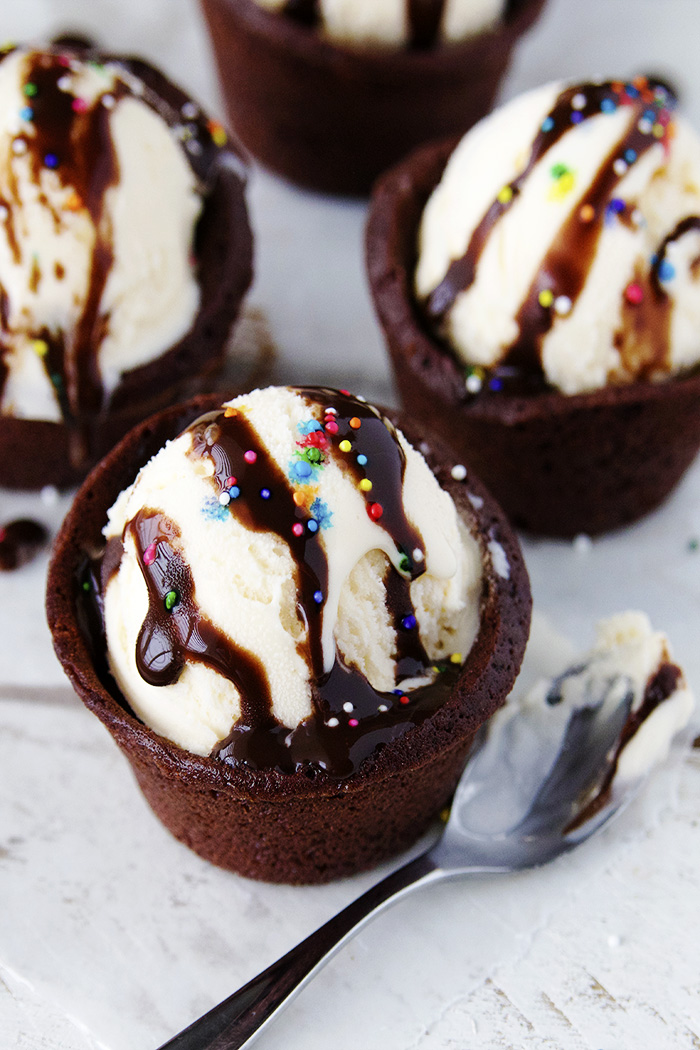 Brownie Bowl Sundaes
2015-08-03 00:45:11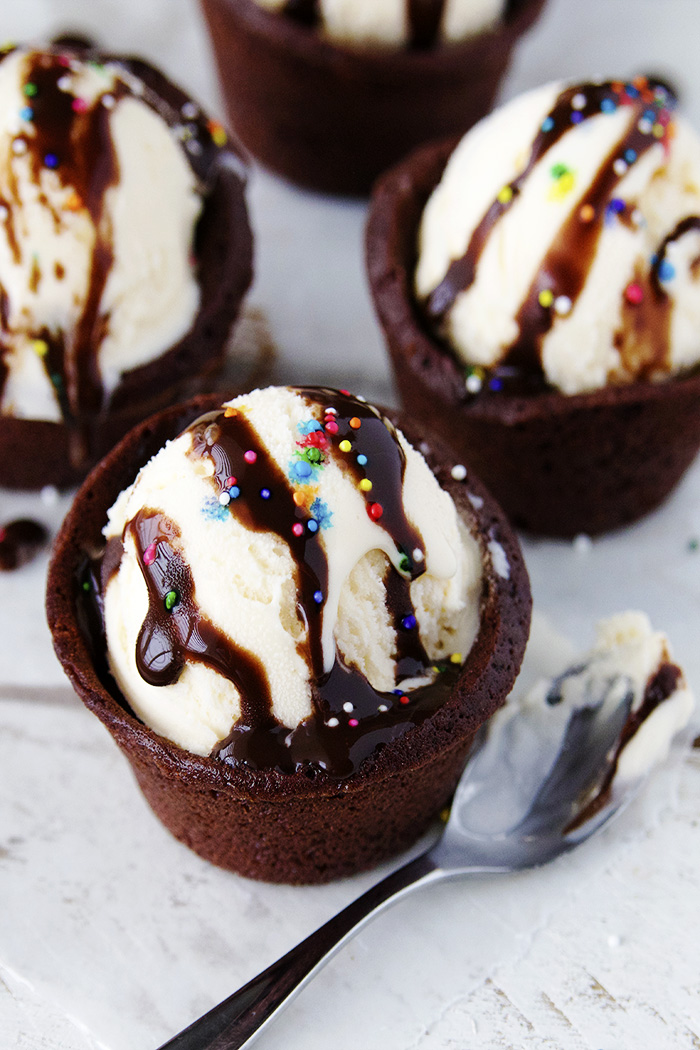 Serves 12
Delicious brownie bowls loaded with all the ice cream and treats your heart desires.
Ingredients
1 box of your favorite brownie mix-prepared as instructed on box
vanilla ice cream or frozen yogurt (or any flavor you like)
Hershey's lite chocolate sauce
sprinkles for topping (or any toppings you and your kids love)
2 muffin tins-same size
cooking spray
Instructions
Preheat oven to 350 degrees.
Prepare your favorite brownie mix as instructed on box
Fill each muffin cup 2/3 full with brownie mix.
Spray the backside of the second muffin tin with nonstick cooking spray. Place the second tin on top of the filled cups, press down slightly.
Bake for 20-25 minutes checking for doneness.
Let brownie bowls cool completely before removing and then fill each with a scoop of your favorite ice cream or frozen yogurt and top with chocolate sauce and favorite toppings. Enjoy!
Adapted from Fred Meyer: MyMagazine
Adapted from Fred Meyer: MyMagazine
Fitness Food Diva http://fitnessfooddiva.com/