Simple, fresh and loaded with hearty ingredients, this Fall Harvest Salad with Pumpkin Maple Vinaigrette is an amazing dinner or side salad for your family and friends tonight.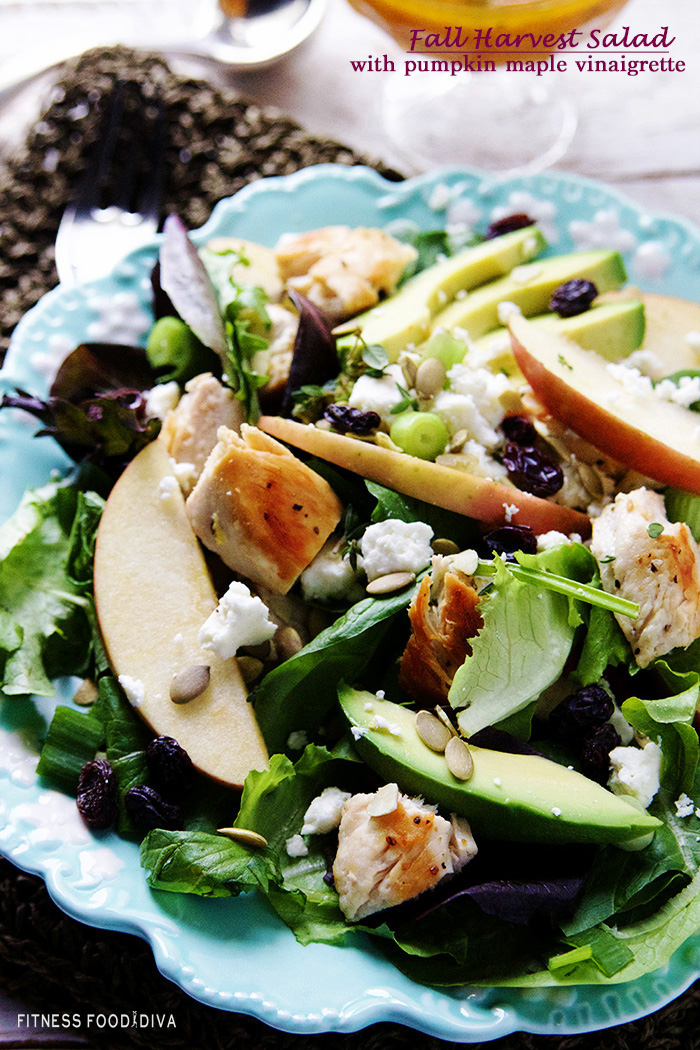 As the sunsets fade to golden glows and the Fall continues to adorn us, I love to sit back and take in every beautiful shade of the sun as it sets beyond the mountains. So I got inspired to make a delicious Fall salad with a lite vinaigrette. Pears are so good right now and add just a little bit of sweetness and nice crisp texture to this Fall Harvest Salad with Pumpkin Maple Vinaigrette.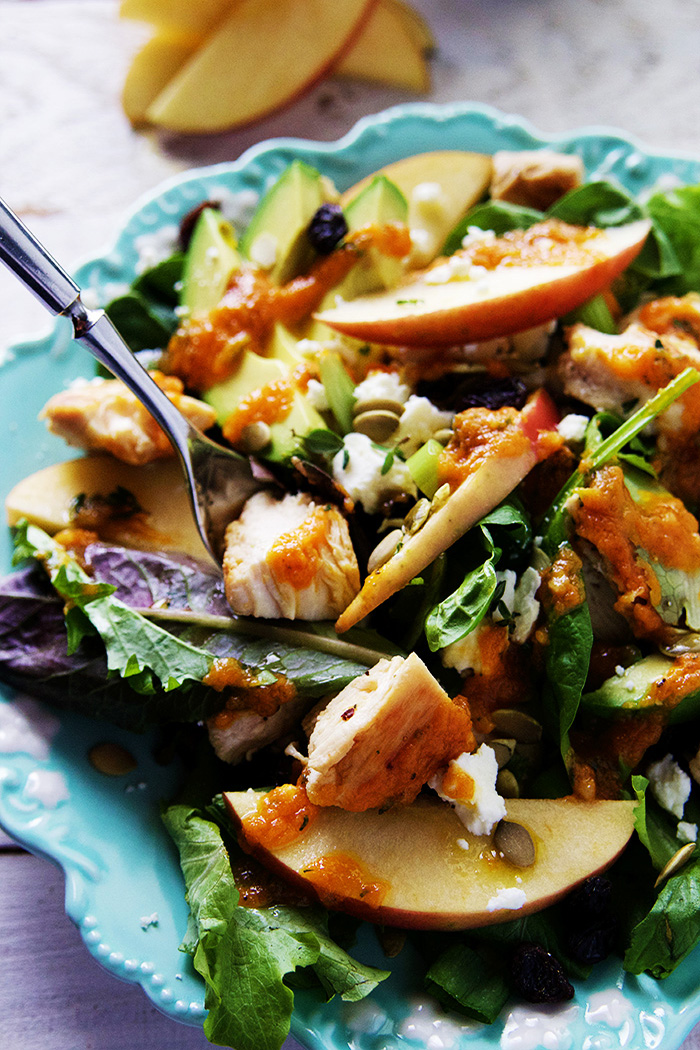 The Pumpkin Maple Vinaigrette is so delicious, it goes perfectly with this Fall Harvest Salad or any salad you may whip up in your kitchen. I had a few of my girlfriends over and seved this Fall Harvest Salad as the main dish accompanied by a warm, sweet potatoe with a dap of fat free sour cream. This Fall harvest Salad with Pumpkin Maple Vinaigrette is quick and easy to make and is bursting with flavor.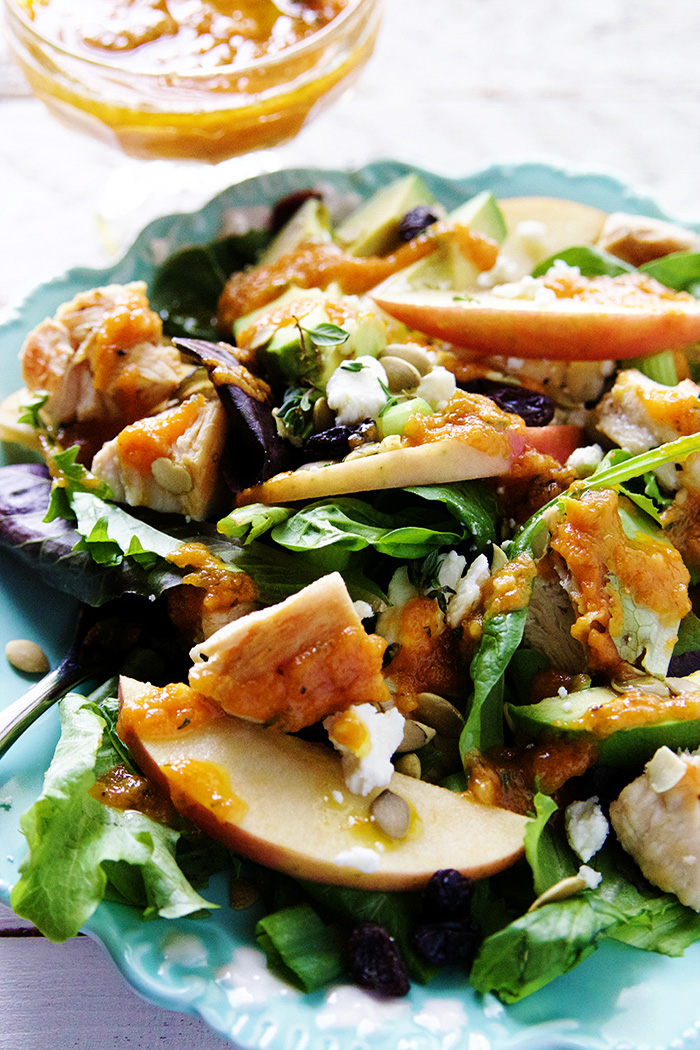 Continue to be inspired by Fall and try this Fall Harvest Salad with Pumpkin Maple Vinaigrette, it will be a delight as the nights get darker sooner and the sunsets start to fade away. xoxo.
Fall Harvest Salad with Pumpkin Maple Vinaigrette
2015-10-10 19:29:52
Serves 4
a refreshing sweet and tangy pumpkin vinaigrette to dress an amazing Fall Salad.
Salad
3-chicken breast,seasoned with salt and pepper
1-package spring mix lettuce ( or lettuce of choice)
2-avocados, sliced
2-pears, sliced
3-green onions, diced
Low fat crumbled feta cheese (to taste)
Raisins (or fresh red grapes) (to taste)
Pumpkin seeds (to taste)
Dressing
¼ cup pumpkin puree
¼ cup apple cider vinegar
2 tablespoons maple syrup
1 teaspoon Dijon mustard
1 medium clove garlic, minced
½ teaspoon sea salt
⅛ teaspoon freshly ground black pepper
½ cup extra virgin olive oil
1 ½ tablespoons fresh thyme leaves, coarsely chopped
1 tablespoon water
Salad
Spray a grill pan with cooking spray.
Cook the seasoned chicken breast in a grill pan until done (about 5 minutes each side).
Let cool briefly and cut into cubes.
Toss all ingredients together and place on 4 individual plates.
Dress with Pumpkin Vinaigrette just before serving.
Dressing
Combine pumpkin puree, apple cider vinegar, maple syrup, Dijon mustard, garlic, salt and pepper in a medium size bowl or a glass jar. Whisk well to combine.
Add olive oil slowly, in a thin stream, whisking continually. (It's important to add the oil very slowly or the dressing will separate.)*
Add the fresh thyme and stir well. If you like your dressing a little thinner, add the water and stir until incorporated. Store in a covered container in the refrigerator for up to 5 days. Enjoy!
Adapted from thecafesucrefarine.com( dressing only) Salad by: Shannon
Adapted from thecafesucrefarine.com( dressing only) Salad by: Shannon
Fitness Food Diva https://fitnessfooddiva.com/

My Latest Videos