Chicken Spinach Pasta Salad is an extraordinary meal that is vibrant and full of flavor. Packed full of chicken, mushrooms, tomatoes, spinach and whole wheat pasta it makes a perfect side salad or meal all on its own and ready in less than 30 minutes.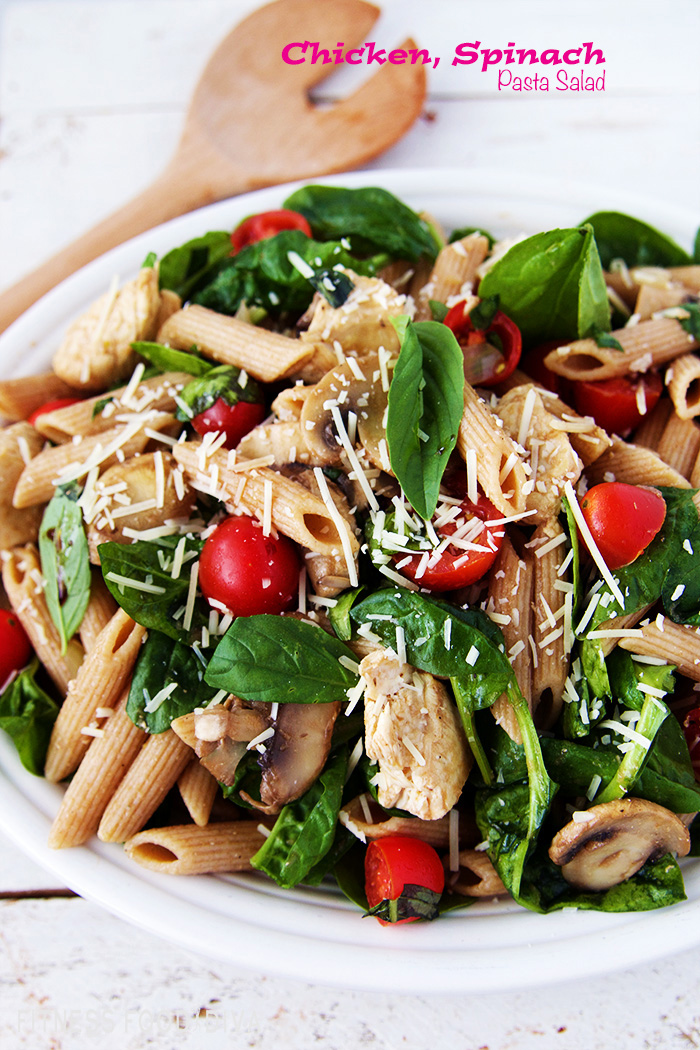 This Chicken Spinach Pasta Salad isn't a heavy salad and has just the right touch of balsamic dressing to give it flavor without the weight. Not all pasta salads are laden full of creamy sauces or butter and that is why this pasta salad is perfect for the summer. You get the amazing health benefits from the nutrient packed spinach, whole grains from the pasta and of course lean protein from the chicken.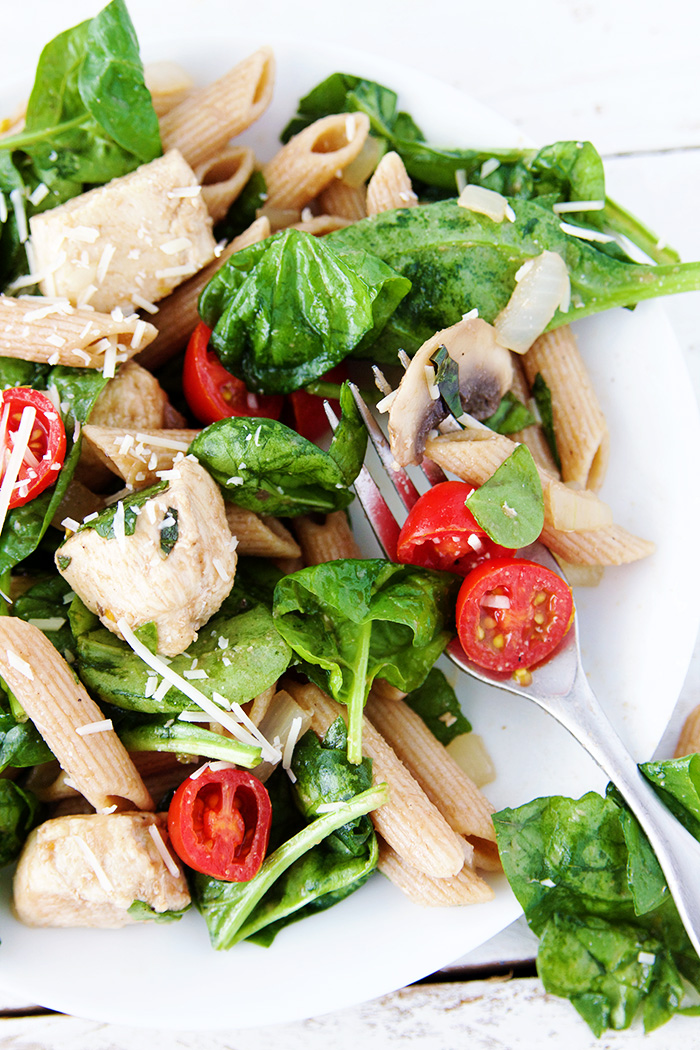 It all smells so good being cooked and then bringing it all together and adding the dressing really makes this salad delectable. Chicken Spinach Pasta Salad takes less than 30 minutes to throw together. All you need is one skillet and a bowl to craft these ingredients into one big healthy salad.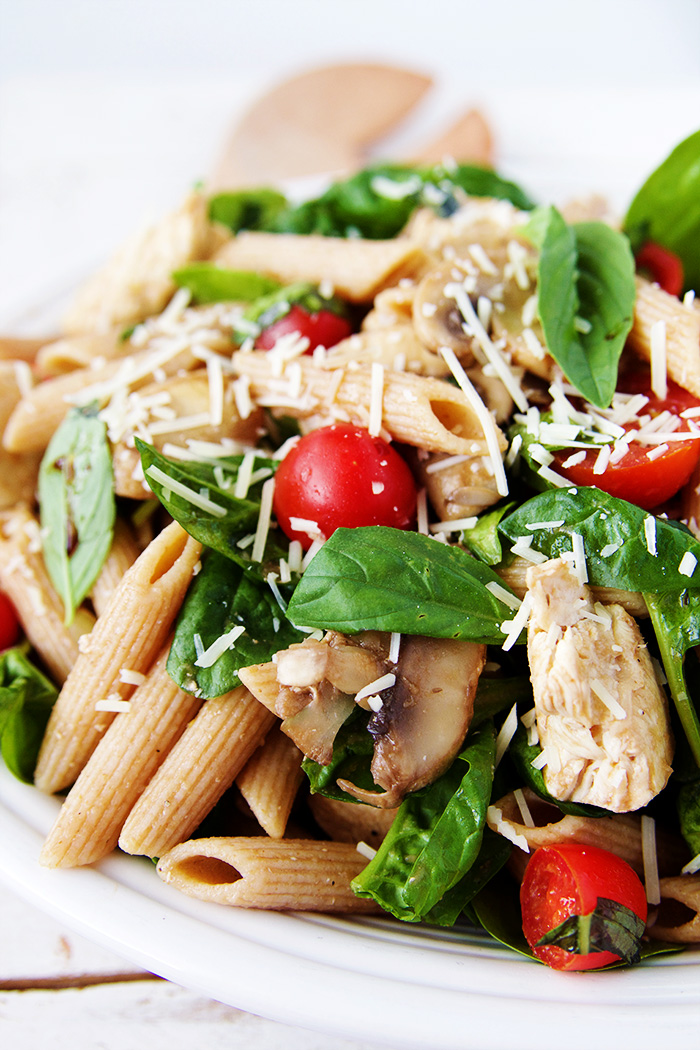 Chicken Spinach Pasta Salad is lite, full of nutrients and tastes amazing. So step out of the creamy pasta zone and see what these super greens can do for you. xoxo.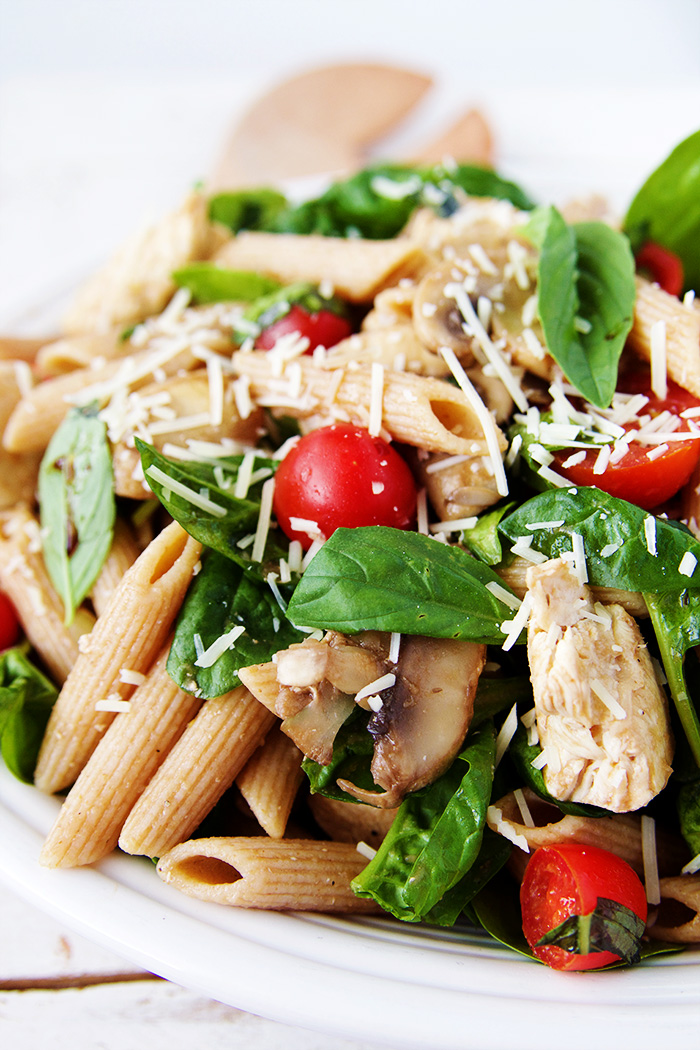 Chicken Spinach Pasta Salad
2015-07-28 22:51:12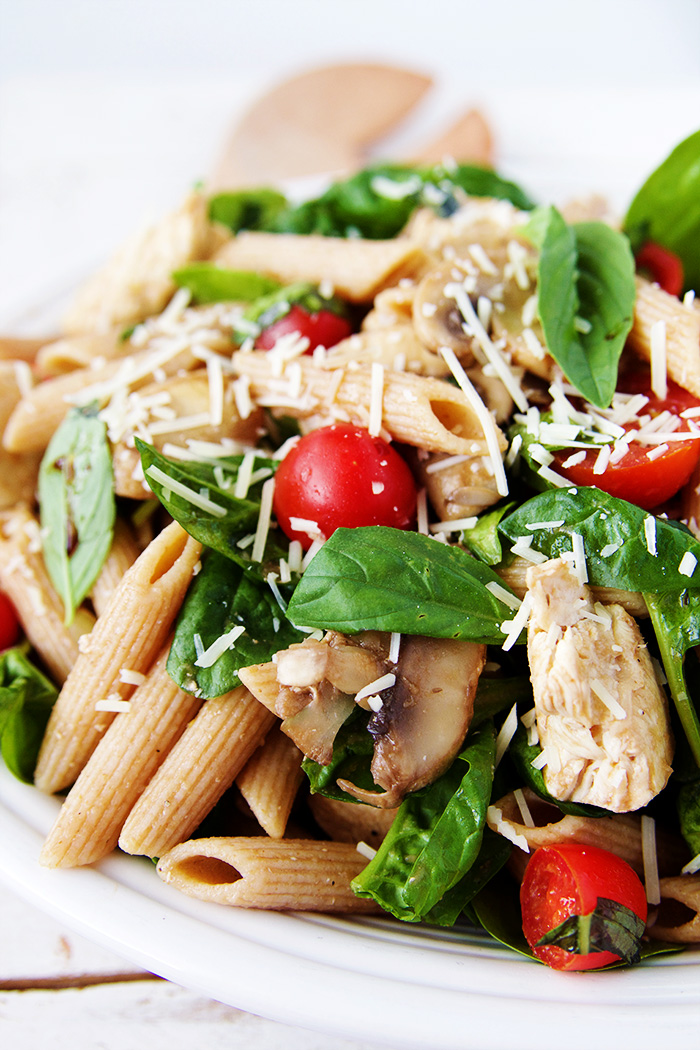 Serves 4
A delicious, full body salad loaded with chicken, spinach and whole wheat pasta.
Ingredients
6 ounces dried multigrain penne pasta
Nonstick cooking spray
8 ounces skinless, boneless chicken breast halves, cut into 1-inch pieces
1 cup sliced fresh mushrooms
1/4 cup chopped onion
1 clove garlic, minced
3 tablespoons olive oil
3 tablespoons balsamic vinegar
3 tablespoons snipped fresh basil or 2 teaspoons dried basil, crushed
1/4 teaspoon salt
1/8 teaspoon ground black pepper
1 6 ounce package fresh baby spinach or spinach
1 cup cherry tomatoes, halved
1/4 cup shredded Parmesan cheese (optional)
Instructions
Cook pasta according to package directions; drain. Rinse with cold water; drain again. Meanwhile, coat a large nonstick skillet with cooking spray; heat skillet over medium heat. Add chicken, mushrooms, onion, and garlic; cook for 8 to 10 minutes or until chicken is no longer pink and vegetables are tender, stirring occasionally. Cool slightly.
In an extra-large bowl combine cooked pasta and chicken mixture.
For vinaigrette, in a small screw-top jar combine oil, vinegar, basil, salt, and pepper. Cover and shake well.
Pour vinaigrette over pasta mixture; toss gently to coat. Add spinach, tomatoes, and cheese; toss gently to combine. Enjoy!
Adapted from Skinny One-Dish, Better Homes and Gardens
Adapted from Skinny One-Dish, Better Homes and Gardens
Fitness Food Diva https://fitnessfooddiva.com/

My Latest Videos