The Holidays are here and the yummy seasonal favorites are lining the shelves at the stores. So tis the season with these simply delicious Eggnog Thumbprint Cookies.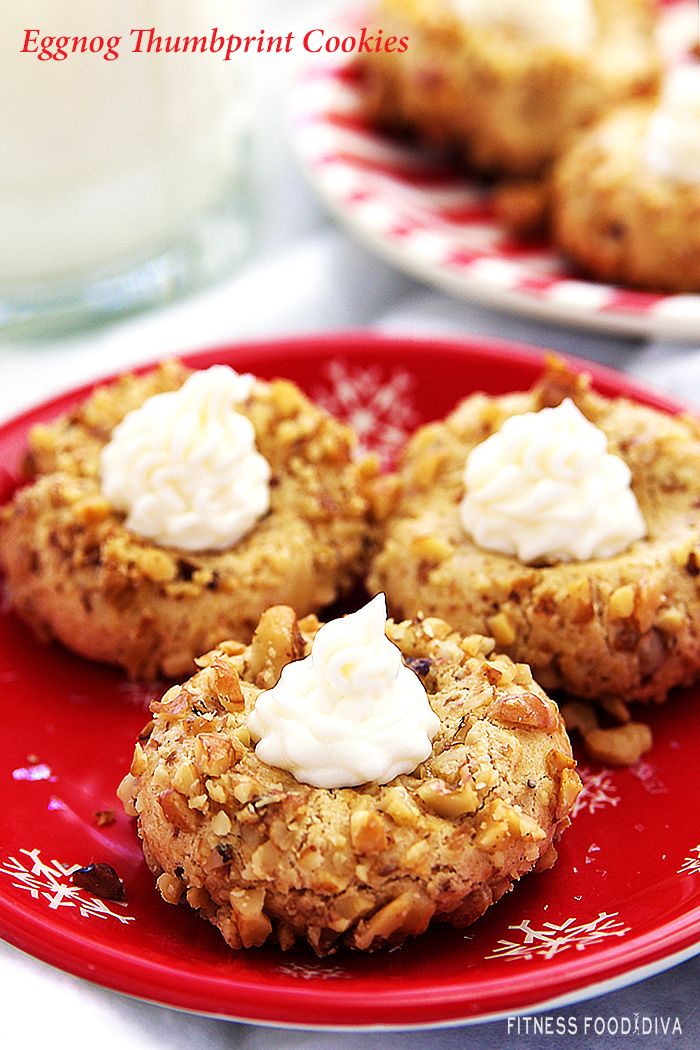 Eggnog…such a creamy beverage of holiday cheer. Most often eggnog has some added spirits to it, but these Eggnog Thumbprint Cookies don't have that holiday spirits, but I am sure it can be added for a little extra festiveness to your cookie exchange! These Eggnog Thumbprint Cookies are easy to make and delicious to eat.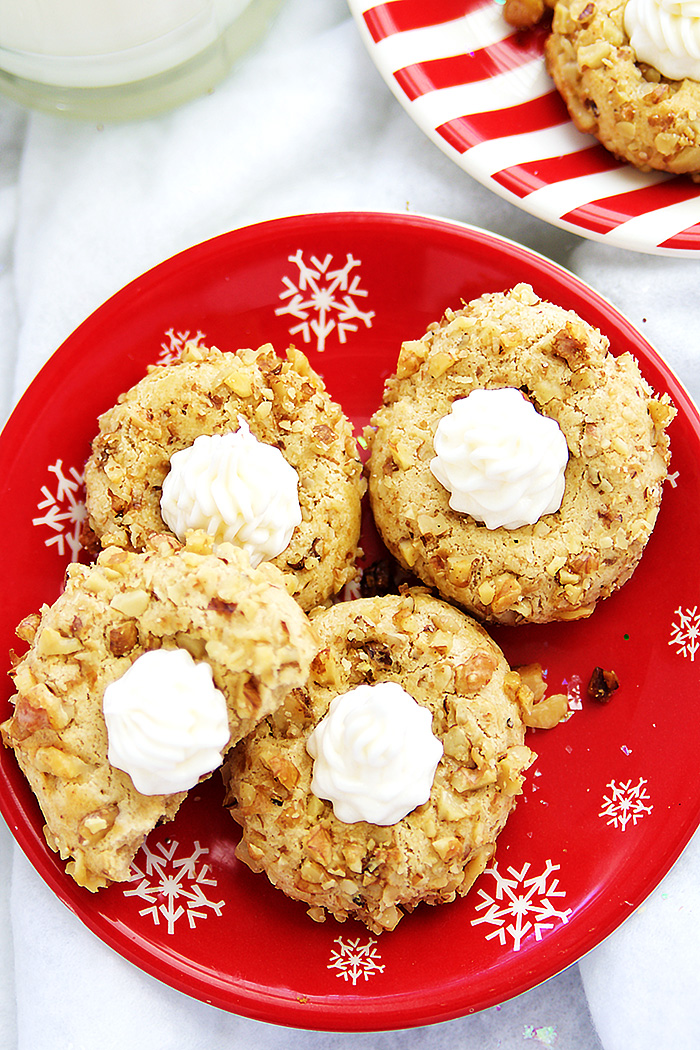 I love cookie exchanges and I am so excited to take these Eggnog thumbprint Cookies to my upcoming cookie party. Ironically these cookies don't have actual eggnog in them, but with the rum flavoring you can enjoy the eggnog flare. These smell so amazing while they are cooking they really start the festive juices flowing. Cookies are so fun to bake and get your kids involved with and maybe even start some Holiday baking traditions. I remember making spritz cookies every December with my Mom and decorating them with fun colorful sprinkles. But fast forward just a few years ;), I am broadening my cookies horizon and these Eggnog Thumbprint Cookies are a great way to start. They are simple to make and don't require hours in the kitchen, meaning… you can make MORE cookies!!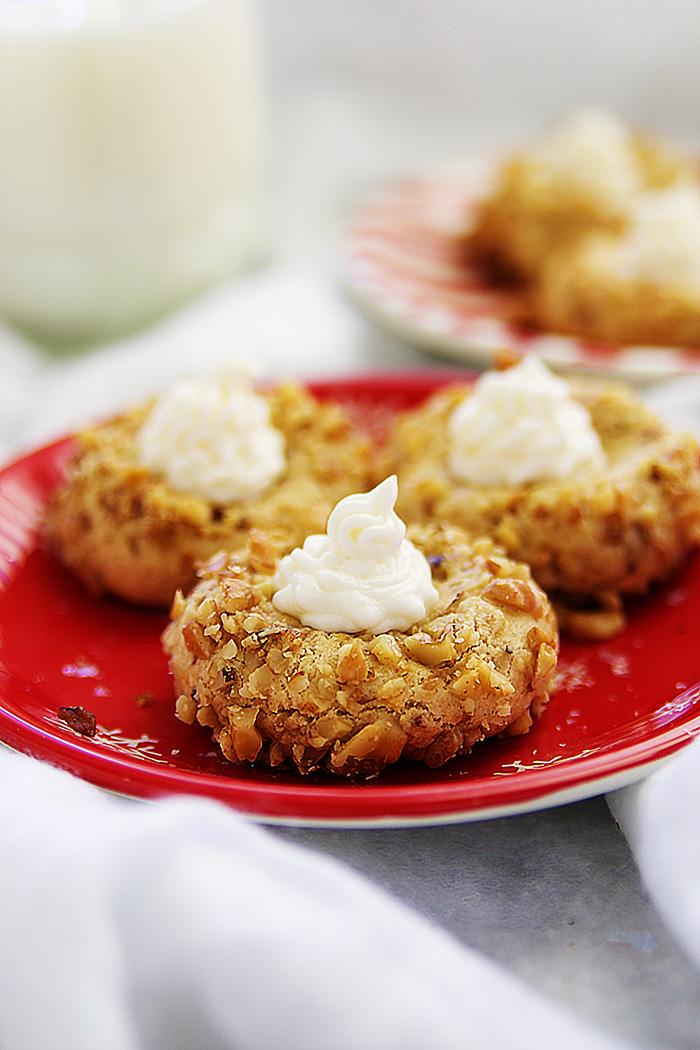 Every year I love to try something new and this year I went for the Eggnog Thumbprint Cookies and I hope you will too. So bring on the cookies cheer! xoxo
Eggnog Thumbprint Cookies
2015-12-02 21:23:10
The perfect Holiday Cookie infused with the famous flavor of eggnog and rum filling.
Cookies
3/4- cup butter, softened
1/2- cup sugar
1/8- teaspoon ground nutmeg
2-egg yolks
1-teaspoon vanilla
1 1/2-cups all-purpose flour
2-egg whites, lightly beaten
1 1/2-cups finely chopped walnuts
1-recipe Rum Filling
Grated whole nutmeg or ground nutmeg (optional)
Rum Filling
1/4-cup butter, softened
1-cup powdered sugar
1-teaspoon rum or 1/4 teaspoon rum extract
1-teaspoons nonfat milk( or milk of choice)
Instructions
In a large mixing bowl beat butter with an electric mixer on medium to high speed for 30 seconds. Add sugar and the 1/8 teaspoon nutmeg. Beat until combined, scraping sides of bowl occasionally.
Beat in egg yolks and vanilla until combined.
Beat in as much of the flour as you can with the mixer. Using a wooden spoon, stir in any remaining flour. If necessary, cover and chill about 1 hour or until dough is easy to handle.
Preheat oven to 375 degrees F. Grease a cookie sheet; set aside.
Place egg whites and walnuts in separate small bowls. Shape dough into 1-inch balls. Roll balls in egg whites, then in walnuts to coat.
Place balls 1 inch apart on the prepared cookie sheet. Press your thumb into the center of each ball.
Bake for 12 to 15 minutes or until edges are light brown. If cookie centers puff during baking, re-press with the back of a measuring teaspoon.
Transfer cookies to a wire rack; cool.
Pipe or spoon about 1/2 teaspoon of the Rum Filling into the indentation of each cookie. If desired, sprinkle with additional nutmeg.
Rum Filling
In a medium mixing bowl beat butter with an electric mixer on medium to high speed for 30 seconds. Add powdered sugar. Beat until fluffy, scraping sides of bowl occasionally. Beat in rum or rum extract and enough milk (1 to 2 teaspoons) to make filling of spreading consistency. Enjoy!
Adapted from Better Homes and Gardens
Adapted from Better Homes and Gardens
Fitness Food Diva https://fitnessfooddiva.com/

My Latest Videos