An amazing balsamic glaze, fresh vegetables, a light and flavorful dressing, served with warm bruschetta brushed with garlic is all you need to enjoy this satisfying Grilled Balsamic Chicken Salad this summer.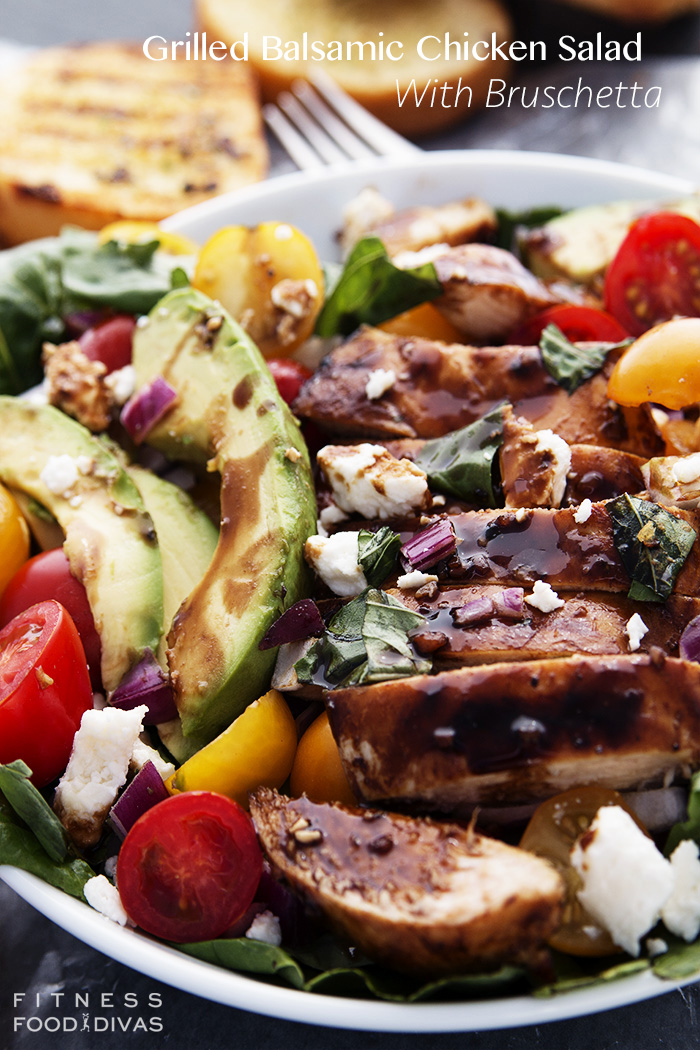 This is the most delicious and flavorful salad I have made and the taste is summer approved. It all starts with a balsamic glaze and a little bit of garlic to set the tone of this salad. The glaze just pops and makes the chicken so moist and tender you will want to eat it all by itself. I chose to BBQ my chicken, but you can make it in a grill pan or skillet. This is a marinade that really doesn't need to sit in your refrigerator all day and night to bring out the sweet and garlic flavor it packs.

My Latest Videos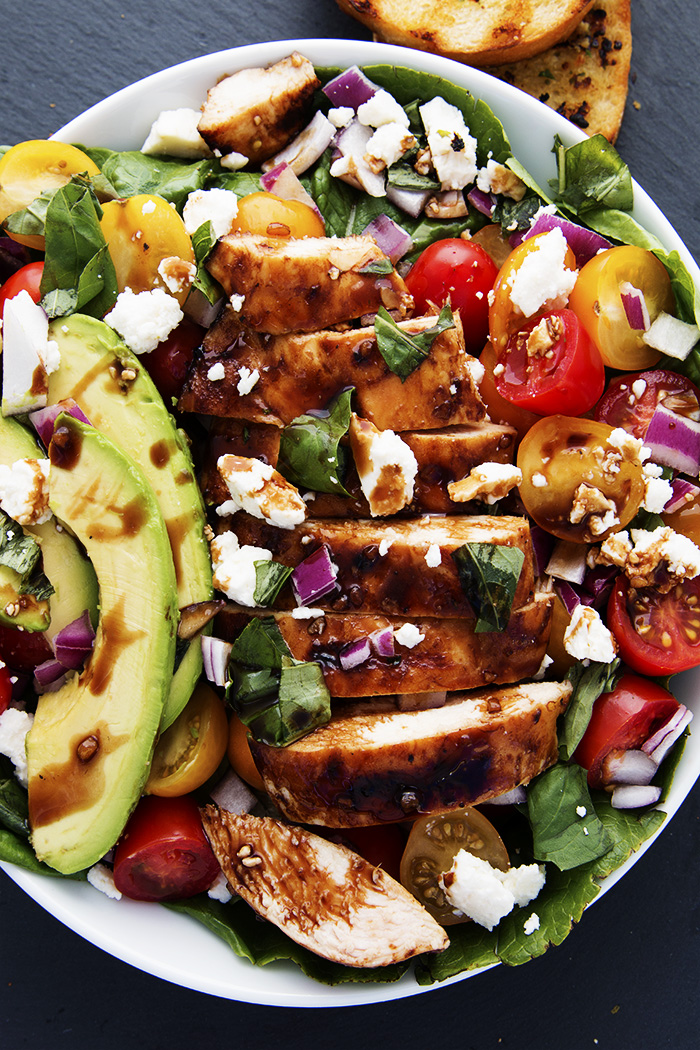 This Grilled Balsamic Chicken Salad with Bruschetta would be perfect for your next BBQ or family party. You can throw it all together, put the dressing on the side and let your guest help themselves. They are going to love the blend of all the different veggies, the great textures and not to mention the warm garlic bruschetta that can be eaten alone or with a little salad on top, it is fabulous.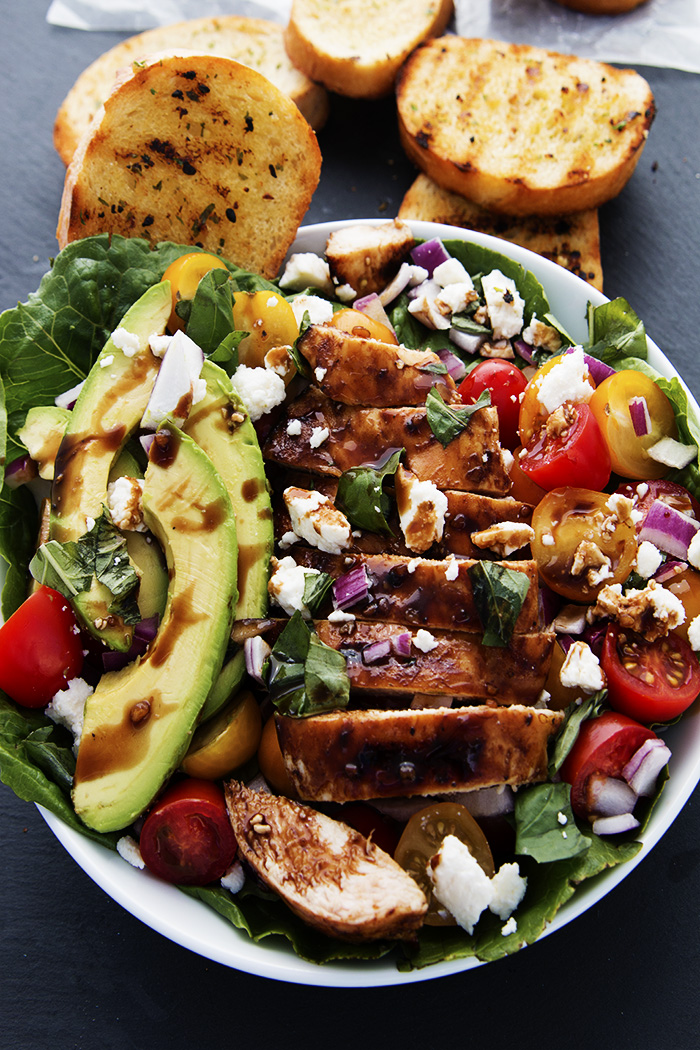 Grilled Balsamic Chicken Salad with Bruschetta is the perfect salad to enjoy at lunch, dinner, or as a side to any meal. Grilled Balsamic Chicken Salad with Bruschetta is heart healthy and will turn a traditional salad into an extraordinary salad. Xoxo.
GRILLED BALSAMIC CHICKEN SALAD WITH BRUSCHETTA
2015-06-21 11:57:25
Serves 4
A delicious balsamic glaze adds the perfect flavor to a healthy salad.
Chicken Marinade
2 whole skinless and boneless chicken breasts, trimmed of any fat
1 tablespoon olive oil
2 tablespoons balsamic glaze
½ teaspoon sea salt
1 teaspoon garlic powder or 1 clove garlic, crushed
Bruschetta Bread
1 loaf Cabiatta/Sourdough bread, sliced into 1-inch thick slices
2 tablespoons olive oil
Dried Parsley
Salad
1 head leafy lettuce, washed
7oz grape tomatoes, halved
½ medium red onion, thinly sliced
3½oz reduced fat fresh Feta cheese
1 whole avocado, thinly sliced
Handful fresh basil leaves
Dressing
2 tablespoons balsamic glaze
2 tablespoons water
½ garlic clove, minced/crushed
Dried Thyme (optional)
salt to taste
For Chicken
Combine the olive oil, balsamic vinegar, salt and garlic together in a shallow bowl. Add the chicken breasts and evenly coat. Transfer the chicken breasts over to a nonstick pan OR BBQ heated over medium heat, Sauté until nice, crispy and golden on both sides and cooked through. Remove from heat; allow to cool slightly, and slice into 1-inch slices.
For Bread
Combine the oil with the herbs and garlic. Brush both sides of each bread slice; grill in a grill pan or BBQ over medium heat on both sides until golden and crispy.
For Dressing
Combine dressing ingredients in a small bowl/jug, and whisk until mixed through.
For Salad
Combine the lettuce, tomatoes, onion, Feta and basil together in a large salad bowl. Top with chicken slices and drizzle with the dressing. Toss to combine. Serve with crunchy Bruschetta pieces. Enjoy!
Adapted from Cafedelites
Adapted from Cafedelites
Fitness Food Diva https://fitnessfooddiva.com/