Baked not fried, these amazing Onion Rings won't bring tears to your eyes, but will make your mouth water with pure delight.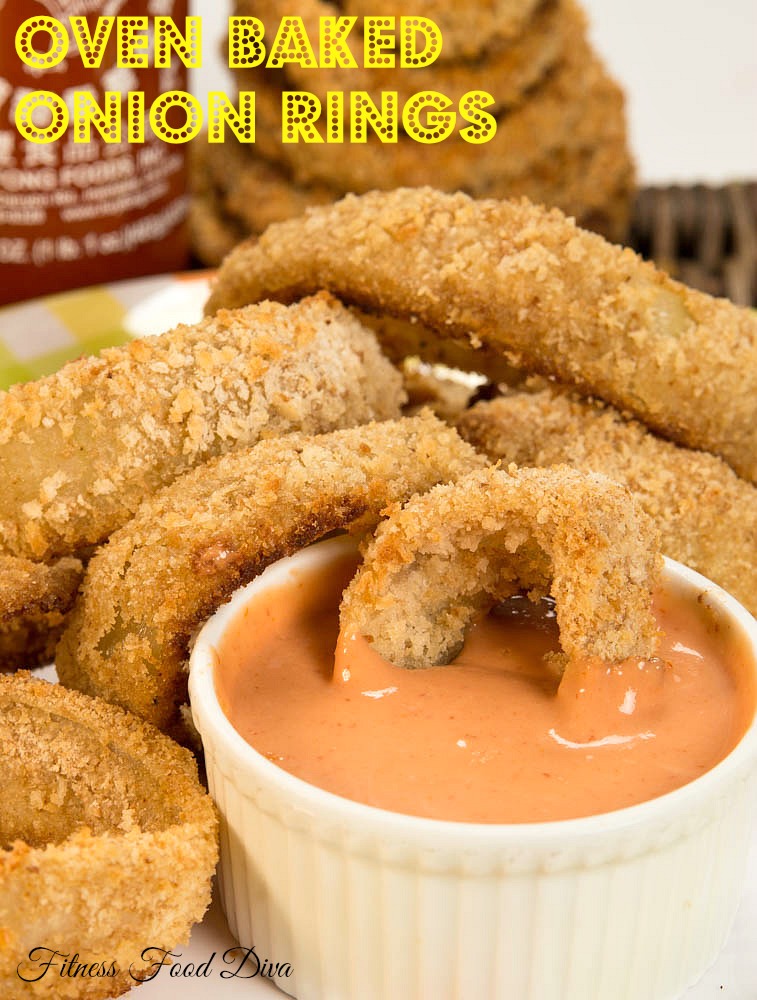 I have to admit growing up one of my favorite things to eat at the fair was Onion Rings. They were always so warm and gooey on the inside, and crunchy on the outside. Dipping them in ketchup was like frosting on the cake, making the Onion Ring irresistible. There is just something about the smell of Onion Rings that immediately makes your mouth water. I have to say these Oven Baked Onion Rings did just that. Oven Baked Onion Rings are so simple to make, they can be done in 3 easy steps, shake, dunk, and dip.
No one will know they are made with whole wheat flour and skim milk, not to mention the perfect dipping sauce made from vegenaise, lower sugar ketchup and (my personal fave) sriracha sauce for that little fit-fabulous flare. Making Oven Baked Onion Rings was a huge hit with my family while watching the Seahawks game, so just imagine how well they will go over for all you Super Bowl party planners. So run to the store and grab these simple ingredients and shake, dunk and dip your way into the appetizer hall of fame. xoxo
Oven Baked Onion Rings
2014-12-26 01:06:59
Shake, dip, and dunk your way to the perfect fit-fabulous onion rings.
Ingredients
1- large sweet onion, peeled, sliced, and separated into rings
2-egg whites
2-tablespoons skim milk
1-teaspoon garlic powder
1-teaspoon cayenne pepper
1-1/2-cups bread crumbs
1/2-cup panko crumbs
1/3-cup whole wheat flour
1/2-teaspoon sea salt
1/2-teaspoon pepper
cooking spray
SAUCE
1/3-cup vegenaise
1/4-cup reduced sugar ketchup
1-teaspoon hot chili sauce (I used sriracha)
Let Shake, Dip and Dunk
Preheat oven to 450 degrees F.
Line a baking sheet with foil and spray HEAVILY with cooking spray.
In a bowl whisk together egg whites and milk, set aside.
Place bread crumbs and panko crumbs together in a separte bowl.
In a ziplock back combine; flour, garlic powder, cayenne pepper, salt, and pepper, seal and shake ingredients up to mix.
Open bag and add the onion rings, a few at a time and shake to coat.
Take onion rings out one at a time and dip in the milk/egg white wash, making sure to coat all sides.
Dunk the onion rings into the bread crumbs, coating all sides, then place in a single layer on the prepared baking sheet.
Spray the onion rings HEAVILY with cooking spray.
Bake for 15-20 minutes depending on crispy you want them.
while onion rings are baking prepare the sauce
combine vegenaise, ketchup and sriracha in a bowl and mix well, chill until ready to serve. Enjoy!
Adapted from Cremedelacrumb1
Adapted from Cremedelacrumb1
Fitness Food Diva https://fitnessfooddiva.com/

My Latest Videos