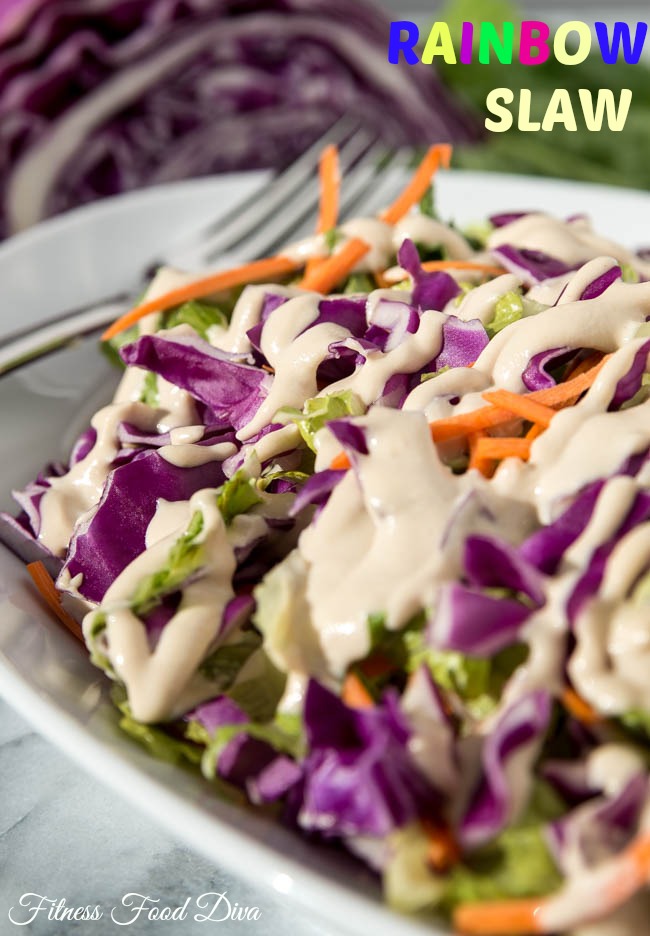 Get ready to add this Rainbow Slaw to your next dinner party or enjoy it alone with a refreshing glass of lemon water just for lunch. Anyway you decide to add this Rainbow Slaw to your day will make you feel sassy-fied. Cabbage and carrots are both high in fiber, and will promote healthy digestion while the romaine lettuce, which is high in water, will aid in hydrating your body. No Rainbow Slaw is complete without a healthy and savory dressing. I love the sweet and sour of this Rainbow Slaw dressing, and with its creaminess it almost seems to good to be good for you.
I made this Rainbow Slaw for my mom, who is a big slaw fan, and she gave me the full mouth of pure enjoyment thumbs up. Of course followed by "can you leave it here for me." Rainbow Slaw will definitely be at my next dinner get together or family cookout… Summer is almost here, right? Regardless of how you choose to enjoy this colorful plate of Rainbow Slaw, you will be making a fit-fabulous choice to do your body good. xoxo
Rainbow Slaw
2014-11-17 22:31:53
A delicious and healthy way to eat your slaw.
Ingredients
1-small head purple cabbage, chopped
1-head of romaine lettuce, chopped
2-medium carrots, julienned (
1/2-cup slaw dressing (recipe below)
Slaw Dressing
1/2-cup of Vegenaise
1-TBSP apple cider vinegar
1-tsp dijon mustard
1-tsp splenda/sugar blend
Lets Cook
Combine the cabbage, lettuce, and carrots in a large bowl.
In a separate bowl combine all dressing ingredients and whisk until blended.
When ready to serve, toss slaw with dressing and enjoy.
Adapted from Paleo Cooking From Elana's Pantry
Adapted from Paleo Cooking From Elana's Pantry
Fitness Food Diva https://fitnessfooddiva.com/

My Latest Videos