Grilled Honey Lime Chicken with Pineapple Salsa is a delicious way to sweeten and add flavor to an old BBQ favorite. Each bite will be packed full of flavor and is a refreshing meal for summer.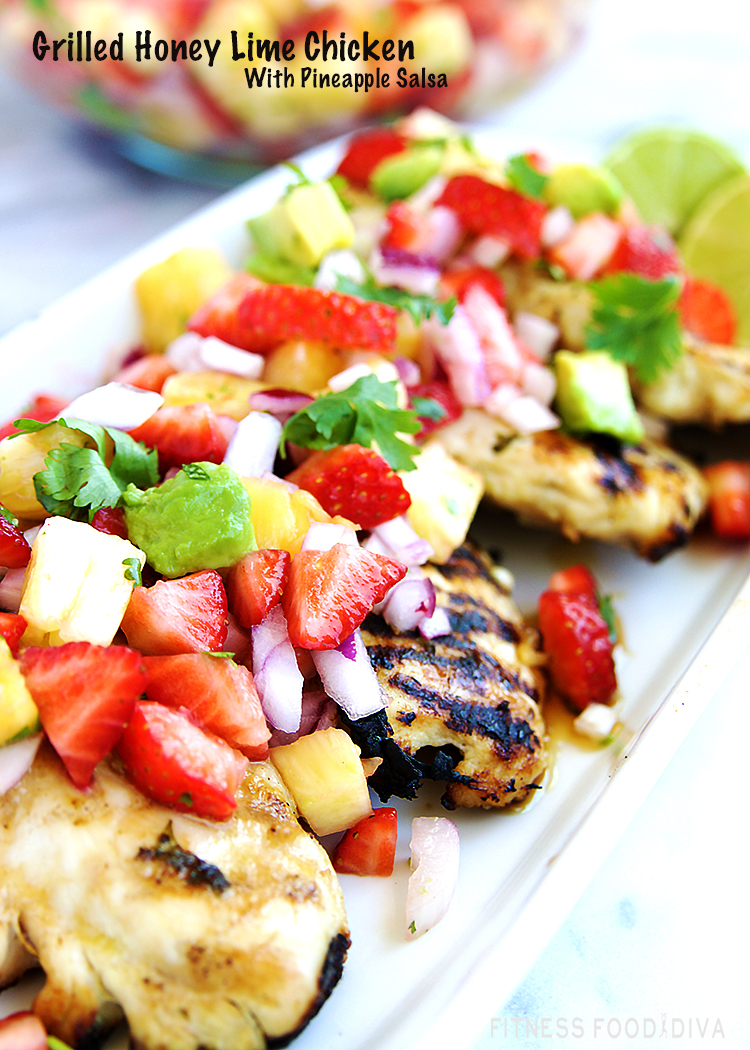 CHICKEN! Ok, I know, not another chicken recipe? But this is one chicken recipe you don't want to leave off your plate. It has all the aspects of a delicious healthy lunch or dinner. I eat a lot of chicken.. A LOT!! So I am always looking for something new to spice up the standard BBQ chicken and this Grilled Honey Lime Chicken with Pineapple Salsa does the trick. I love that this recipe incorporates fresh fruit which adds a little sweetness while the red onion adds a little kick. The marinade for the chicken is fast and simple to throw together and keeps the chicken nice and moist. Nothing is worse than dry, drab, choke it down chicken. I promise, this Grilled Honey Lime Chicken and Pineapple Salsa will have you enjoying each savory bite.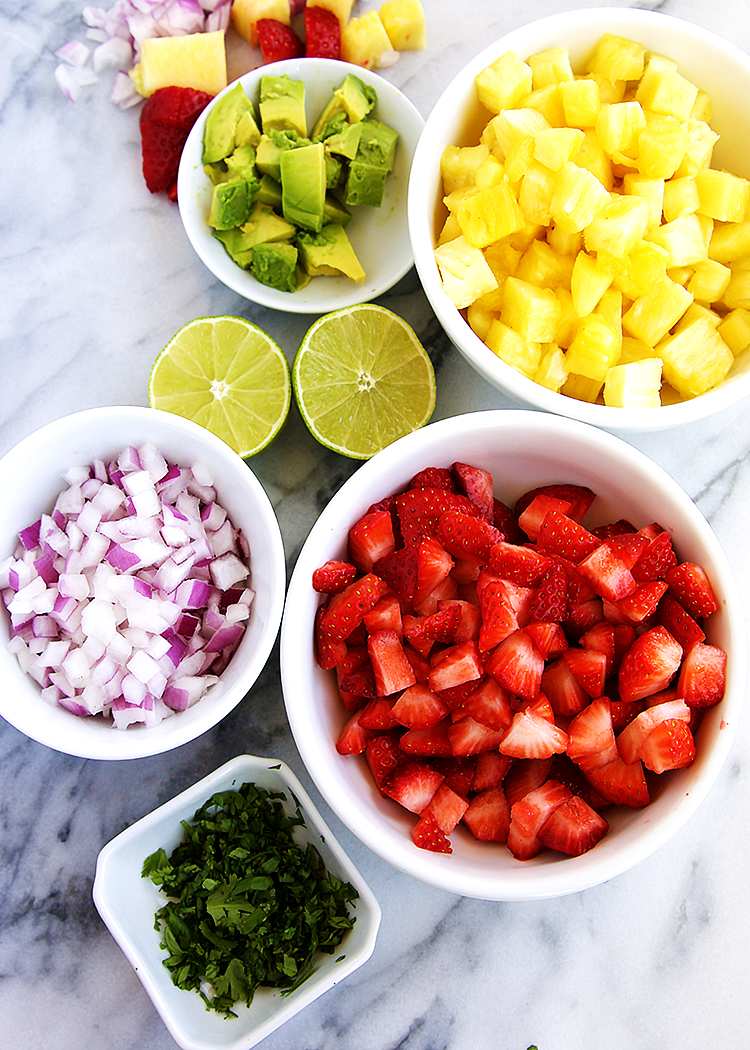 Grilled Honey Lime Chicken with Pineapple Salsa incorporates sweet and fresh pineapple, strawberries, and creamy avocado. Just those three ingredients alone makes a plain grilled piece of chicken into something amazing and mouthwatering. I made this for some friends the other day and it was the perfect lunch on a hot Arizona day. Grilled Honey Lime with Pineapple Salsa has a simple marinade that has only a few ingredients that packs a lot of flavor. I chose to marinade my chicken over night, but if you need it the same day just give it about 3 hours and it will turn out moist and flavorful.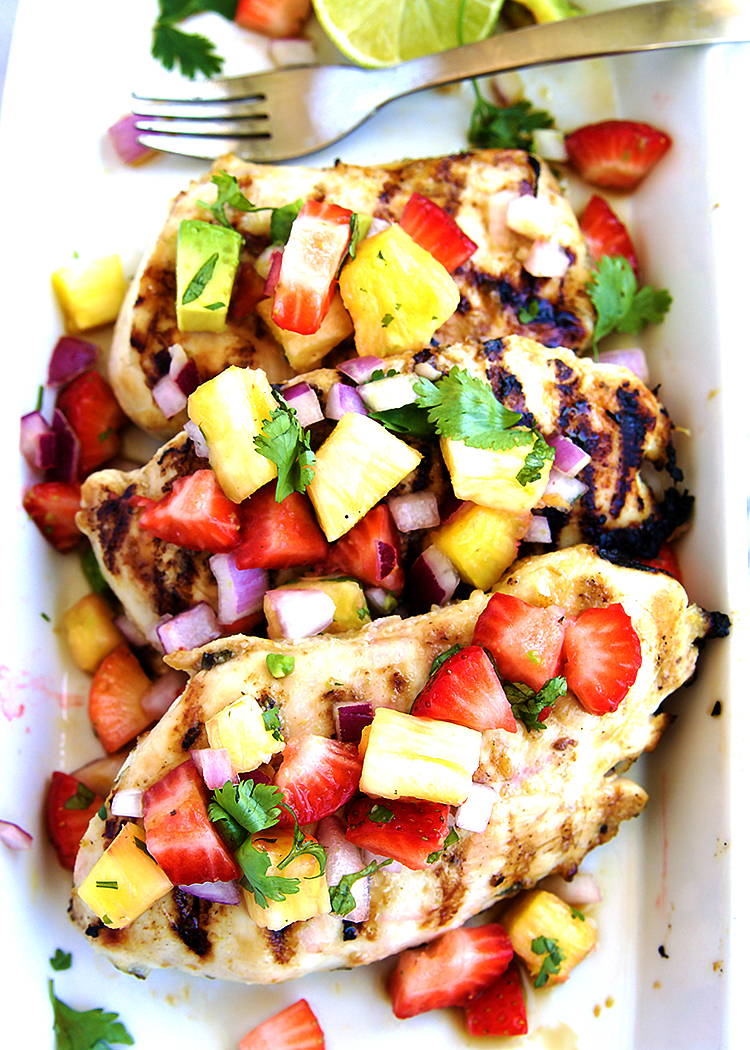 So the next time you think of chicken, don't roll your eyes and gagg over another piece of chicken. Grill it up, spice it up, and freshen it up with Honey Lime marinade and Pineapple salsa. Plate it up with a little extra salsa on the side and eat your chicken with a smile. This Grilled Honey Lime Chicken with Pineapple Salsa is a Summer time sensation you don't want to miss.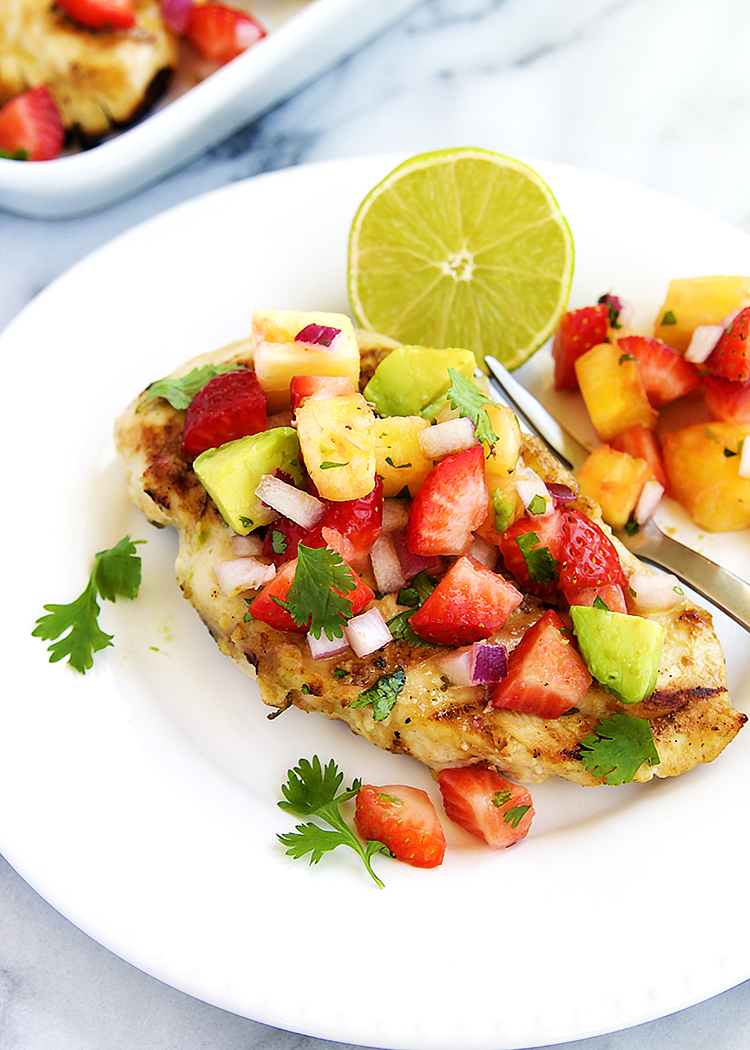 Grilled Honey Lime Chicken with Pineapple Salsa
2017-08-06 00:00:45
Serves 4
Enjoy a sweet twist on the everyday Grilled Chicken!
Ingredients
Juice of 4 limes, divided
1/4 c. extra-virgin olive oil
1/4 c. plus 1 tbsp. chopped fresh cilantro
2 tsp. honey
kosher salt
1 lb. boneless skinless chicken breasts
2 c. chopped pineapple
2 c. sliced strawberries
1 avocado, diced
1/4 red onion, diced
Freshly ground black pepper
Instructions
Make Marinade: In a large bowl, whisk together juice of 3 limes, olive oil, 1/4 cup cilantro and honey and season with salt.
Add chicken to a large Ziploc bag or baking dish and pour over marinade. Let marinate in the refrigerator at least 3 hours, or up to overnight.
When ready to grill, heat grill to high. Oil grates and add chicken, then grill until charred, 8 minutes per side.
Meanwhile, in a medium bowl, stir together pineapple, strawberries, avocado, red onion, remaining lime juice, and remaining tablespoon cilantro. Season with salt and pepper.
Spoon salsa over chicken and serve.
Adapted from Delish
Adapted from Delish
Fitness Food Diva https://fitnessfooddiva.com/

My Latest Videos