Beef Shanghai Noodles with broccoli and snap peas will bring the Feng shui around the dinner table tonight! Such a sweet and savory mix of sweet oranges and soy sauce with a flare of heat from the red pepper flakes infused into the beef. Every bite of these Beef Shanghai Noodles make a delicious Asian cuisine.
Beef Shanghai Noodles have such a great texture to them, with soft whole wheat noodles and crisp sauted broccoli and snap peas it is a fit-fabulous way to enjoy pasta. The beef in Beef Shanghai Noodles is so flavorful, loaded with orange zest, garlic and ginger, not to mention a lean source of healthy protein. We can't give up all the good things in life, and whole wheat pasta is a good source of fiber and "good" carbohydrates that it makes it that much easier to enjoy.
I made Beef Shanghai Noodles for my husband and he loved them, he thought they had such amazing flavor from the sauce that adds just the right amount of heat. However, if you are like my Dad, who also loved them, but needed a toned down version when it came to the "heat," you can always use less red pepper flakes or just serve them with a big class of water. Beef Shanghai Noodles are time effective to make and will bring a little yin and yang to your plate. xoxo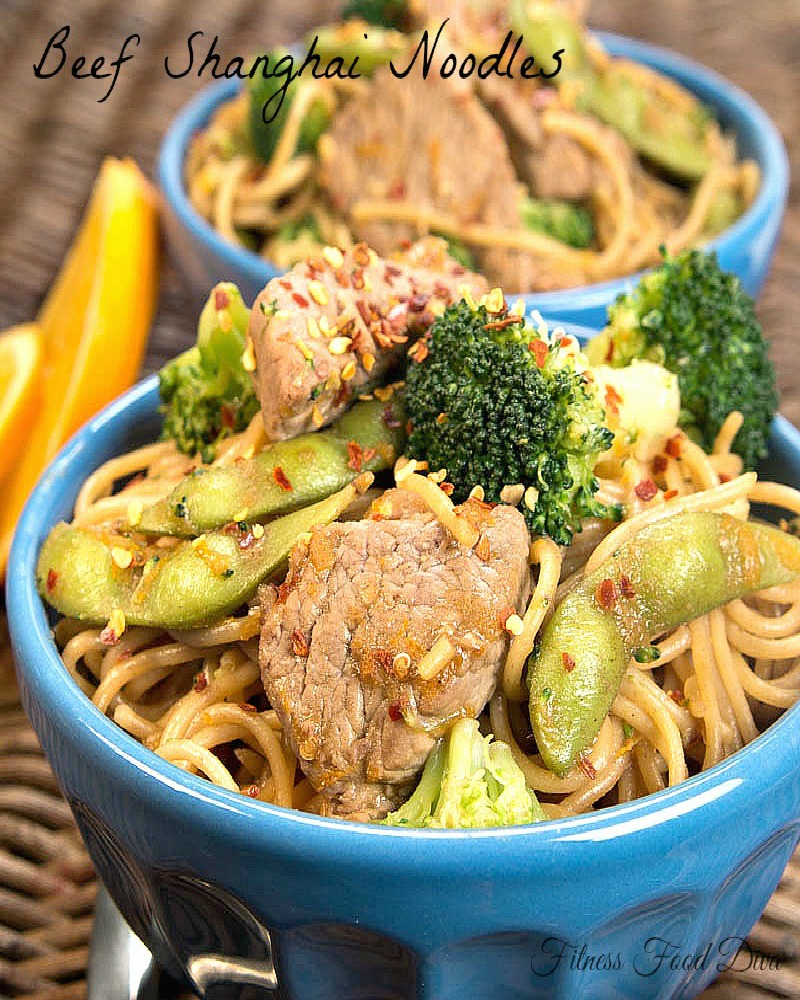 Beef Shanghai Noodles
2015-01-06 14:08:47
Serves 4
Ingredients
8oz-whole wheat spaghetti
5-crowns of broccoli, florets only
1-orange, zested and juiced
2-Tablespoons reduced sodium soy sauce
1/4-teaspoon red pepper flakes, plus additional for garnish
1-Tablespoon ground ginger
3/4lb-beef sirloin strips, cut into 2 inch long pieces
4-cloves garlic chopped
1-10oz bag of sugar snap peas
Let Stir Fry
Cook spaghetti according to directions, then add broccoli to the pot and cook 5 more minutes.
Drain the spaghetti and broccoli and transfer to a large bowl, cover loosely and set aside.
In a small bowl, whisk orange zest and juice, soy sauce, pepper flakes and ginger, set aside.
In a large nonstick skillet, spay with cooking spray, add beef and cook for about 2 minutes.
Add garlic and saute for another 2 minutes. Add peas, and orange juice mixture to beef and stir to coat, cook until beef is cooked through.
Add beef mixture to spaghetti mixture and toss to combine, garnish with pepper flakes. Enjoy!
Adapted from Clean Eating, Weeknight Meals
Adapted from Clean Eating, Weeknight Meals
Fitness Food Diva https://fitnessfooddiva.com/

My Latest Videos