Ginger Beef Fried Rice is an incredibly fast fix for a delicious healthy meal in less than 30 minutes. I love to cook with ginger because not only is it amazing for you the smell of it cooking is so aromatic it makes my mouth water. Ginger Beef Fried Rice is so fabulous it will have you throwing down your chop sticks and picking up your fork.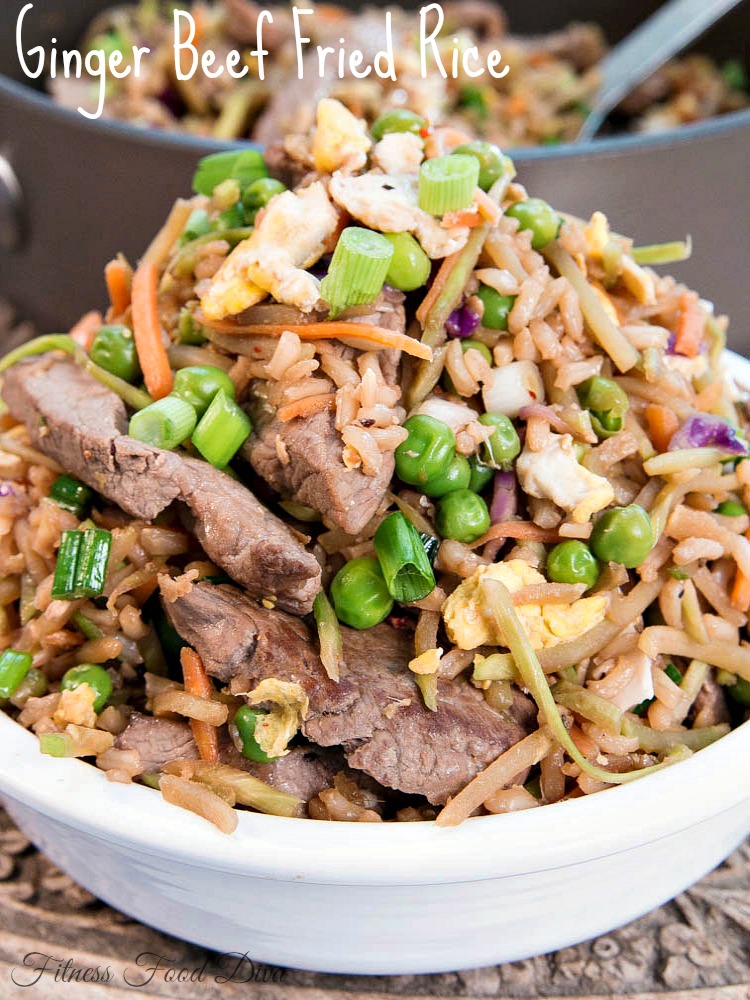 Rachel Ray new what she was doing when she got us all hooked on 30 minute meals. I think, hmm.. 30 minutes to make something that looks and tastes like I have spent a long day in the kitchen, sign me up! Ginger Beef Fried Rice has so much going on, between the soy sauce, ginger, burst of the peas in your mouth, and not to mention the hearty flavor of brown rice I really couldn't get enough of it. You could also make it with Chicken or pork if beef just isn't your thing. Adding the broccoli coleslaw is such a clever way to get your veggies without having to force them down. They are so tender and add a wonderful texture to the fried rice. This Ginger Beef Fried Rice only only 346 calories and 29 grams of protein, in the words of Rachel Ray "How good is that?" xoxo

Ginger Beef Fried Rice
2015-02-11 23:35:58
Serves 4
A quick and healthy fried rice your family will love
Ingredients
2-eggs lightly beaten
cooking spray
2-teaspoon olive oil
1-beef top sirloin steak cut into strips
4-Tablespoons reduced sodium soy sauce, divided
1-package (12oz) broccoli coleslaw mix
1-cup frozen peas
1-Tablespoons grated fresh ginger
3-cloves garlic, minced
2-cups Ready Brown Rice, Uncle Bens (8.8oz bag)
4-green onions, sliced
Lets Fry
Cook rice according to microwave directions.
In a large nonstick skillet coated with cooking spray, cook and stir eggs over medium heat until no liquid egg remains, breaking up eggs into small pieces. Remove from pan, wipe skillet clean.
In same pan, heat the oil over medium-high heat. Add beef, stir-fry 1-2 minutes or until no longer pink. Stir in 1 Tbsp soy sauce, remove from pan.
Add coleslaw mis, peas, ginger and garlic to the pan, cook and stir until coleslaw mix is tender. Add rice and remaining soy sauce, tossing to combine rice with vegetable mixture and heat through.
Stir in cooked eggs, beef and green onions, heat through. Enjoy!
Adapted from Taste of Home, Healthy Recipes
Adapted from Taste of Home, Healthy Recipes
Fitness Food Diva https://fitnessfooddiva.com/

My Latest Videos