Who was the man, I 'd like to shake his hand, he made life easier for me. That is why this Slow Cooker Pot Roast with Roasted Red Potatoes is a delicious and great way to end your day.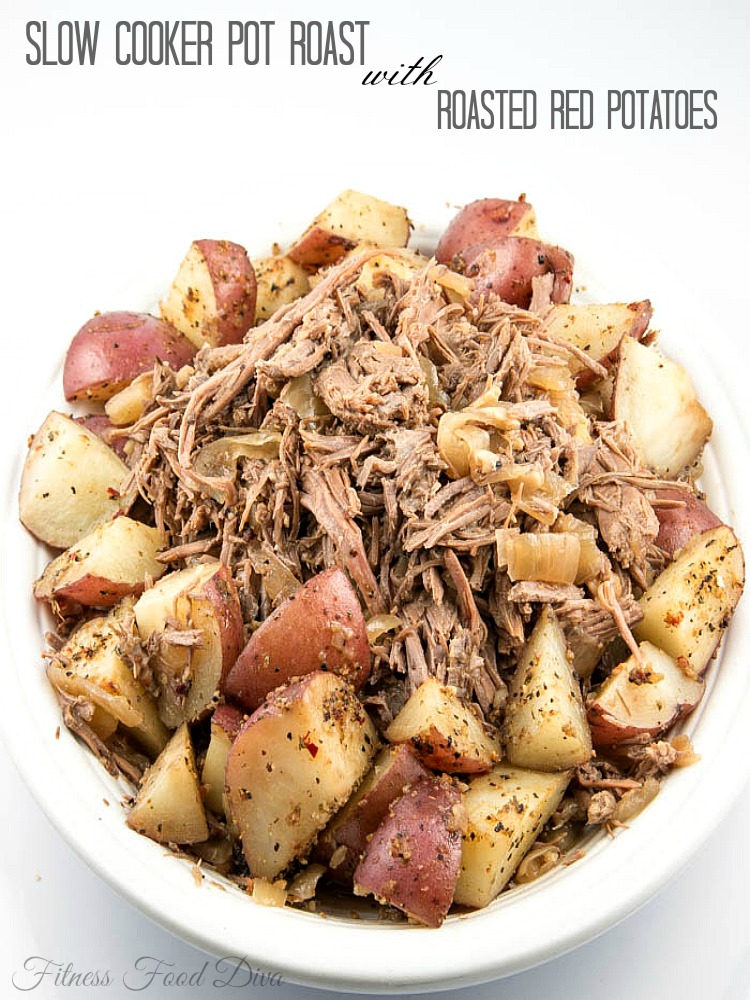 Oh the slow cooker, how do I love thee, let me count the ways. The slow cooker is one of the greatest inventions when it comes to cooking ever. Being able to prepare a meal, put it into the slow cooker and cook all day and come home to a wonderful aroma as if you had been in the kitchen cooking all day is genius.
Slow Cooker Pot Roast with Roasted Red Potatoes is yet one of a million ways we can watch our food turn from a recipe into a magical meal without having to do much at all. I don't know what amazes me more, the fact that something can cook all day long and not get dried out to beef jerky, or that you pile all these ingredients into one pot, turn it on, walk away, and hours later everything is cooked to perfection and taste just as you imagined it would.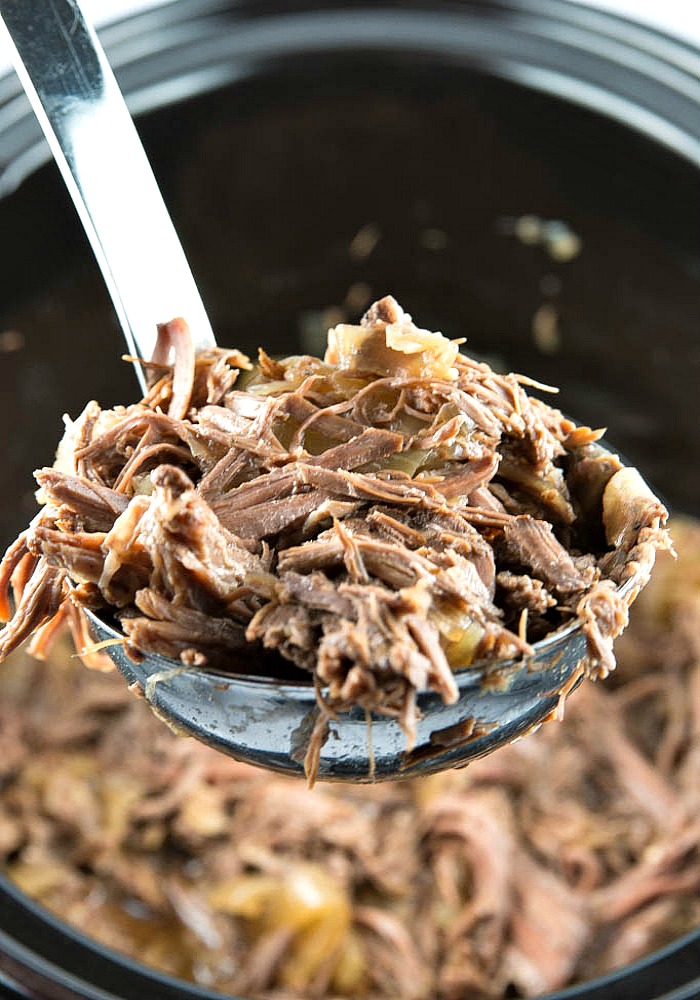 Slow Cooker Pot Roast with Roasted Red Potatoes is very simple and with only a few ingredients is full of flavor, not to mention how moist and tender the roast is, that it literally falls apart. The potatoes are roasted just to soft and tender, so when you put them with the roast they soak up the juices and melt in your mouth. If your man is a meat and potatoes man, he is going to love this. It even is tender and flavorful the day after and makes a great shredded beef sandwich or beef carnita. So even though this Slow Cooker Pot Roast with Roasted Red Potatoes is a lot of food, there is plenty of ways to enjoy it for the days to come. Make your life just a little easier and try this Slow Cooker Pot Roast with Roasted Red Potatoes and watch your meal turn into magic. xoxo.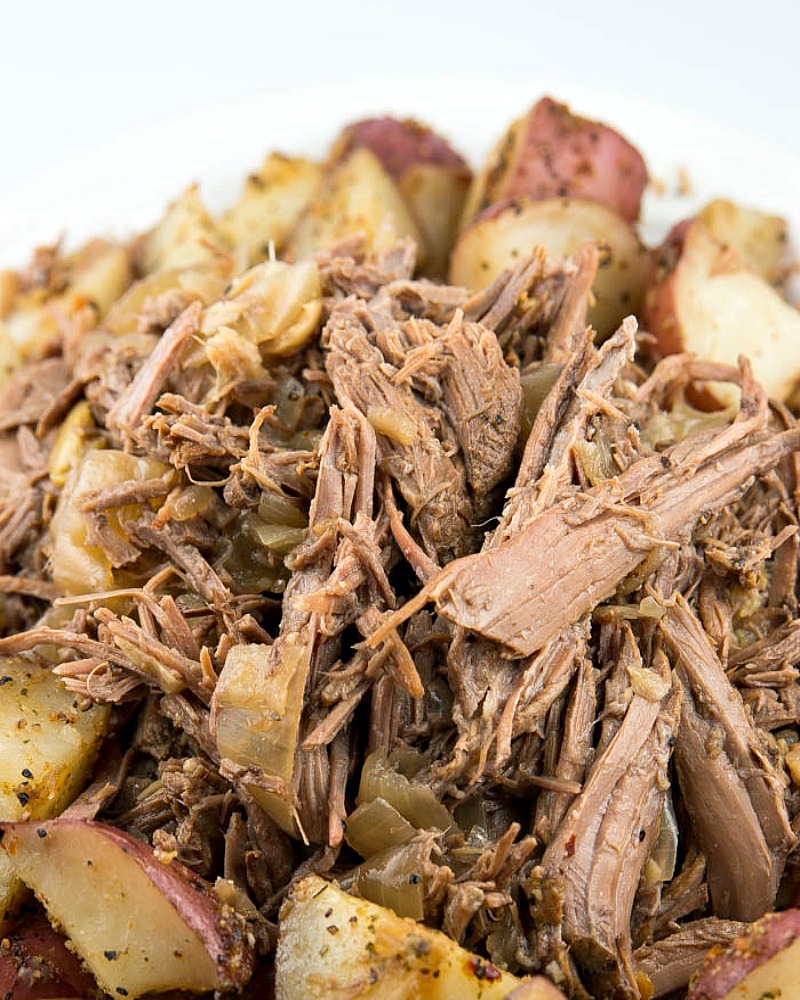 Slow Cooker Pot Roast with Roasted Red Potatoes
2015-03-24 16:03:59
Serves 8
A great way to make a hearty meal that your family will love.
Pot Roast
1-tablespoon steak seasoning
3-1/2-pound bottom round roast
3-tablespoons coconut or olive oil
1 (1oz)-packet onion soup mix
1-large sweet onion, sliced
10-gloves garlic, peeled and smashed
2-cups vegetable broth
1/4-cup red wine vinegar
Potatoes
5-6-red potatoes, quartered
3-tablespoons seasoned pepper
3-teaspoons garlic salt
3-teaspoons chili powder
3-teaspoons paprika
Instructions
Sprinkle steak seasoning over roast and rub into meat. In large skillet, heat oil over high heat, when hot add roast and sear 2-3 minutes on each side until browned.
Place seared roast in slow cooker.
Sprinkle onion soup mix over roast and cover with sliced onion and garlic.
Add vegetable broth and red wine vinegar.
Cook roast on high 4-6 hours, or low 6-8 hours on low until roast shred easily ( I used low).
Potatoes
Preheat oven to 450 degrees, place potatoes in oven 30 minutes before roast is done.
Slice potatoes in quarters and place in a ziplock bag with a teaspoon of melted coconut oil or olive oil.
Place all the seasonings in the bag and shake to coat the potatoes.
Place potatoes on a cookie sheet.
Bake for 30 minutes or until potatoes are soft throughout. Enjoy!
Adapted from 400 Calories or Less, LDS Living
Adapted from 400 Calories or Less, LDS Living
Fitness Food Diva https://fitnessfooddiva.com/

My Latest Videos