When it comes to indulging a Homemade Maple Bar sure hits the spot. Warm, soft, and gooey, layered with an amazing maple glaze, breakfast just got a little sweeter.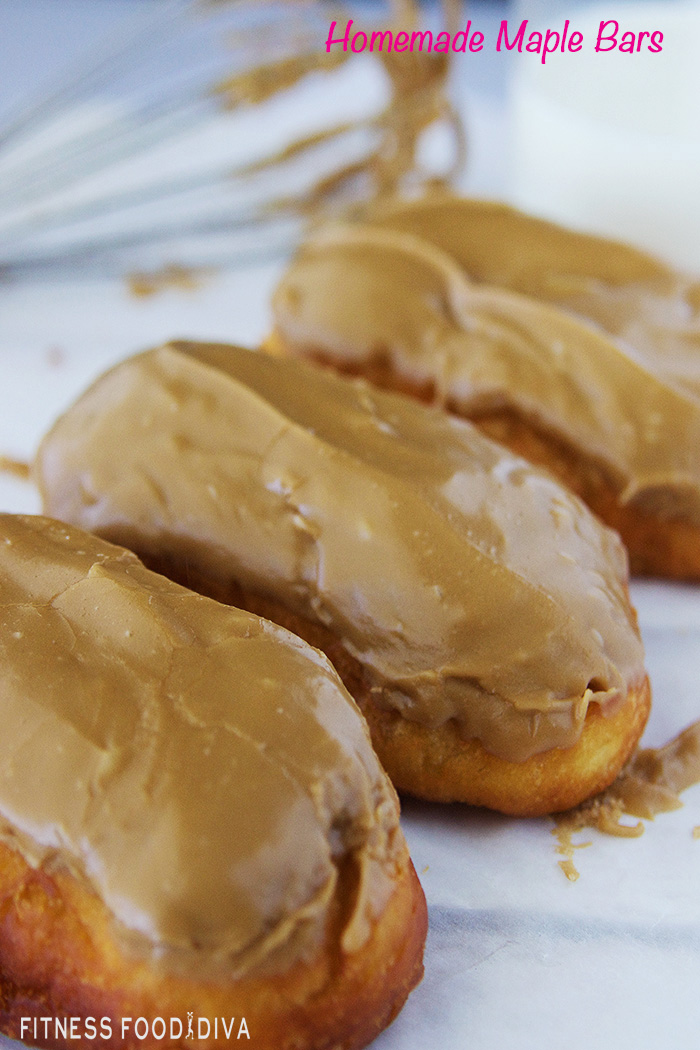 I know, I know, you are probably thinking why on earth am I tempting you with a fresh batch of delicious smelling Homemade Maples Bars for? And how can someone so into health and fitness even consider a sweet decadent Homemade Maple Bar? Well let me tell you, I want to start posting once a week a little piece of heaven to reward you for all your hard work throughout the week. If we don't indulge just a smidgen we will be depriving ourselves of the fun of food and living. So in honor of my first indulgalicous post I dedicate this to my Dad who is the connoisseur of all things donuts.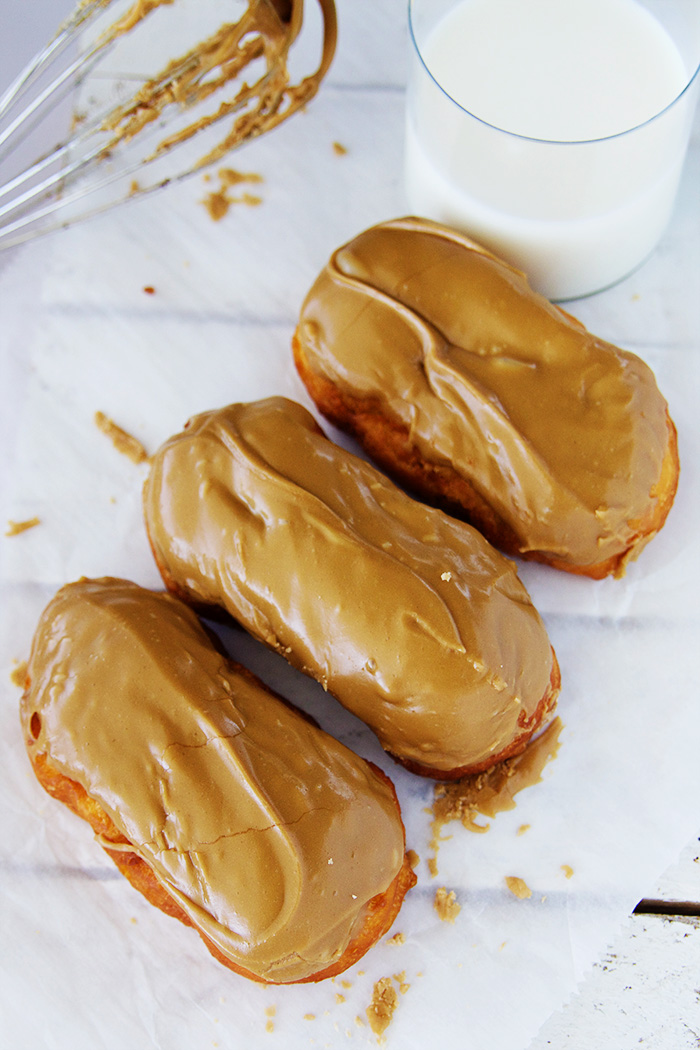 I will admit that I tried to "health-a-fy" them by using the Pillsbury reduced fat biscuits and no one even new. I took an entire batch to my office on Monday and they were all gone by lunch time, and my little niece who loves all things bread and butter, couldn't stop eating them. Needless to say they are pretty amazing for being homemade and they only take about 20 minutes to make. You might say that is a bad thing because you can whip them up pretty quickly, but remember it is ok to step out of our routine ( briefly) to remind us we are human and we work hard and deserve a moment of weakness.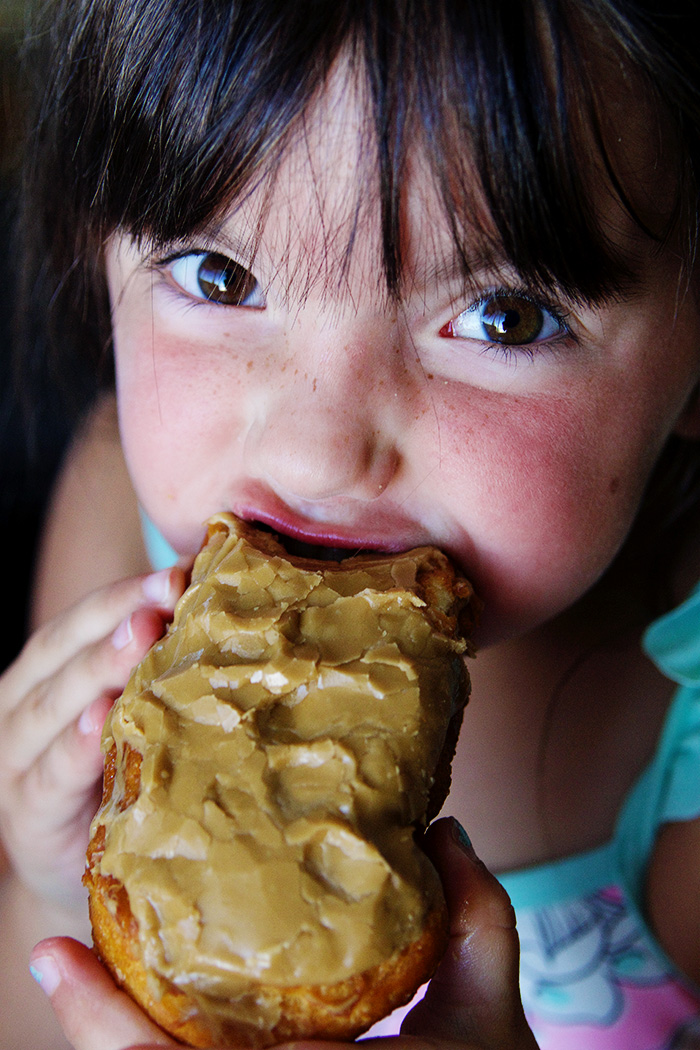 These Homemade Maple Bars are just about the closest thing to a Dunkin Donuts and I think your family will agree, they make the house smell just like your favorite donuts shop when you walk in and the wafting smell of all things sweet and savory comes bellowing out and your mouth instantly begins to water. So remember it's ok to indulge and savor the flavor, because tomorrow the hard work starts all over again 😉 xoxo.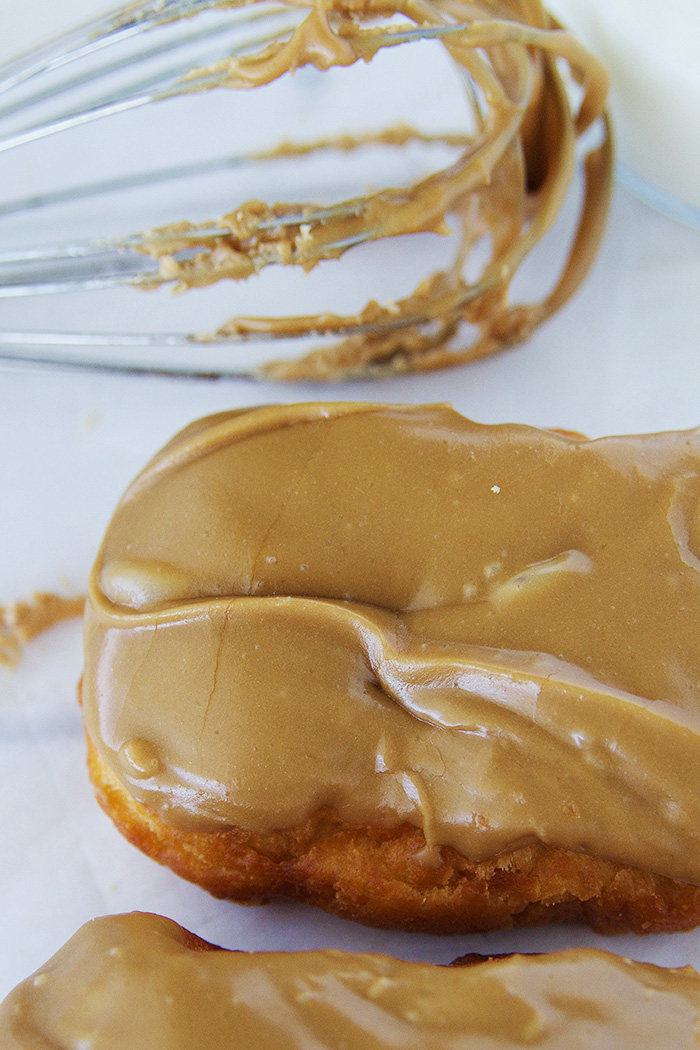 Homemade Maple Bars
2015-07-26 18:24:29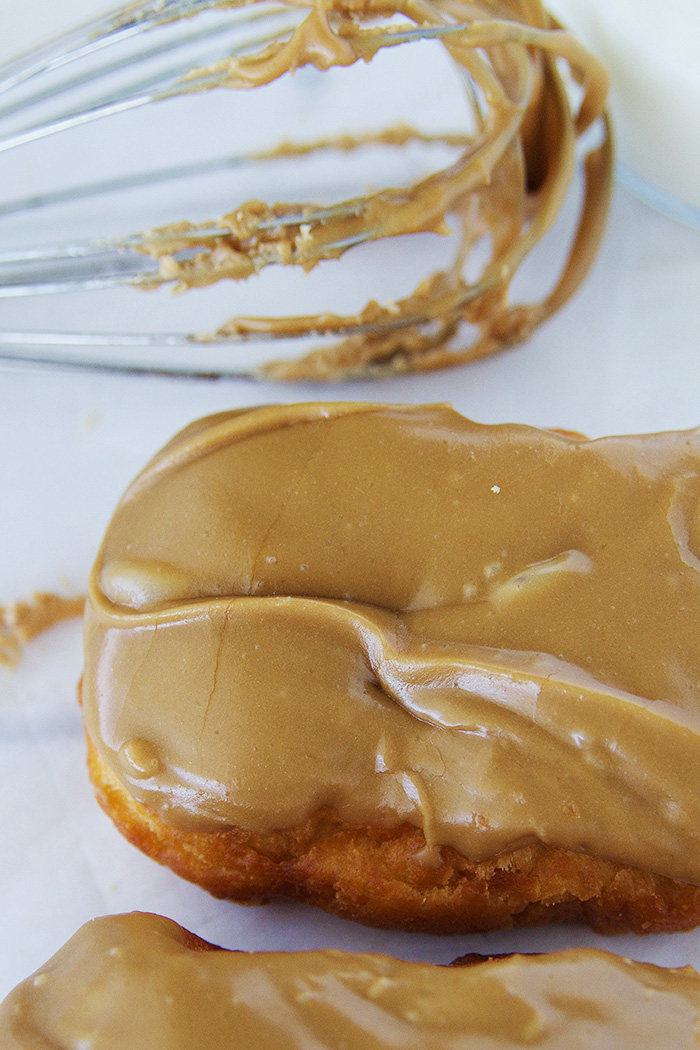 Serves 8
Warm, gooey and maple glazed, the perfect indulgence to start the day.
Ingredients
1 8-count can refrigerated biscuit dough (I used Pillsbury Grand Homestyle Reduced Fat Buttermilk biscuits)
2 cups canola oil, for frying
1/4 cup butter
1/2 cup brown sugar
3 TBSP milk
1 TBSP corn syrup
2 tsp maple extract
2 cups powdered sugar
Instructions
Pour 2 cups of canola oil into a medium sized saucepan and begin heating on medium-low heat (I set mine at 5.)
Open the biscuit dough and separate. Gently stretch the biscuits into an oblong shape, as opposed to the round shape they come in.
In a small saucepan, combine butter and brown sugar. Whisk in milk and heat for about 5 minutes on medium heat, stirring often, until butter is melted and sugar is dissolved.
Remove from heat and add in corn syrup and maple extract. Add in powdered sugar ½ cup at a time, whisking until smooth between additions. Add 1-2 tsp more milk if necessary. Glaze will begin to harden if you leave it sitting- which is what you want! Once all powdered sugar is added, keep maple glaze warm on the stove, whisking occasionally.
Check the temperature of the oil using a meat thermometer- it needs to read 350 degrees F. Increase heat gradually if necessary.
Once oil is ready, drop bars in 2 at a time. Let cook for about 2 minutes, then turn and cook an additional 2 minutes on the other side. This process of cooking the doughnuts goes very fast, so have a paper towel covered plate ready to set the bars on when cooked. Bars should be a nice golden brown.
Let bars cool for a few minutes, then whisk the glaze to make sure it's smooth enough to dip each bar. Dip the bar, then immediately turn glaze side up on a cooling rack.
Repeat this process until all bars are fried and glazed. Enjoy!
Adapted from Butter with a Side of Bread
Adapted from Butter with a Side of Bread
Fitness Food Diva https://fitnessfooddiva.com/

My Latest Videos