Just like my Mama's stuffing, this Sourdough Artichoke Stuffing will be the last thing placed on the table, and the first thing to be eaten. Warm and delicious right out the oven and bursting with bold mouthwatering flavors.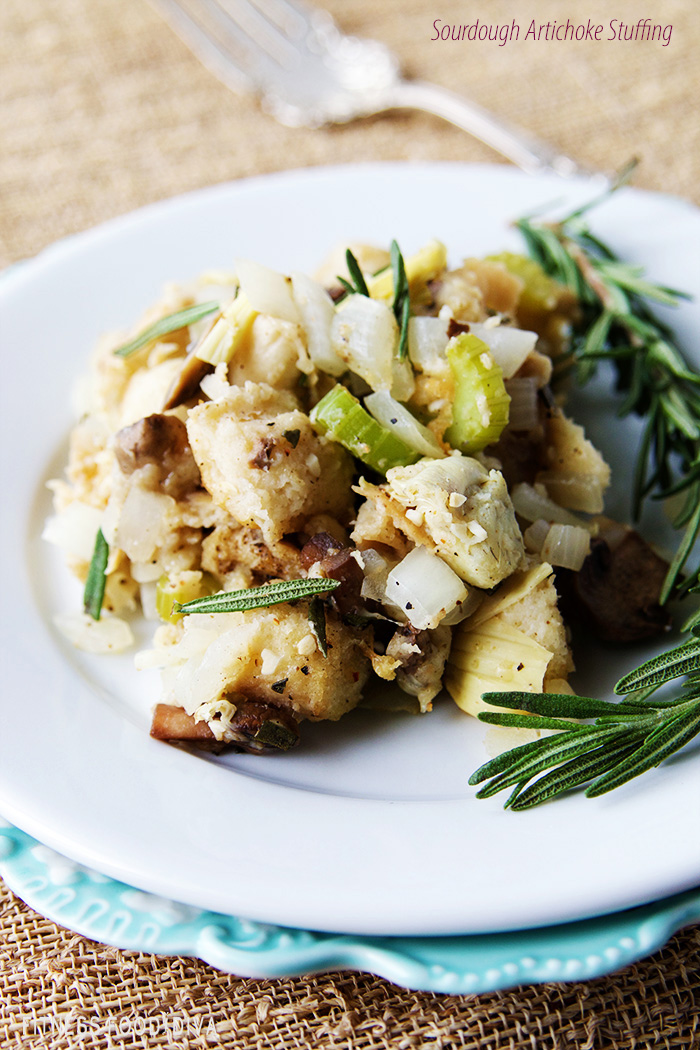 Stuffing!! One of my favorite things about the holidays is making stuffing. My Mom has an amazing and simple stuffing recipe and I alllll most captured it with this Sourdough Artichoke Stuffing. I say almost because Mom's have some secret ingredient to their ancient recipes that just cannot be mastered by anyone else. I love the bold flavors in this stuffing and using fresh herbs always adds so much depth and flavor to your cooking.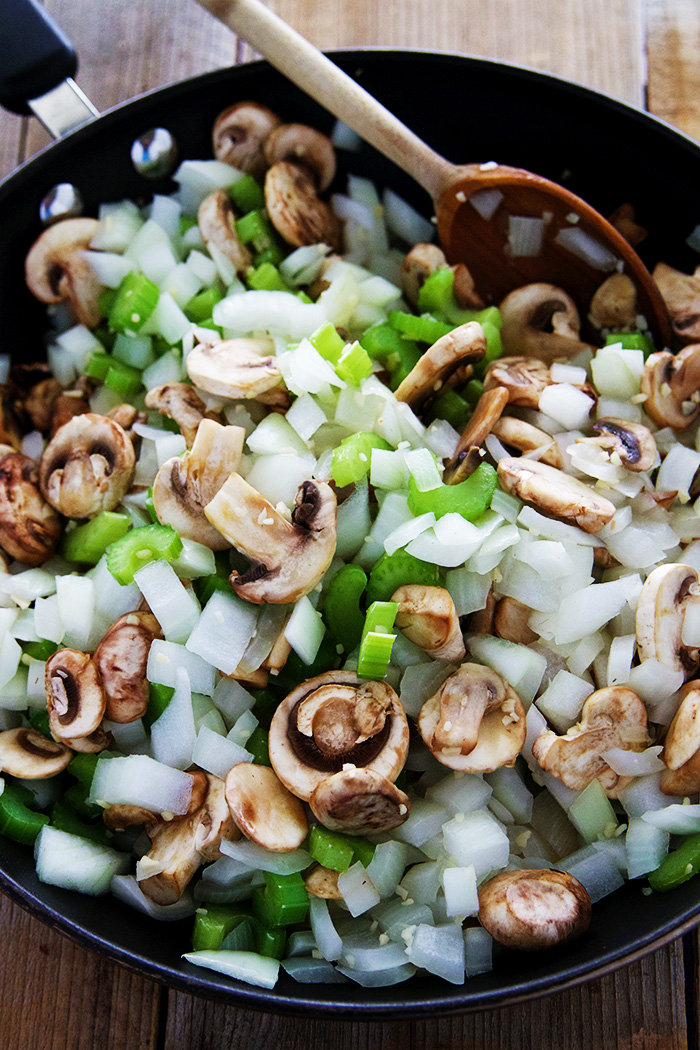 Now I know it is not Thanksgiving yet, but why wait! Stuffing is a great side dish for anytime not just at the Holidays, and for all of you who can't stand "stuffing" good ole Mr. Turkey, YOU DON"T HAVE TOO!! YAY. This Sourdough Artichoke Stuffing is really easy to make no bird required. All you need is a 9×13 dish and wha-la, your stuffing turns out amazing, moist, and smells delicious.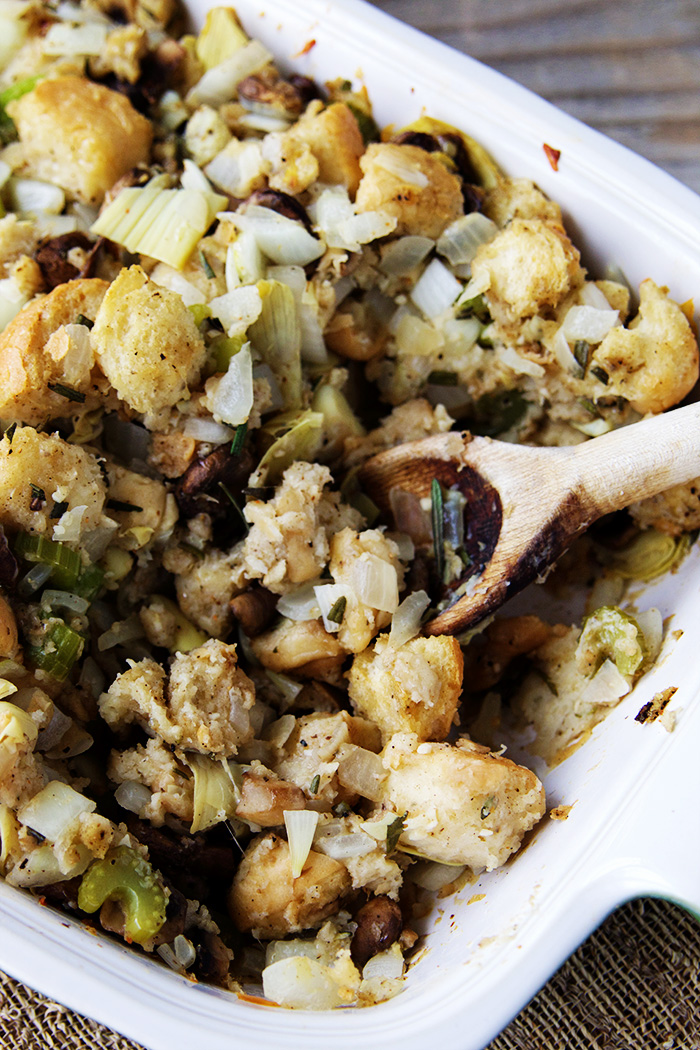 Really stuffing is like Christmas in a casserole, it has all the goodness of the Holidays all baked in one delicious place. It just makes everything smell so nice and brings a little Holiday cheer. You can add sausage for a non Holiday side dish and then spruce it up with Turkey or Duck for the Holidays and if you leave it just the way it is it will be perfect too.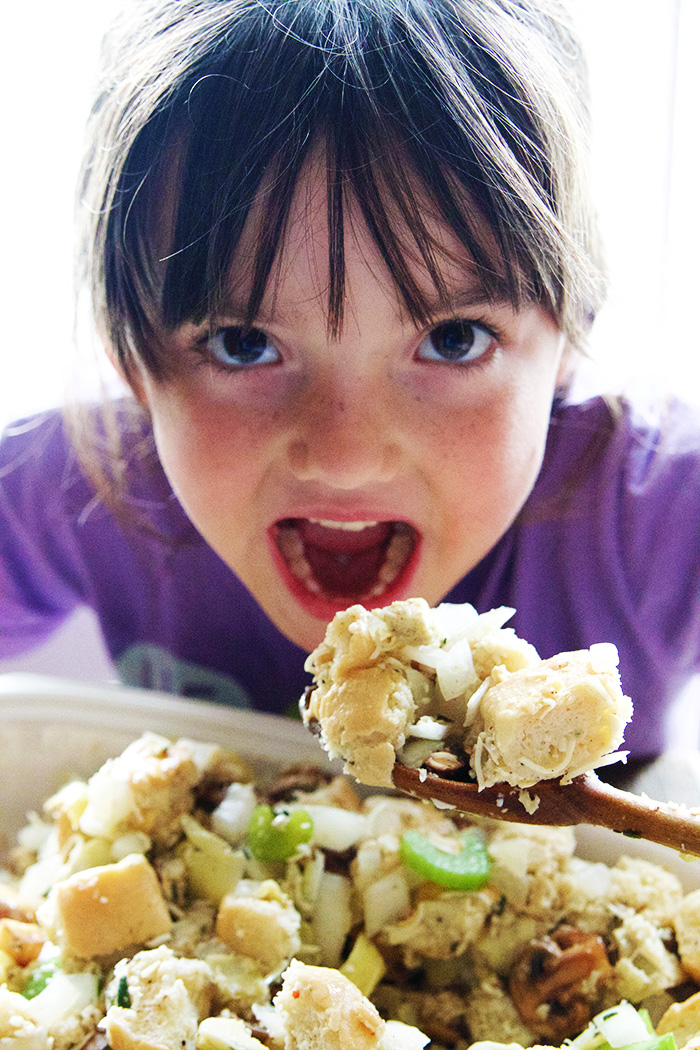 It's not time to stuff the bird just yet, but it is time to try this Sourdough Artichoke Stuffing with your next family meal. xoxo
Sourdough Artichoke Stuffing
2015-10-23 20:10:08
Serves 7
The perfect stuffing for any meal, that is moist and bursting with flavor and low in calories.
Ingredients
1 pound mushrooms, rinsed, ends trimmed, and sliced
Cooking Spray
2 onions (3/4 lb. total), chopped
1 cup chopped celery
2 tablespoons minced garlic
About 2 cups reduced-sodium fat free chicken broth
1 loaf (1 lb.) sourdough bread, cut into 1/2-in. cubes
2 jars (6 oz. each) marinated artichoke hearts, drained and chopped
1 cup freshly grated parmesan cheese
1 1/2 teaspoons poultry seasoning
1 1/2 tablespoons minced fresh rosemary leaves or 3/4 tsp. crumbled dried rosemary
Salt and freshly ground black pepper
1 large egg
Instructions
In a 12-in. frying pan sprayed with cooking spray and over high heat, cook mushrooms, onions, celery, and garlic, stirring often, until vegetables are lightly browned, about 10 minutes. Pour into a large bowl. Add a bit of broth to pan and stir to scrape up browned bits. Add to bowl.
Pour 2 cups broth into bowl and add bread, artichoke hearts, parmesan, poultry seasoning, and rosemary; mix well. Add salt and pepper to taste. Make a well in stuffing. Add egg and beat with a fork to blend; mix egg with stuffing.
Preheat oven to 350° (use temperature turkey requires; see Note below). Spoon stuffing into a shallow 3-qt. (9- by 13-in.) casserole. Cook covered for 35 minutes, then uncover and cook 15 minutes until lightly golden brown on top. Enjoy!
Notes
Make ahead: Up to 1 day ahead, make stuffing, put in casserole, cover, and chill. Allow about 1 hour to bake.
Adapted from myrecipes
Adapted from myrecipes
Fitness Food Diva https://fitnessfooddiva.com/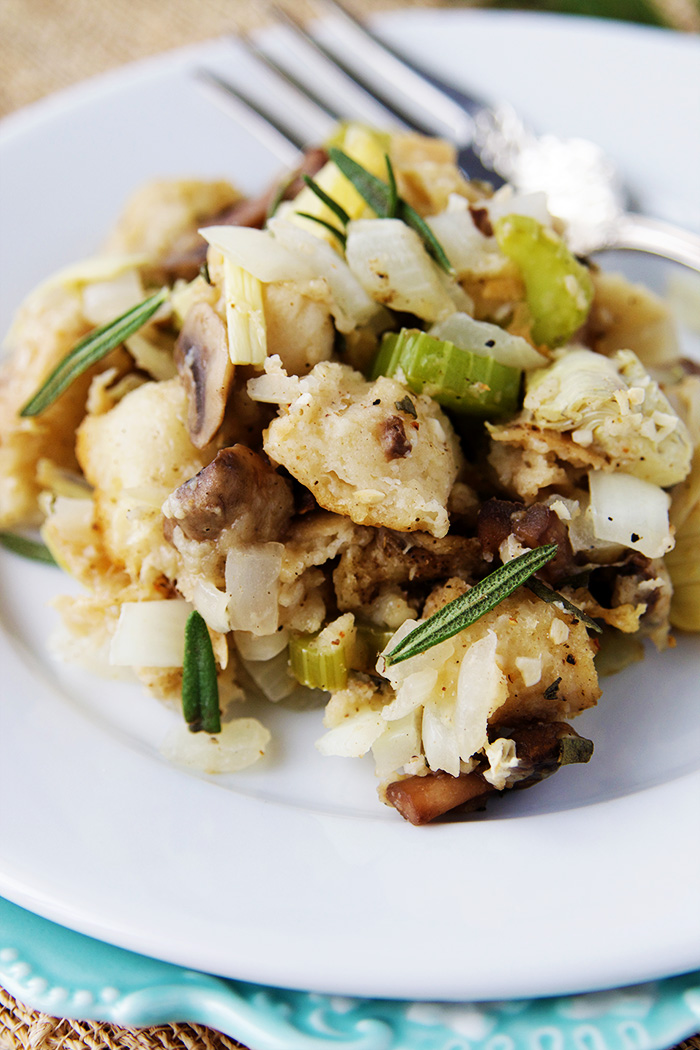 My Latest Videos