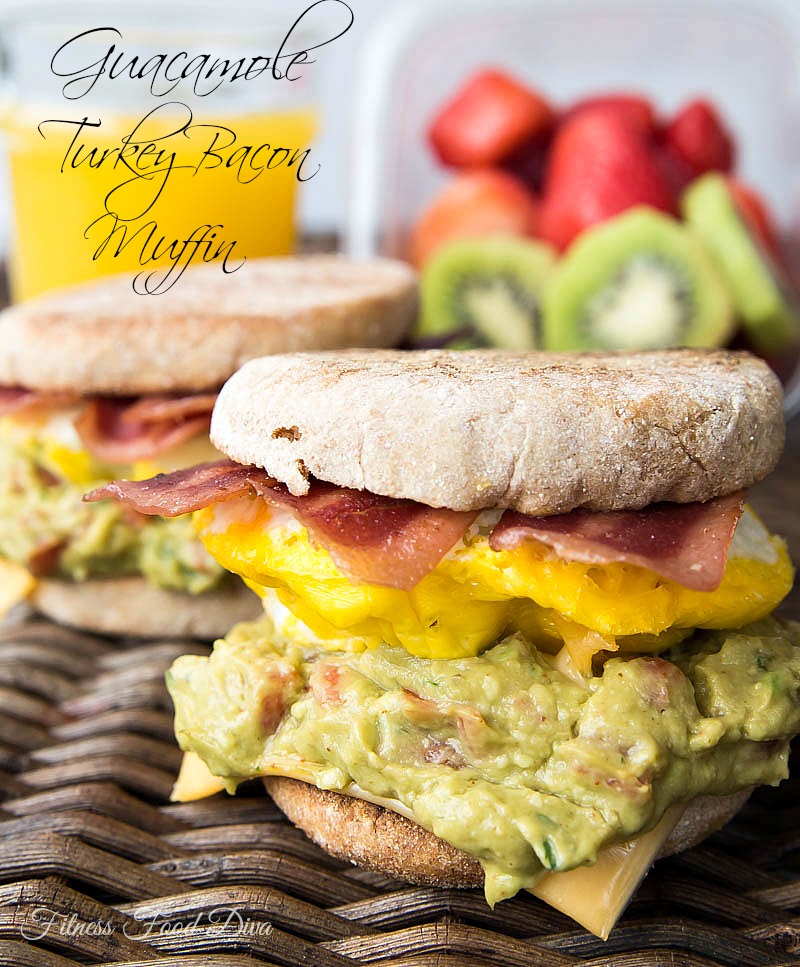 The incredible, edible, EGG! Three things I love about this recipe is that it involves eggs, turkey bacon, and guacamole. Eggs are one of my favorite breakfast foods. They can be fixed so any fit-licious ways. Eggs can be scrambled, poached, fried, deviled, hard boiled, and list goes on. This Guacamole Turkey Bacon Muffin is my new favorite way to eat my eggs and start my day. Loaded with bacon, cheese, and guacamole, its hard to believe something so good can actually be good for you. It steps up the flavor in the everyday "egg white delight." Each mouth watering bite of this Guacamole Turkey Bacon Muffin will be worth every second it took to make. The flavor the turkey bacon and guacamole have together between melted cheese and toasted warm muffin is amazing.
The health benefits of this great morning breakfast make it that much better to enjoy. Eggs are a wonderful source of protein and vitamins. They raise "good" cholesterol and support eye health. Avocados, contain more potassium than a banana, are loaded with fiber and heart-healthy monounsaturated fatty acids, and also help lower cholesterol. Wether you make This Guacamole Turkey Bacon Muffin for yourself or someone else it will leave you singing "dada da da da da.. I'm lovin it!" xoxo
Guacamole Turkey Bacon Muffin
2014-11-25 21:11:41
Serves 1
The incredible, edible, EGG!
Ingredients
100% whole grain english muffins
1-whole egg
1-egg white
2-slices turkey bacon
1-slice fat free american cheese
Guacamole ( I used homemade guacamole) (see recipe below).
Ketchup (optional)
Guacamole
2-3-medium Hass avocados, peeled, pitted and mashed
1-small container of pico de gallo ( or you can chop, 2 tomatoes, 1/2 white onion, 1/2-red onion, 3-gloves of garlic, and cilantro)
1-tablespoons taco seasoning
black pepper and cayenne pepper to taste
Lets Cook
In a medium fry pan, cook bacon until crispy around the edges.
Once cooked, place the bacon between 2 paper towels to dab of any grease.
In microwave safe dish, whip together egg and egg white.
Place in the microwave, covered for 1min, 10seconds.
Mean while, toast English muffin.
Begin to assemble: place cheese on one half of the muffin, then layer guacamole, egg, bacon, (top w/ low sugar ketchup, optional) and place the other half of the muffin on top.
Place in microwave for about 10 seconds to melt cheese slightly. Enjoy!
Guacamole: note: (makes more than one serving).
In a medium bowl, mash avocados( I leave mine a little chunky).
Add remaining ingredients and mix until combined, season with black pepper and cayenne. Enjoy!
Fitness Food Diva https://fitnessfooddiva.com/

My Latest Videos