My cup runneth over with pumpkin, with these moist, cakey Pumpkin and Cream Cheese Muffins dusted with warm walnut streusel. Oh thank heaven for muffin mornings.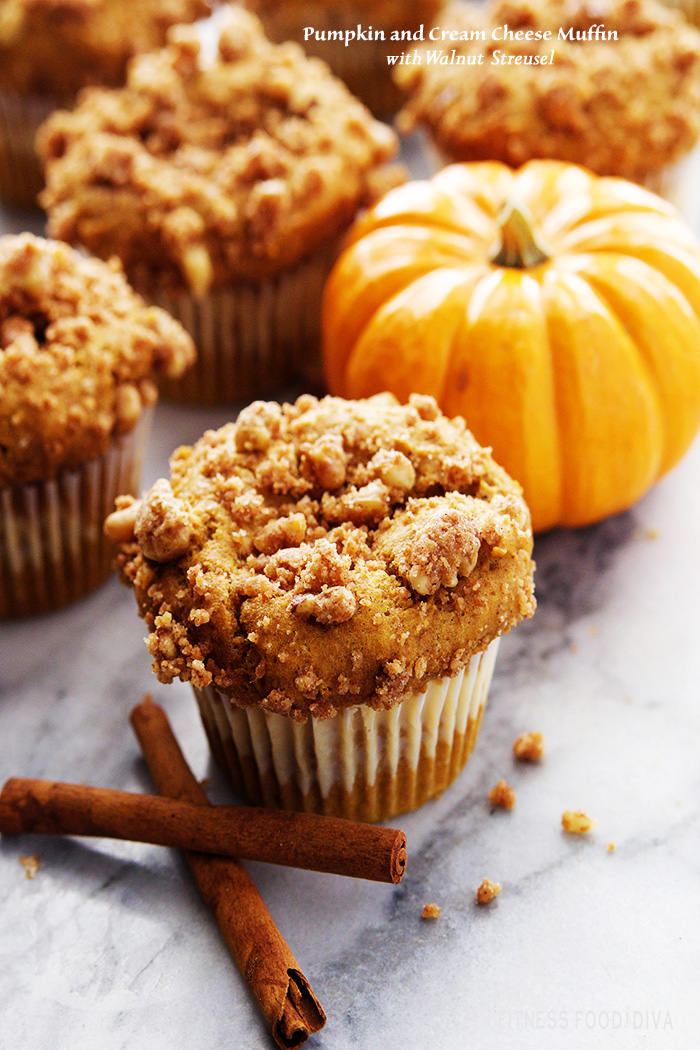 Growing up I LOVED making muffins. Every Friday night I would make a big batch of blueberry, bran, or bannana muffins and then wait until Saturday morning to eat one. I would wake up and warm a muffin, put a little honey on it and watch some saturday morning cartoons. Ahh, it seems like yesterday ;). Well I am grown up now and times still haven't changed, well the cartoons have turned into HGTV, but I still love the taste of a homemade muffin. These Pumpkin and Cream Cheese Muffins with Walnut Streusel are absolutely lovely for this Fall season. So moist and soft, the cream cheese bakes right in to the yummy pumpkin batter and it tastes like an extra creamy pumpkin pie.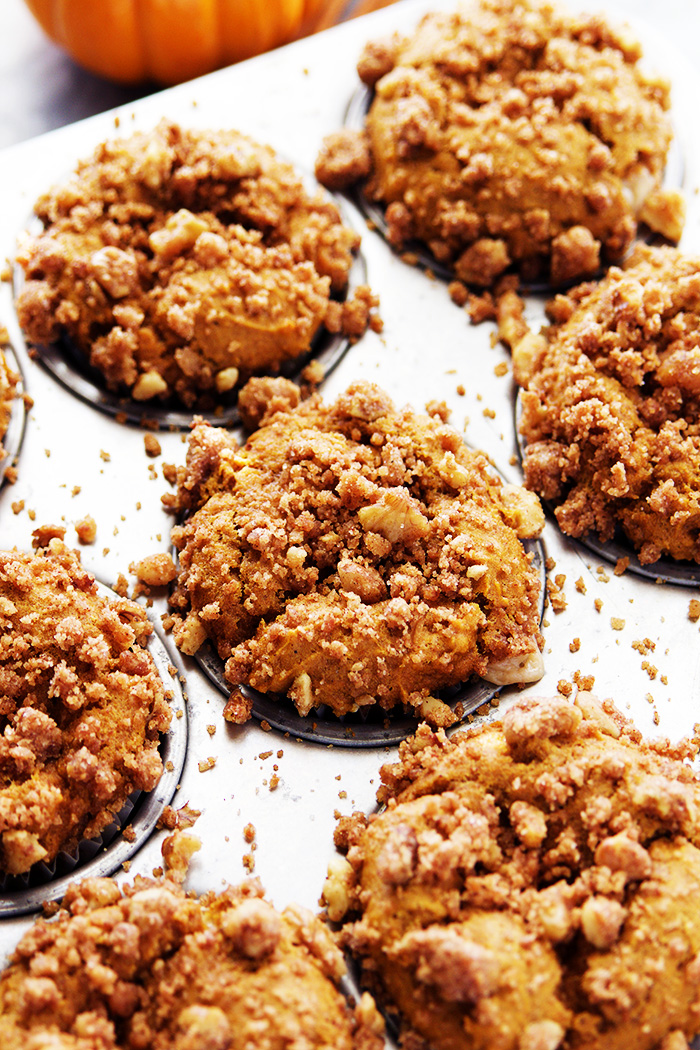 There are some foods I think that put a smile on our faces or take us back to a childhood memory, and that is exactly what these muffins do for me. Pumpkin and Cream Cheese Muffins with Walnut Streusel are easy to make and bake up beautifully. My husband drove home from Utah the other night and I told him I had made some pumpkin muffins for him and his Mom to try in the morning, but I didn't tell him they had cream cheese baked inside or a nutty sweet streusel on top. Needless to say he was like "ok, sure whatever. I will try one." Well when he woke up I had one all warmed and ready for him to try. His eyes looked at me and he said "you said pumpkin muffins, these taste like fresh baked creamy pumpkin pie!" I laughed and took that as a thumbs up.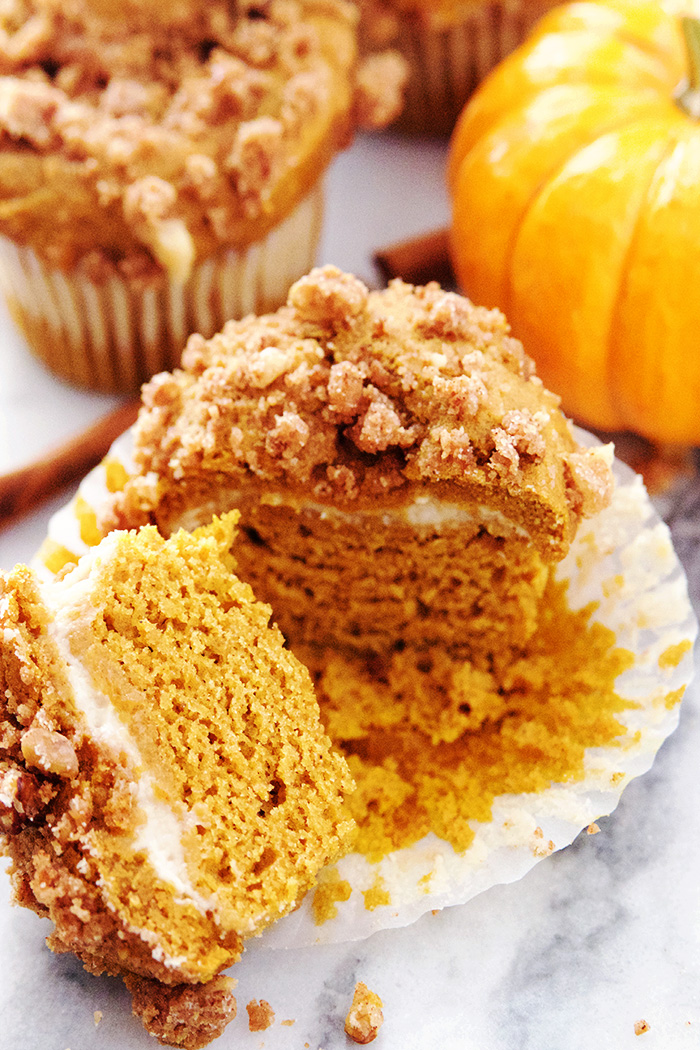 Pumpkin and Cream Cheese Muffins with Walnut Streusel are a great way to incorporate pumpkin into your fall baking, and will absolutely be loved by all. So get the cartoons ready, oops I mean HGTV, and enjoy the love of Fall.
Pumpkin Cream Cheese Muffins with Walnut Streusel
2015-10-06 18:24:13
A super moist pumpkin muffin with a nutty sweet streusel topping.
Muffin
2 cups whole wheat white flour
1 1/2 cups granulated sugar
1 teaspoon baking soda
1 teaspoon baking powder
1 teaspoon ground cinnamon
1 teaspoon ground ginger
1/2 teaspoon ground nutmeg
1/4 teaspoon salt
1 1/4 cups pumpkin puree
3 eggs, lightly beaten
1/3 cup canola oil
1/2 teaspoon vanilla extract
Cream Cheese Filling
4 oz 1/3 less fat cream cheese, room temperature
1/3 cup granulated sugar
1 tablespoon vanilla extract
Topping
1/3 cup granulated sugar
1/2 cup whole wheat white flour
1/4 cup walnut, chopped
3 tablespoon unsalted butter, melted
1 teaspoon ground cinnamon
Instructions
Preheat oven to 350F. Grease muffin tin or line with muffin liners.
In a small bowl, mix together with a spoon the cream cheese mixture ingredients until smooth. Set aside.
To prepare the topping, combine all the streusel ingredients until crumbly. Set aside.
In a large bowl, sift together the flour, sugar, baking soda, baking powder, spice and salt.
In another bowl, lightly beat the pumpkin, eggs, oil and vanilla.
Pour the pumpkin mixture into the flour mixture. Mix with a spatula until moistened.
Evenly divide half of the batter among the muffin cups. Place 1 to 2 teaspoons of the cream cheese filling in the center of each cup, pressing it gently into the batter. Fill with the remaining batter.
Sprinkle around 1 tablespoon of the walnut streusel on top of each muffin.
Bake until risen and browned, about 20 minutes. Let cool for 10 minutes in the pan. ENJOY!
Adapted from Oh Sweet Day
Adapted from Oh Sweet Day
Fitness Food Diva https://fitnessfooddiva.com/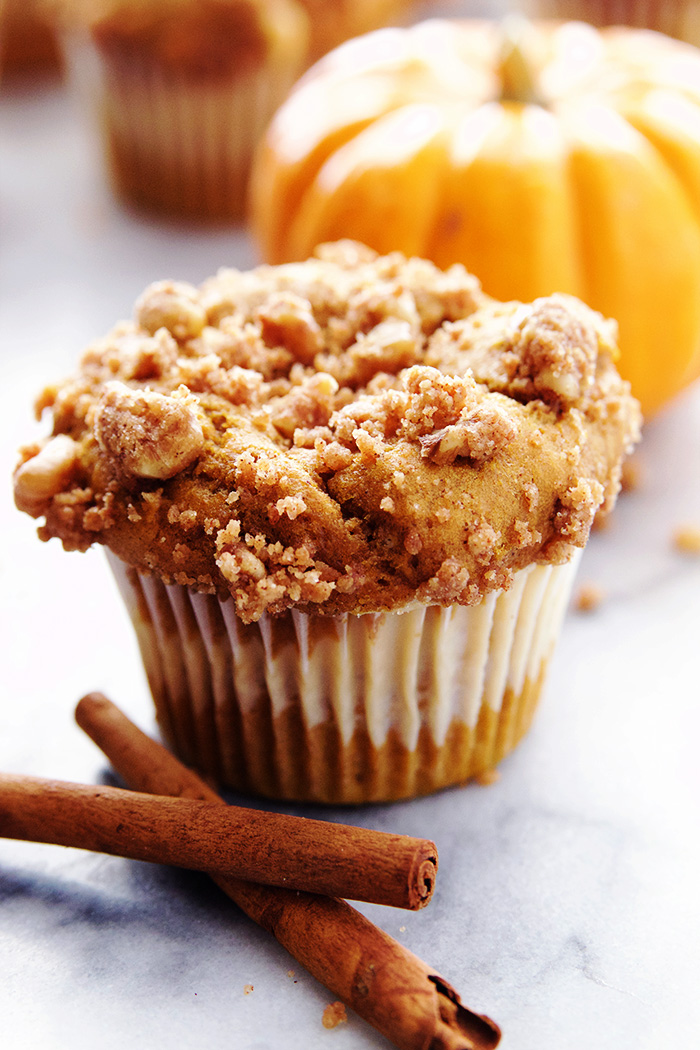 My Latest Videos