Hello delicious! Fire and ice meet Chipotle Shrimp Bowls with Cilantro Lime Cream Sauce. There is no doubt a little bit of firecracker hiding in these flavorful pan seared shrimp you don't want to miss.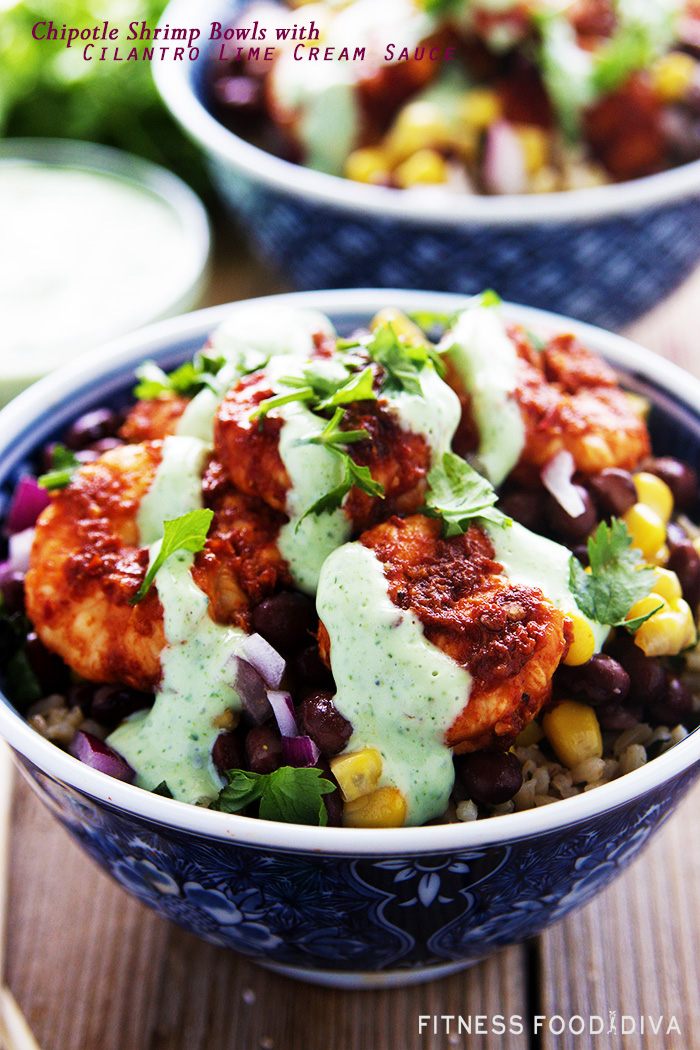 Pan seared shrimp setteled in a quick chipotle marinade how can you go wrong. I am not going to lie, these shrimp are SPICY, but with the black bean mixture, the cilantro lime cream sauce and the rice it tones them down and is delicous to eat. I will advise if you don't like things too spicy only use half of the chipotle peppers instead of the entire can, but if you like it hot then bring it on. I made these Chipotle Shrimp Bowls with Cilantro Lime Cream Sauce the other night for a small family get together to watch a little Sunday night football, and the first thing everyone said as they walked in the door was "wow something smells good!"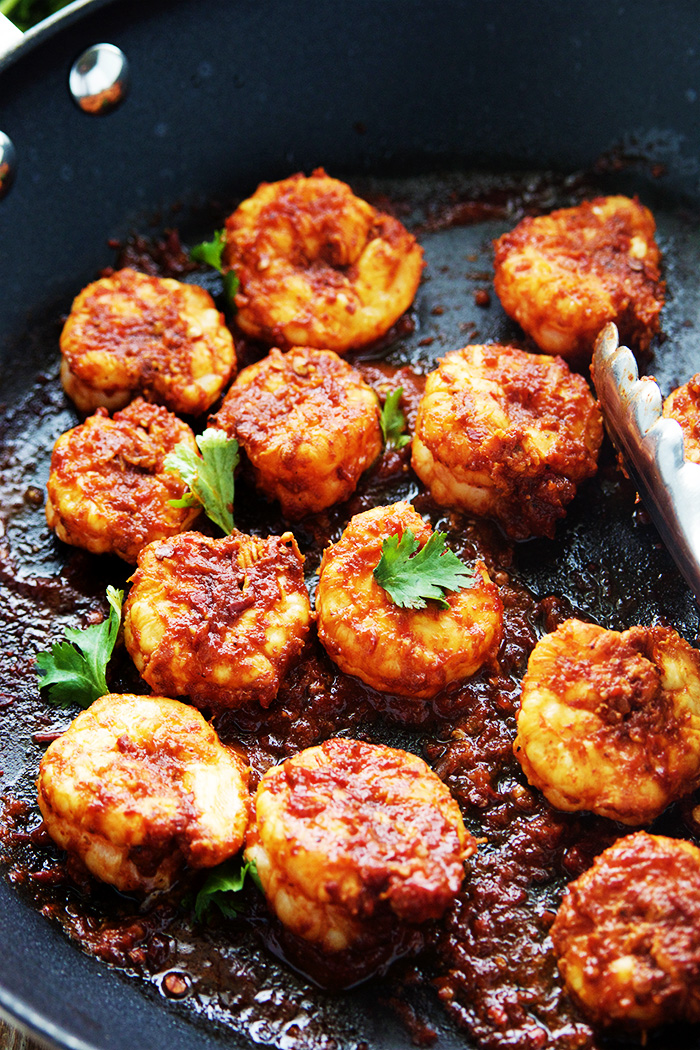 Right away I felt better since they had know idea they were my taste testers for the night. There are a few steps to these amazing shrimp bowls, but they are all quick and easy. Make sure to start by marinating the shrimp and then go from there. I used brown rice, but you can use white rice, quinoa, or even put it over one of your favorite pastas. I loved the rice because the lime juice and cilantro really give it a good flavor.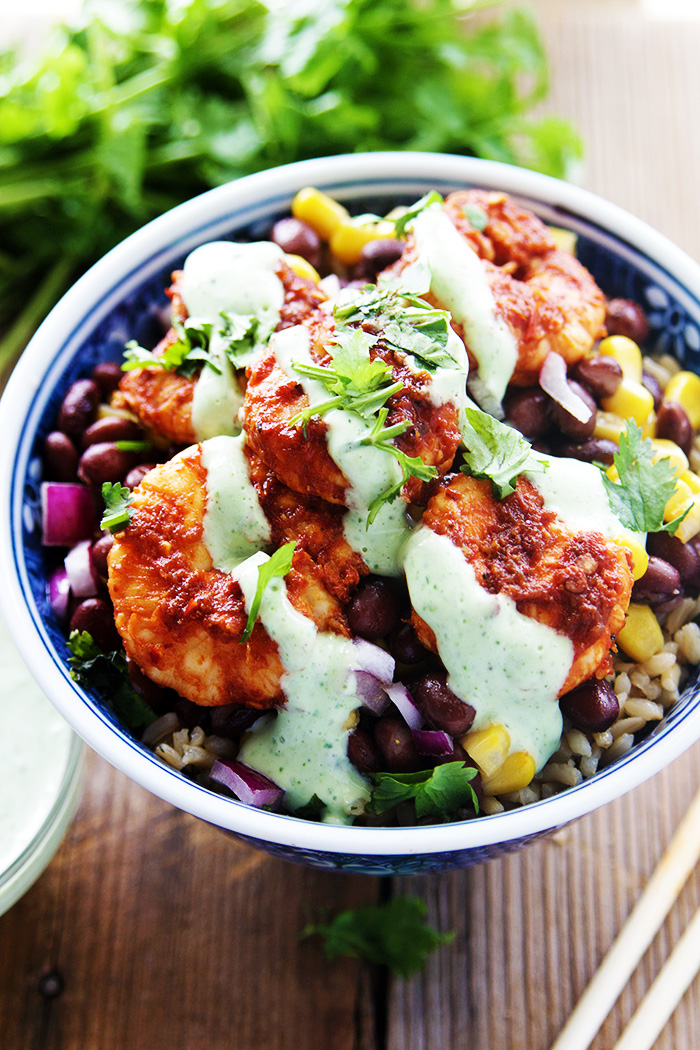 Chipotle Shrimp Bowls with Cilantro Lime Cream Sauce are simple and easy to make. They are loaded with great healthy ingredients and won't put you into a food coma, leaving room for dessert. The cream sauce is lite and zesty and compliments the spicy shrimp perfectly. So get the spice in your life started with these Chipotle Shrimp Bowls with Cilantro Lime Cream Sauce and be prepared for deliciousness.
Chipotle Shrimp Bowls with Cilantro Lime Cream Sauce
2015-10-04 22:14:05
Serves 4
A spicy flavorful shrimp bowl, with a light cream sauce and hearty brown rice.
For the Rice
1 bag of microwavable brown or white rice
½ C cilantro, chopped
lime juice from ½ of a lime
For the Shrimp
1 lb jumbo shrimp, peeled and deveined
1 can (7 oz) chipotle chiles in adobo sauce *(if you don't like it too spicy only use half of the can)
3 cloves of garlic
Toppings
1 C black beans (If using canned, rinse and drain before use)
1 C frozen corn, thawed
¼ C red onion
1 tbsp olive oil
For the Cream Sauce
1 C Fat Free sour cream
½ C chopped cilantro
1 tbsp fresh lime juice
For the Rice
Microwave according to package instructions, once cooked empty into a bowl and mix with cilantro and lime juice, set aside.
For the Shrimp
Place entire can of chipotle peppers with sauce and garlic cloves in food processor. Pulse until pureed. Pour mixture over shrimp and stir to coat. Cover, place in refrigerator, and allow to marinate for at least 15 minutes.
Heat saucepan over medium-high heat. Spray with olive oil. Place shrimp in pan (depending on the size of your pan, you may need to do this in two batches.) Sear for 2 minutes. Turn shrimp over and sear for another minute or until shrimp is opaque in center and pink on the outside.
For the Toppings
Stir together black beans, corn, onion, and olive oil. If you want the mixture to be warm. Place mixture in a small saucepan and heat over medium-low heat until heated through.
For the Cream Sauce
Place sour cream, cilantro, and lime juice in food processor and pulse until smooth.
Assembly
Assemble by dividing rice between bowls. Top with veggies. Place shrimp on top. Drizzle with cream sauce. Serve and enjoy!
Adapted from A Kitchen Addiction
Adapted from A Kitchen Addiction
Fitness Food Diva https://fitnessfooddiva.com/

My Latest Videos