Oh my goodness, this Healthy Sweet Potato Bake is full of natural sweetness, melts in your mouth and is a great side dish for all your Holiday festivities.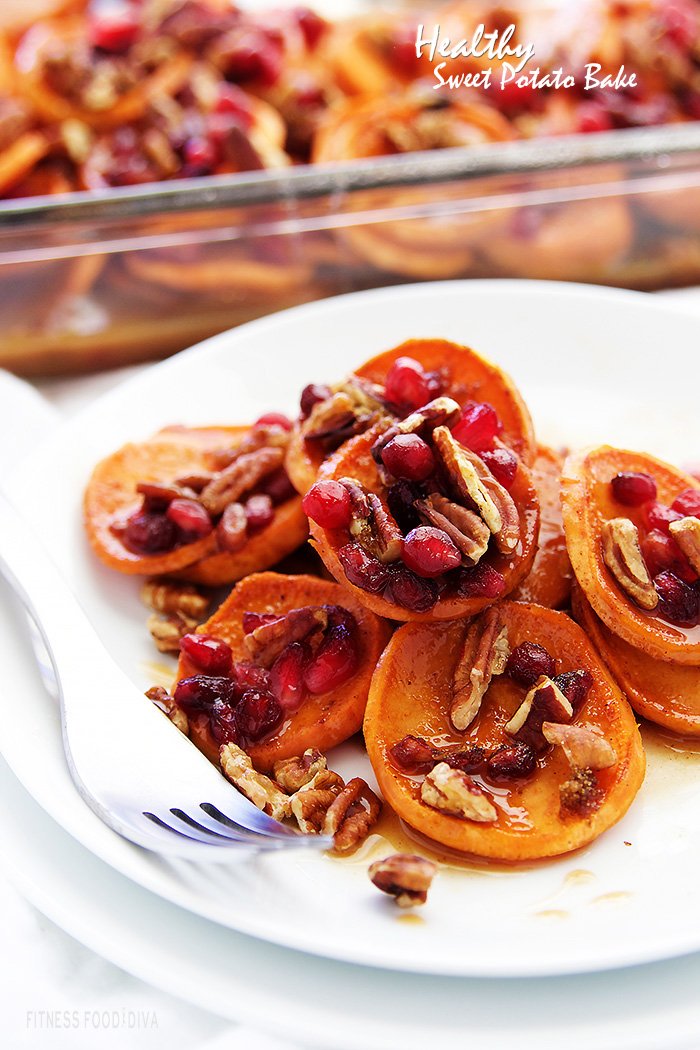 This Healthy Sweet Potato Bake is perfect if you want to enjoy your potatoes without hiding them with layers of marshmallows. Don't get me wrong, marshmallows are an amazing treat, but this Healthy Sweet Potato Bake is sweet and delicious all on its own. The sweet potatoes bake up nice and soft and literally melt in your mouth. It looks beautiful with the light glaze of the coconut sugar and the eye popping color of the juicy pomegranates throughout.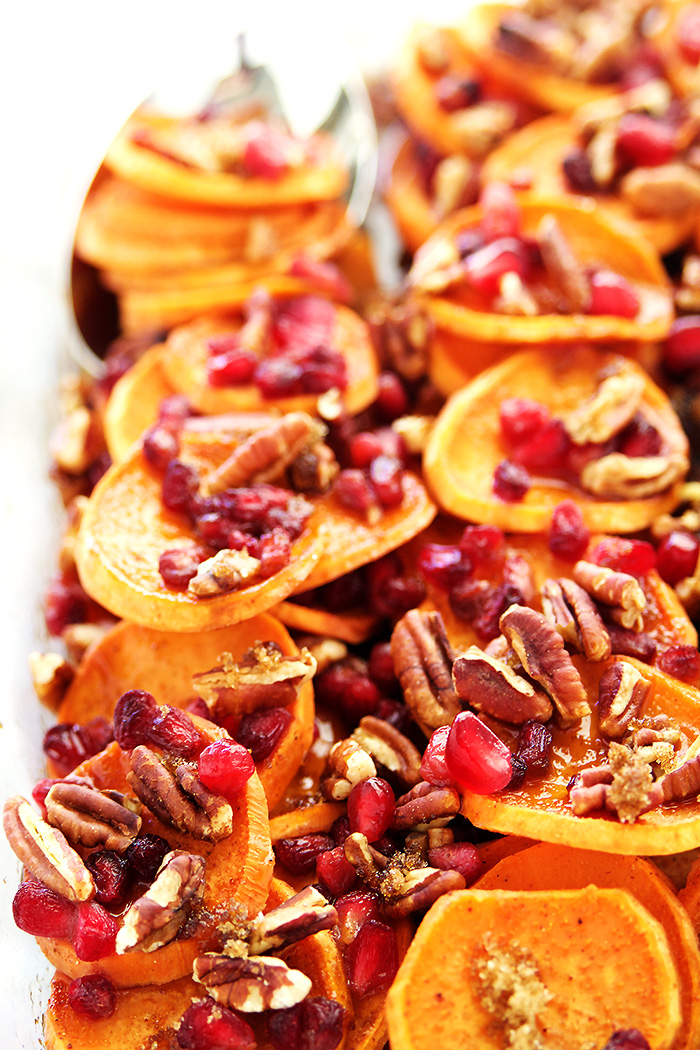 One of my favorite Holidays is Thanksgiving and although I am still amazed that we are starting to Tis the Season, this Healthy Sweet Potato Bake is very easy to make and takes little time to prepare. So let's de-stress our lives, enjoy our Holidays, and make simple and delicious recipes. Healthy Sweet Potato Bake is very hard to mess up, trust me If it could go wrong I would have done it, but it turned out wonderful.

Don't be turned off by "healthy" in this title, because your in luck.. it tastes AMAZING! Healthy doesn't have to taste like card board, but it can taste like soft, maple infused potatoes, bursting with pomegranates, baked to golden brown perfection. If you want to make a beautiful side dish statement this Holiday season, then this Healthy Sweet Potato Bake should be on your list. xoxo
Healthy Sweet Potato Bake
2015-11-25 20:49:16
Serves 6
No butter, no marshmallows, but 100% warm, sweet, and delicious.
Ingredients
olive oil spray
3 large sweet potatoes or 4 small/medium, peeled and sliced into 1/2 inch thick medallions
1 cup pomegranate arils
1/2 cup orange juice
1/4 cup pure maple syrup
3/4 teaspoon sea salt
1/2 teaspoon ground cinnamon
1/2 teaspoon ground ginger
1/4 teaspoon ground cloves
1/4 teaspoon ground nutmeg
1/3 cup chopped pecans
2 tablespoons coconut sugar (or brown sugar)
Instructions
Preheat oven to 400. Lightly spray a 9x13 baking dish with olive oil spray. Set aside.
Place the sweet potato slices and pomegranate arils in a large bowl. In a small mixing bowl, combine the orange juice, maple syrup and spices. Pour the liquid over the sweet potatoes and pomegranate arils and toss to full coat.
Make a layer of sweet potato medallions on the bottom of the prepared dish. Top with a little bit of the sauce and pomegranate arils from the bowl. Make another layer of sweet potato medallions and cover with a little bit more sauce and pomegranate arils. Repeat until all the ingredients are used. Cover the dish with aluminum foil and bake for 35 minutes.
Remove the aluminum foil from the dish. Sprinkle pecans on the top and sprinkle the coconut sugar on top of that. Very lightly spray the top with olive oil spray and return to the oven for 10-15 more minutes, until the sweet potatoes are fully cooked and the coconut sugar has caramelized on the top. Serve immediately. Leftovers can be stored in an airtight container for 3-4 days. Enjoy!
Adapted from Keepin' it Kind
Adapted from Keepin' it Kind
Fitness Food Diva https://fitnessfooddiva.com/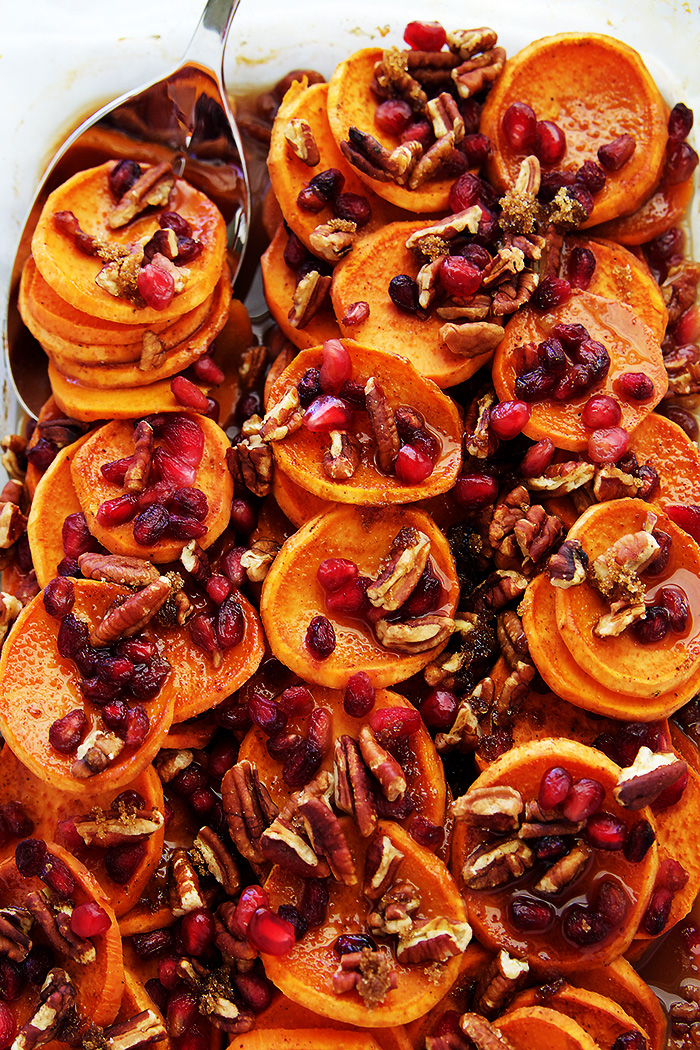 My Latest Videos