Quick Chicken Tortilla Bake comes right out of the oven ready to eat and with only 5 simple ingredients the grocery list is as simple as this is to make.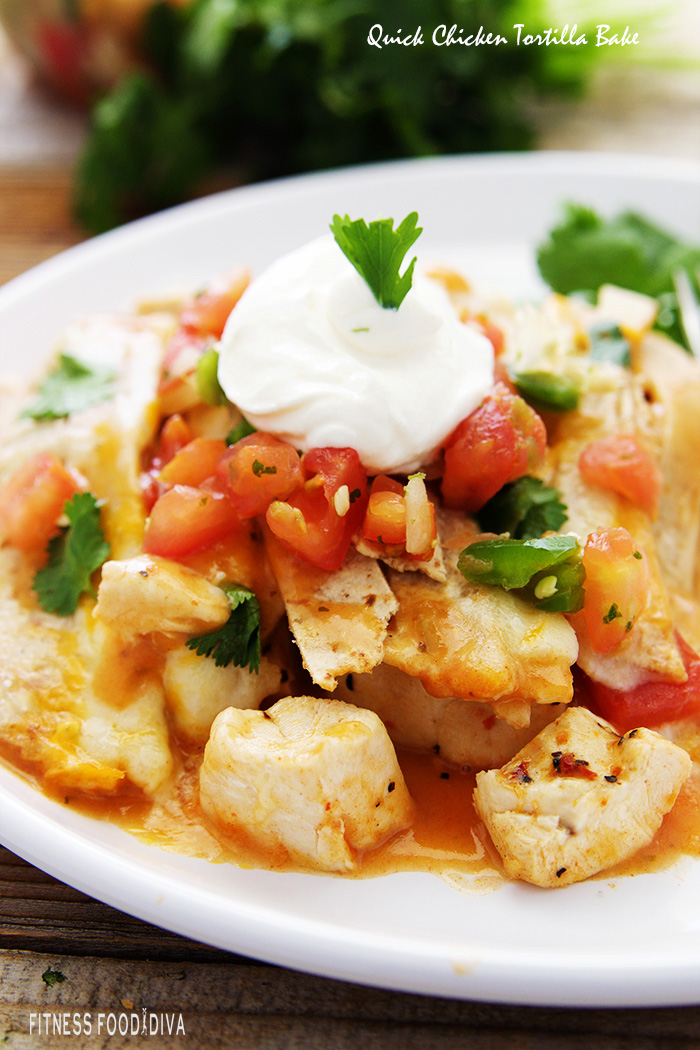 Ok who loves tortillas? Go ahead and raise you hand, I am. Who loves chicken? I KNOW I do, I think sometimes I might start clucking, and who loves Cheese? Anyone.. anyone.. This Quick Chicken Tortilla Bake is simple and perfect for dinner. It is almost like a cross between a burrito and enchilada. You can add all the yummy toppings like low fat sour cream, homemade guacamole, fresh pico de gallo and a little spice of jalapeños.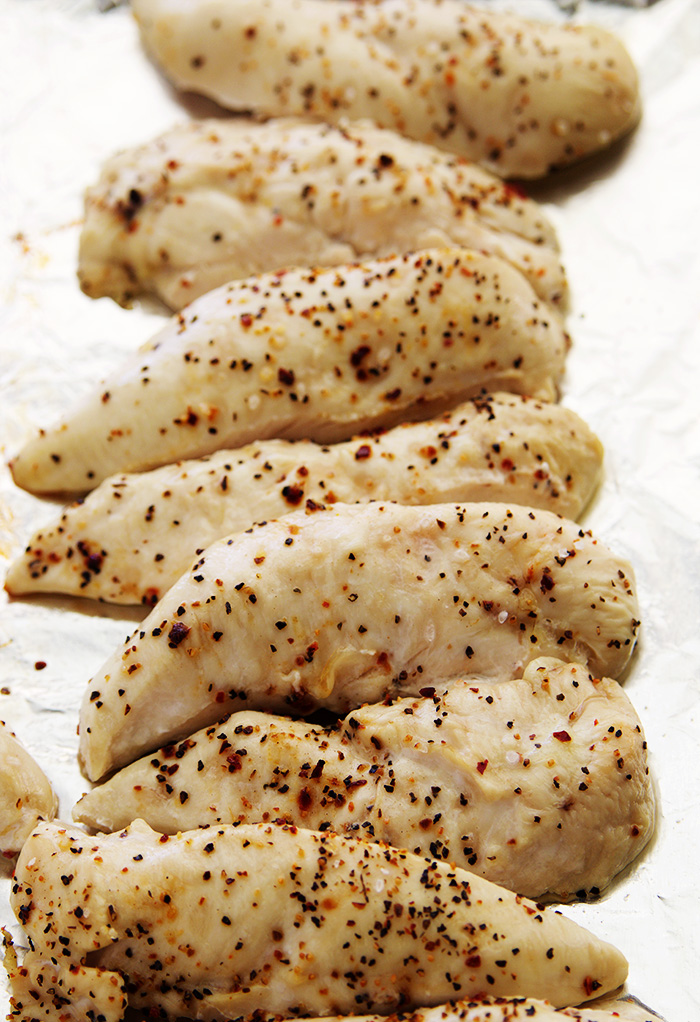 I wanted to keep these lite so I used 98% fat free cream of chicken soup which makes this Quick Chicken Tortilla Bake super yummy, almost like a creamy white enchilada sauce. I also used whole wheat tortillas and a combination of fat free and low fat cheese, but make them however you please, they will be delicious however you decide to make them.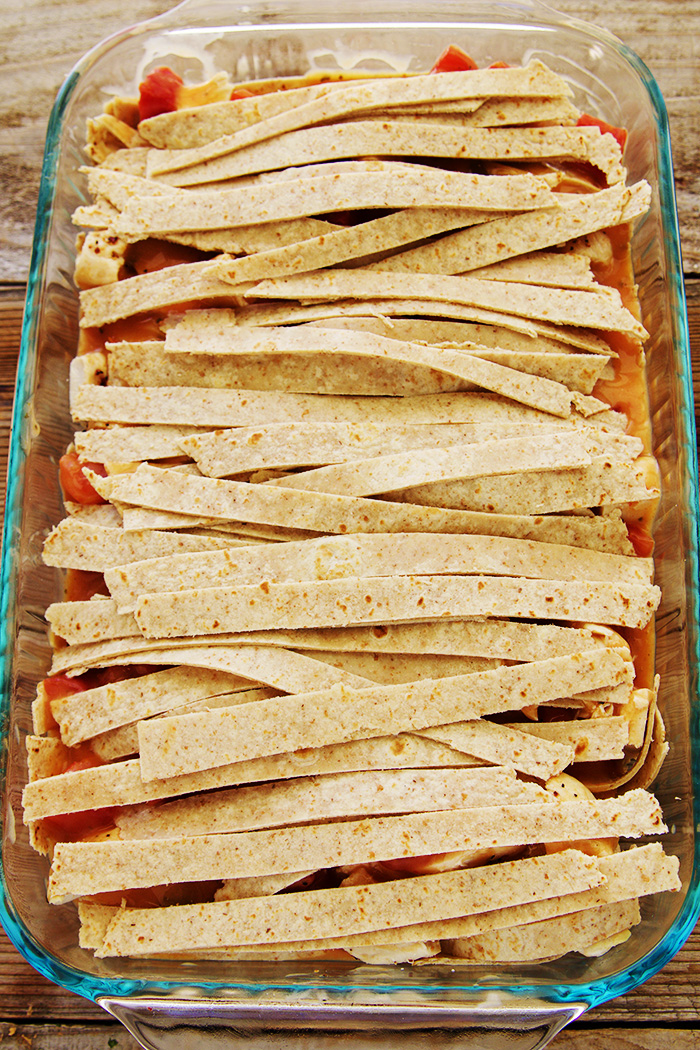 I love quick, simple, and delicious and this Quick Chicken Tortilla Bake checks is exactly that. If feeds a hungry crowd, just think of those boys of yours who bring there friends over and eat you out of house and home, this will be perfect. Serve it with some different toppings and let them chow down, but try to sneak in some for yourself ;). Dinner doesn't have to be hard or time consuming and that is why making this Quick Chicken Tortilla Bake will have you in and out of the kitchen in know time. xoxo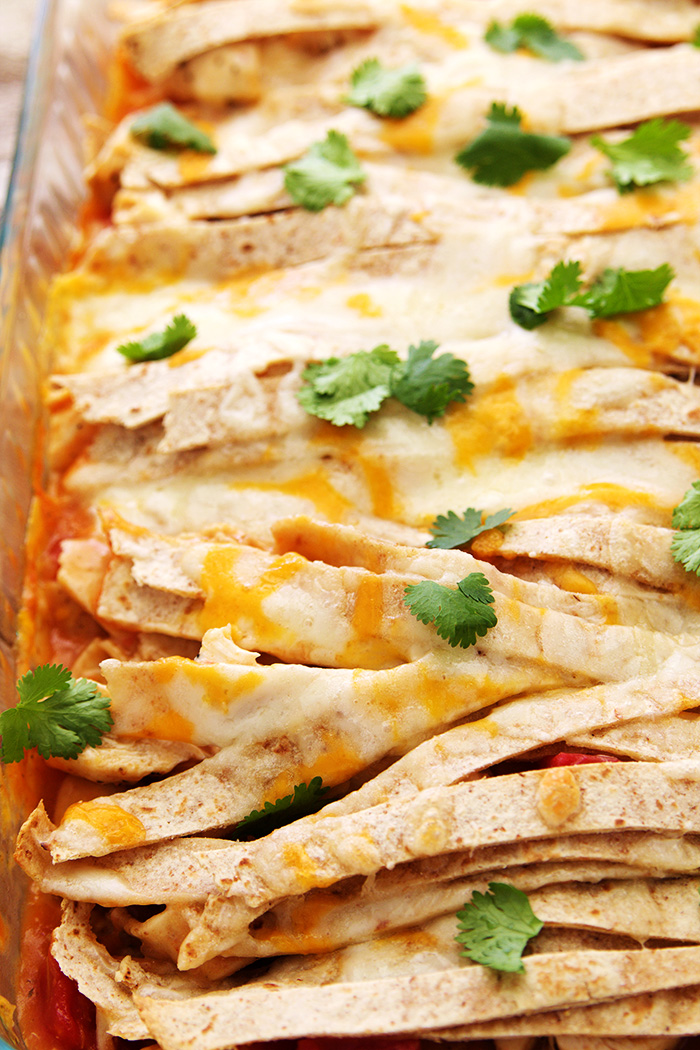 Quick Chicken Tortilla Bake
2015-11-08 18:47:07
A warm and delicious Mexican dish that only requires 5 ingredients and a whole lot of yum!
Ingredients
2-10 3/4 ounce can 98% reduced-fat and reduced-sodium condensed cream of chicken soup
1-10 ounce can diced tomatoes with green chiles, undrained
12-6 inches whole wheat tortillas, cut into thin bite-size strips (or tortillas of choice)
3-cups cubed cooked chicken (about 1 pound) I used a package of chicken tenders and seasoned them with salt and pepper and cooked for 20min.
1 1/2-cups shredded fat free cheddar cheese and low fat mozzarella (total not 1-1/2 cups of each) you can also use cheese of your choice.
Instructions
Preheat oven to 350 degrees F.
In a medium bowl combine soup and undrained tomatoes; set aside.
Sprinkle one-third of the tortilla strips over the bottom of an ungreased 3-quart rectangular baking dish. Layer half of the chicken over the tortilla strips; spoon half of the soup mixture evenly over top.
Repeat layers. Sprinkle with the remaining tortilla strips.
Bake, covered, about 40 minutes or until bubbly around edges and center is hot. Uncover; sprinkle with cheese. Bake about 5 minutes more or until cheese is melted. Enjoy!
Notes
You can also use a rotisserie chicken and just cube up the breast meat.
Adapted from Better Homes and Gardens
Adapted from Better Homes and Gardens
Fitness Food Diva https://fitnessfooddiva.com/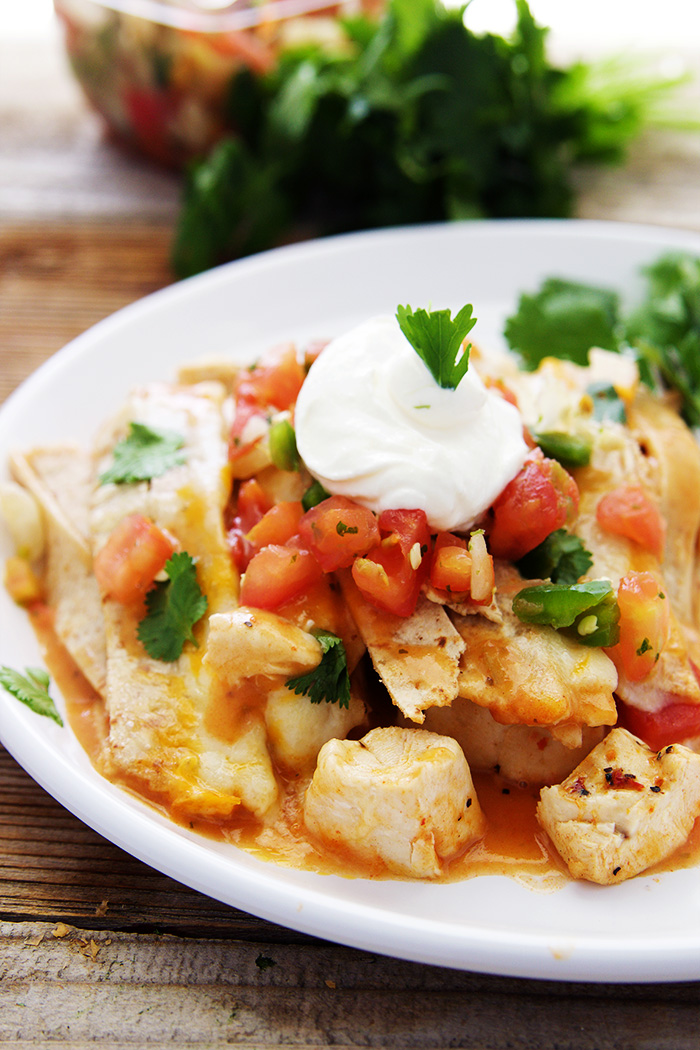 My Latest Videos