One pot simplicity starts here with this amped up Salsa Verde Chicken and Rice. Full of flavor and ready in under 30 minutes, you could be done making it by the time you read this post!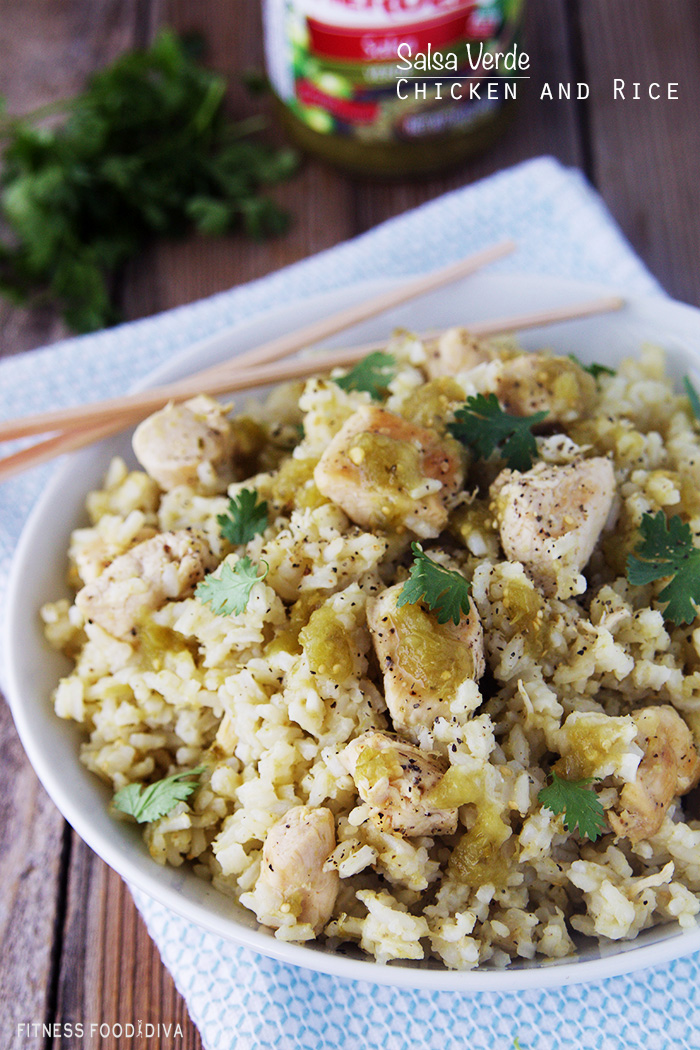 Salsa is definitely underrated when it comes to cooking. I forget how much flavor it adds to more than just chips and dips and adding it to this recipe really makes it delicious. I used Salsa Verde, the green salsa, not to be confused with the ever popular red salsa, although both are fantastico. It gave the rice and chicken incredible flavor and just a bit of heat.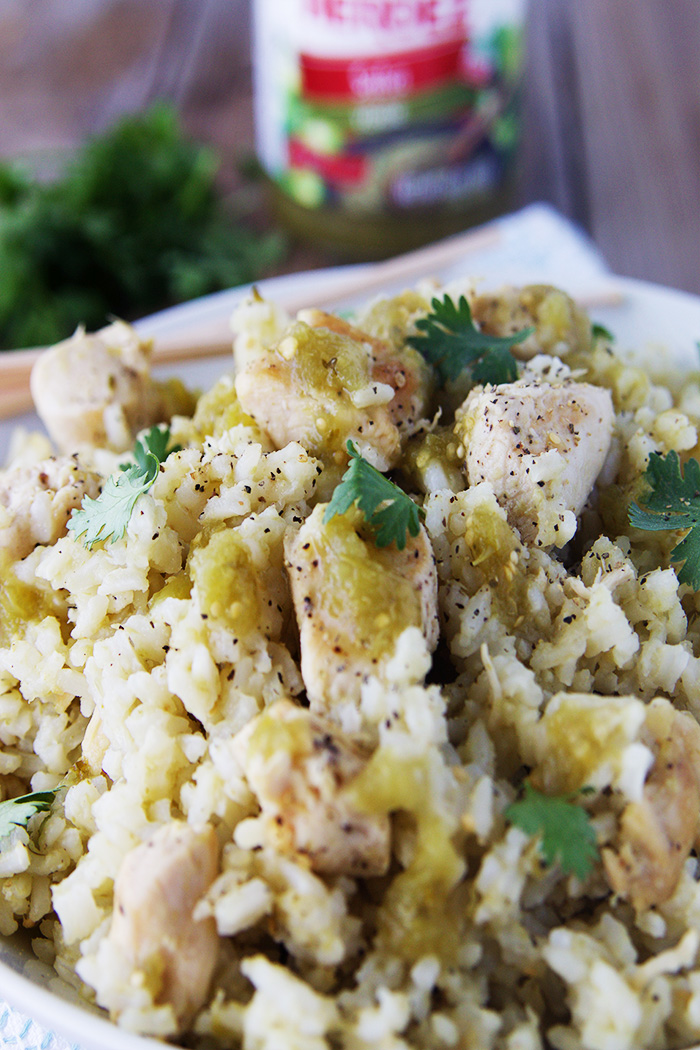 4 simple ingredients and one large skillet is all it took to make this amazing dish of Salsa Verde Chicken and Rice, I mean how easy is that. The hardest part to this recipe is cutting up the chicken, otherwise it all cooks together and comes out to flavorful perfection. Salsa Verde Chicken and Rice is perfect for a lite lunch or served for dinner. It is really inside a burrito or served with chips.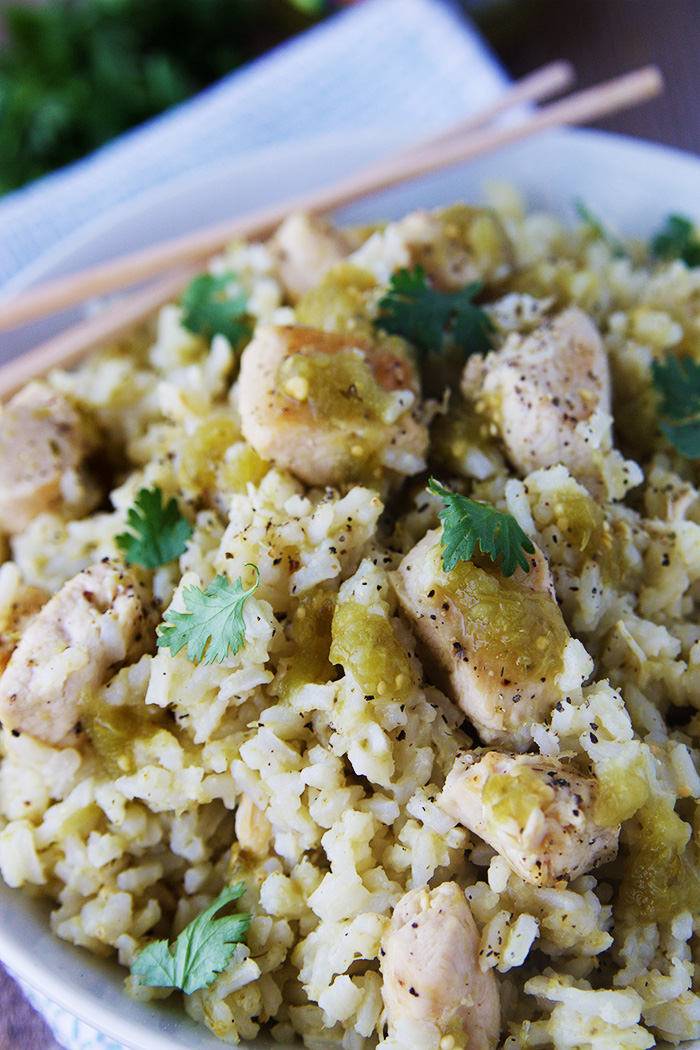 So if are looking for a healthy lunch or dinner idea and only want to spend 30 minutes in the kitchen, try this Salsa Verde Chicken and Rice it will be a one pot wonder! xoxo.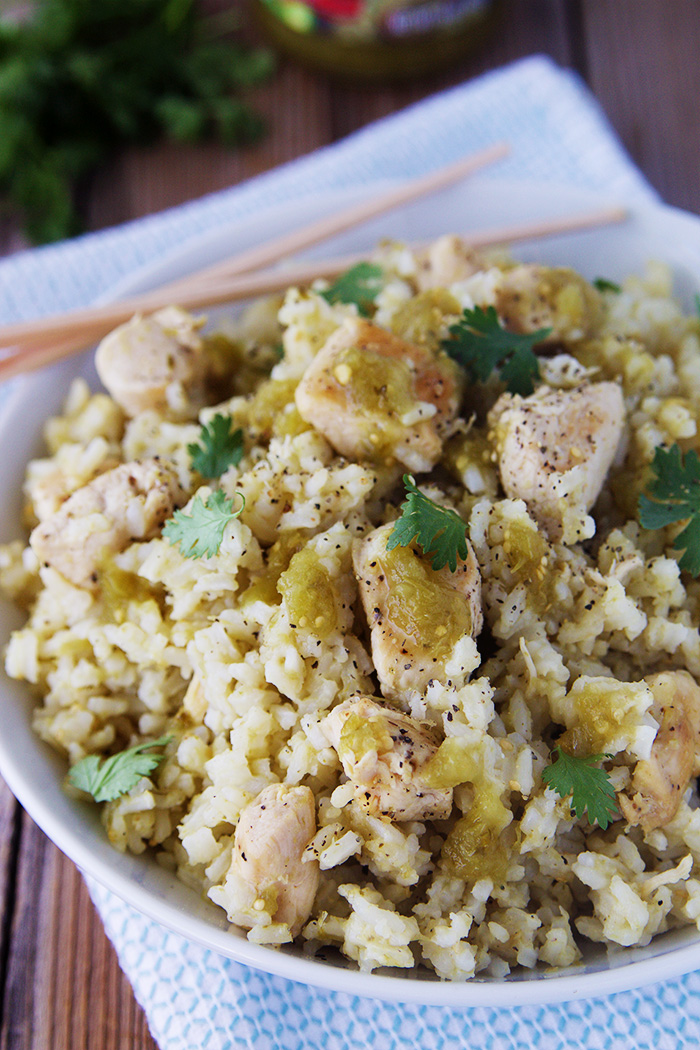 Salsa Verde Chicken and Rice
2015-08-01 20:13:13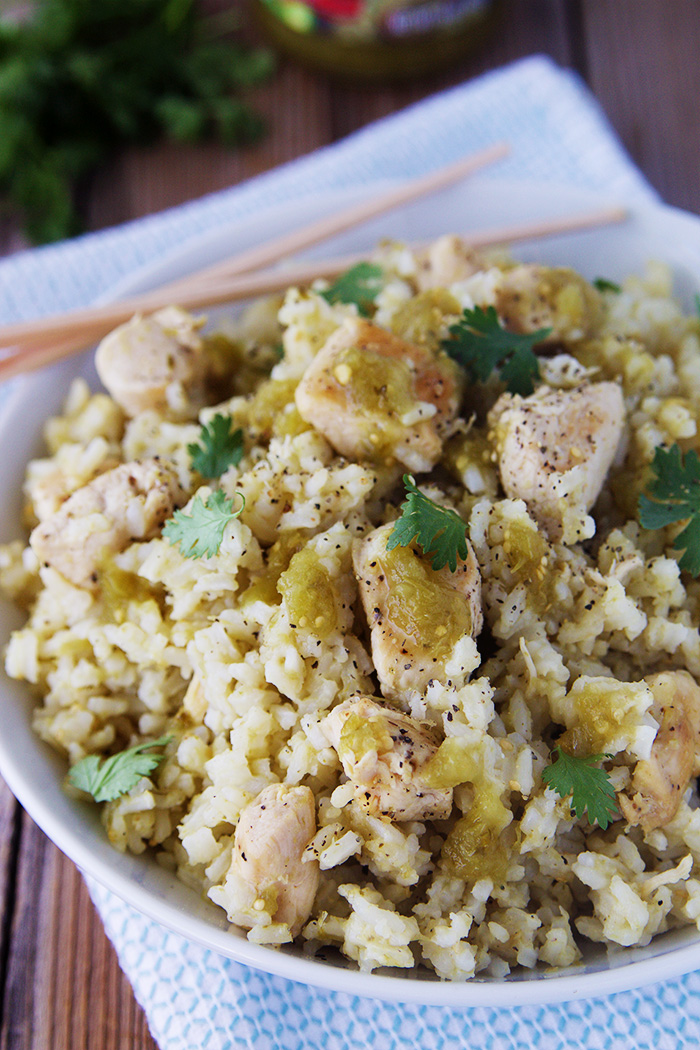 Serves 4
A super easy and healthy chicken and rice dinner done in 30 min.
Ingredients
1 pound (2 chicken breast), boneless skinless chicken breasts, cut into 1inch cubes
salt and pepper to taste
Olive oil cooking spray
1 cup uncooked long grain basmati or Yasmin rice (not instant)
2 cups low sodium fat free chicken broth
1 cup salsa verde
Cilantro to garnish (optional)
Instructions
Rinse the chicken breasts and pat dry. Season generously with salt and pepper. In a skillet or dutch oven (something with a lid), spray with olive oil and heat over medium-high heat.
When the skillet is hot, add the chicken in a single layer and cook until the outside is golden brown, about 1-2 minutes per side.
Add the rice, salsa verde, and chicken broth.
Bring to a boil then cover, reduce heat to low, and simmer for 20 minutes until the rice is tender.
Garnish with cilantro and remaining salsa verde. Enjoy!
Adapted from Kevin and Amanda
Adapted from Kevin and Amanda
Fitness Food Diva https://fitnessfooddiva.com/

My Latest Videos