"When the moon hit your eye like a big pizza pie, that's amore!" Now you can feel good about the pizza you are feeding family, friends, and yourself.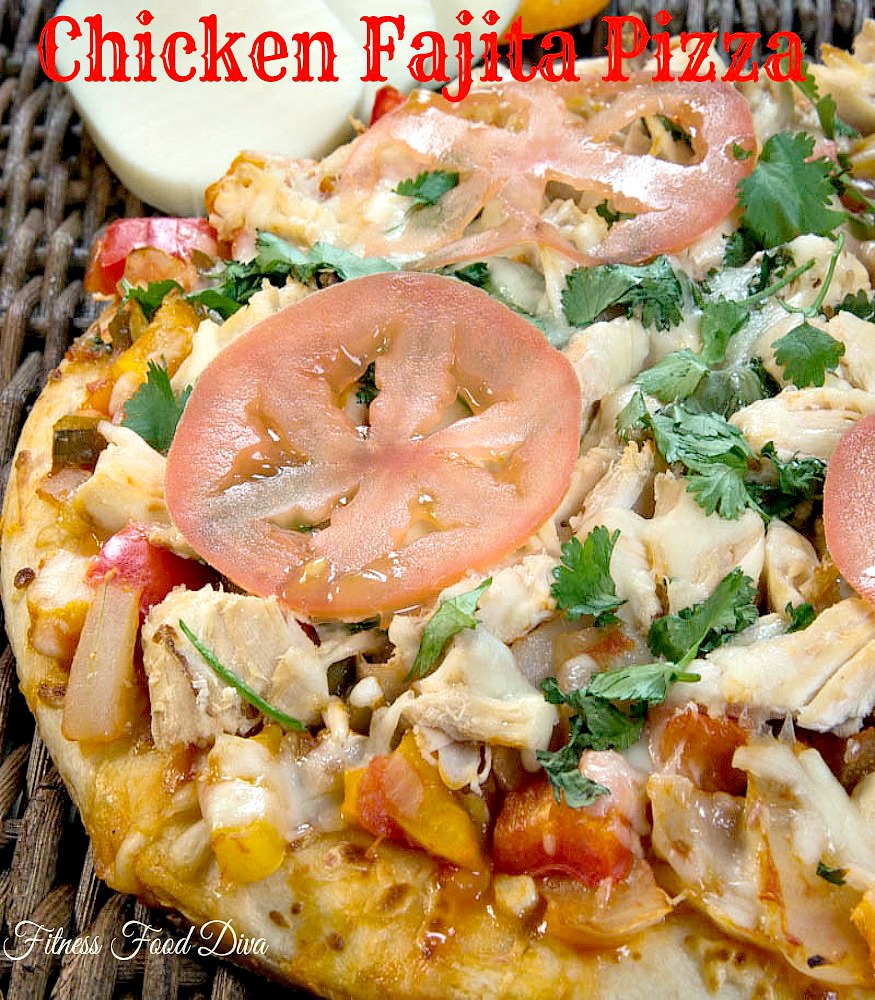 Just say "Pizza" and kids, young and old will show up at your door ready to eat. Pizza is one of those foods that turns a quick and easy meal at home, to a kitchen full of kids and slumber parties. Some of my best memories with friends revolve around pizza parties, and I can continue making memories with this Chicken Fajita Pizza. Chicken Fajita Pizza is so fit-fabulous and easy to make you won't limit yourself to just a slice. The sauted vegetables, onions, and garlic add such an amazing flavor to the sauce, along with the shredded pizza all topped off with ooey gooey melted mozzarella cheese makes each bite a heavenly piece of pie!
Chicken Fajita Pizza can be dressed up with fresh cilantro, tomatoes, and for an added kick some crushed red peppers. This pizza takes me back to the good ole days of leaving school with the girls at lunch time and heading to all you can eat pizza. My favorite pizza was the taco pizza, yet this Chicken Fajita Pizza is even better, and puts a smile on my face of the memories made around one good piece of pie. So the next time you want a slice of "amore," Chicken Fajita Pizza it is! xoxo
Chicken Fajita Pizza
2014-12-22 20:40:01
Serves 8
Loaded with chicken, cheese and vegetables, this pizza will do your body good.
Ingredients
1-boboli pizza crust
1-teaspoon olive oil
1-rotisserie chicken- 2 cups shredded (I used breast meat only)
1-of each: red pepper, yellow pepper, orange pepper-chopped
1-onion-chopped
1-tablespoon fresh garlic-diced
3/4-cup of salsa
2.5-cups of low-fat mozzarella cheese
Cilantro-chopped
1-medium tomato, thinly sliced
Lets Cook
Preheat oven to 400 degrees F
Heat oil in a large skillet over medium high heat, add onion, peppers, and garlic and saute for 5 minutes.
Stir in salsa.
Layer salsa mixture on pizza crust and top with chicken and cheese.
Bake for 10 minutes.
Sprinkle with cilantro after baking and add fresh sliced tomatoes. Fabulous!
Adapted from Ashleylovestocook
Adapted from Ashleylovestocook
Fitness Food Diva https://fitnessfooddiva.com/

My Latest Videos