Cilantro Lime Pasta Salad has a little bit of sweet, a little bit of sour, and a whole lot of sass. Made with whole wheat pasta and topped off with a lite and spicy lime dressing.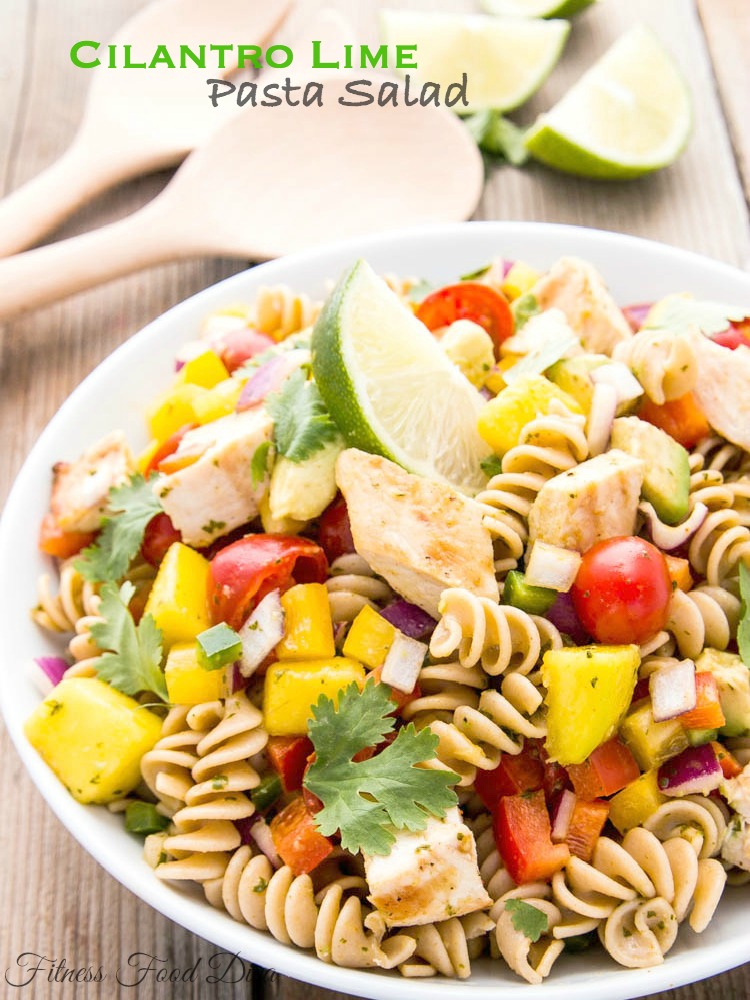 Cilantro Lime Pasta Salad is a great alternative for a healthy and satisfying main course meal. I have to admit I am one who easily gets distracted when a recipe has a loonnggg list of ingredients, and although this list may be long it held my attention enough to make it and realize how simple, easy, and delicious it was to make.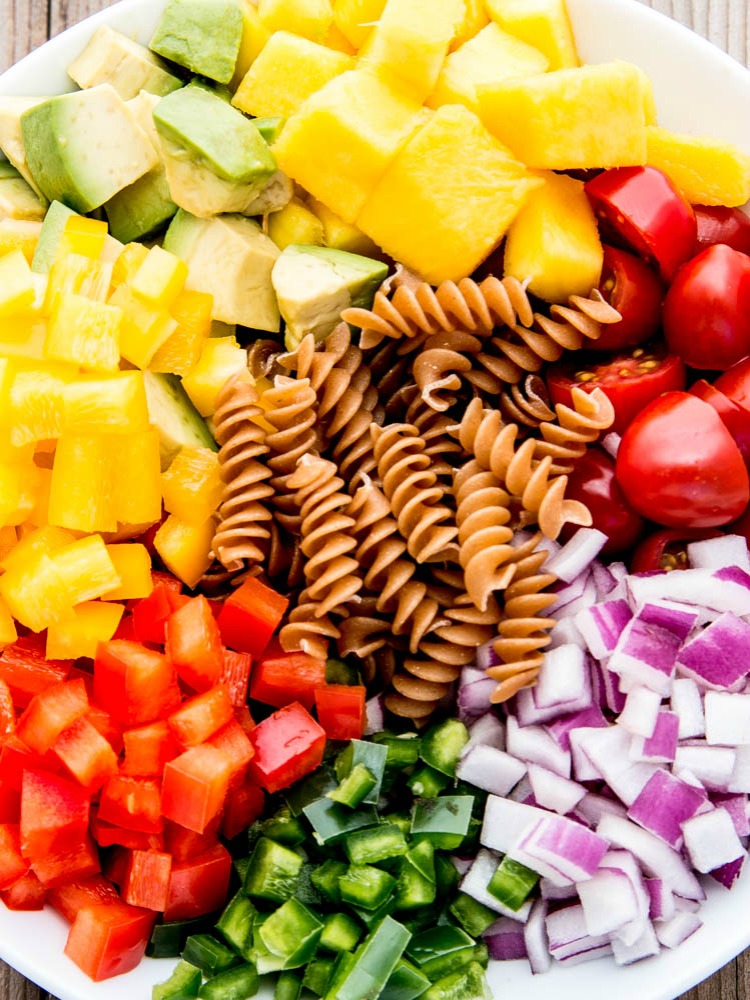 All the flavors of the garlic, cayenne pepper, jalapeno pepper, and cilantro mixed in with the sweeter yellow and red peppers,the mango and dressed nicely with a lite lime dressing that brought all the flavors together. Pasta dishes are kind of like a shmorgishborg, you get a lot of great taste in one place. I used whole wheat pasta in mine to make it a little healthier, but you can use white pasta or gluten free as well, the taste will still be perfection.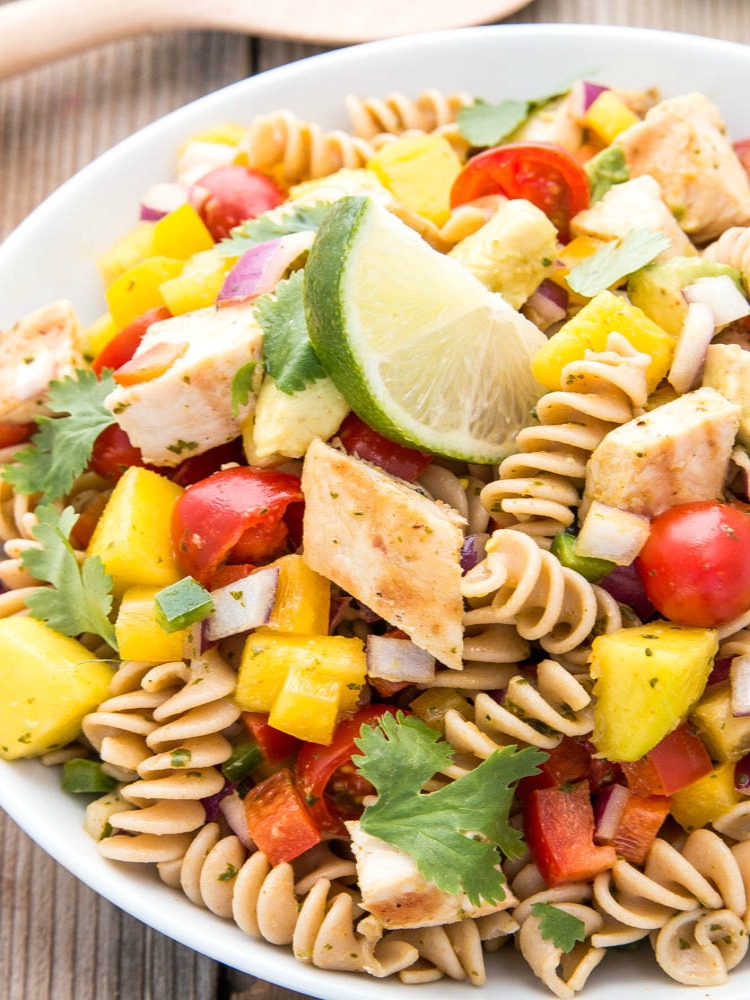 A warm loaf of sourdough garlic bread would be all you need to accompany this Cilantro Lime Pasta Salad and dinner would be served. No need for anything else this salad is the star of the show. So don't let the long list of ingredients get you distracted, because this Cilantro Lime Pasta Salad is a one stop pasta party in your mouth. xoxo
Cilantro Lime Pasta Salad
2015-06-09 22:17:59
Serves 5
A healthy, fresh pasta salad full of flavor and all things delicious.
Ingredients
4 ounces dried whole wheat rotini pasta
1/4 cup lime juice
1/4 cup fresh cilantro leaves
2 tablespoons olive oil
1 tablespoon sugar splenda blend
1/2 teaspoon salt
1/2 teaspoon garlic powder
1/2 teaspoon ground cumin
1/4 teaspoon cayenne pepper
Nonstick cooking spray
1 pound skinless, boneless chicken breast halves
1/2 teaspoon salt
1/4 teaspoon ground black pepper
1 1/2 cups grape tomatoes, halved
1 cup finely chopped red onion (1 large)
1 medium mango, seeded, peeled, and cut into 1/2-inch pieces
1 medium avocado, seeded, peeled, and cut into 1/2-inch pieces
3/4 cup chopped yellow pepper (1 medium)
3/4 cup chopped red pepper (1 medium)
1 fresh jalapeno chile pepper, seeded and finely chopped*
Lime wedges (optional)
Instructions
Cook pasta according to package directions; drain.
Meanwhile, for dressing, in a blender combine lime juice, cilantro, oil, sugar, 1/2 teaspoon salt, garlic powder, cumin, and cayenne pepper. Cover and blend about 30 seconds or until well mixed. Set aside.
Lightly coat the rack of an indoor electric grill or outdoor grill with cooking spray. Preheat grill. Sprinkle chicken with 1/2 teaspoon salt and black pepper. Place chicken on grill rack. If using a grill with a cover, close lid. Grill until chicken is no longer pink (170 degrees F). (For a covered grill, allow about 6 minutes. For an uncovered grill, allow 12 to 15 minutes, turning once halfway through grilling.) Cut chicken into bite-size pieces.
In a large bowl combine pasta, chicken, tomatoes, red onion, mango, avocado, sweet peppers, and jalapeno pepper. Pour dressing over pasta mixture; toss gently to coat. If desired, serve with lime wedges. Enjoy!
Adapted from Betterhomesandgarden
Adapted from Betterhomesandgarden
Fitness Food Diva https://fitnessfooddiva.com/

My Latest Videos