Here is to flavor and beyond! This Curried Chicken and Wheat Berry Salad smells delicious right out of the gates, and is packed full of healthy ingredients it makes the perfect side salad or meal all on its own.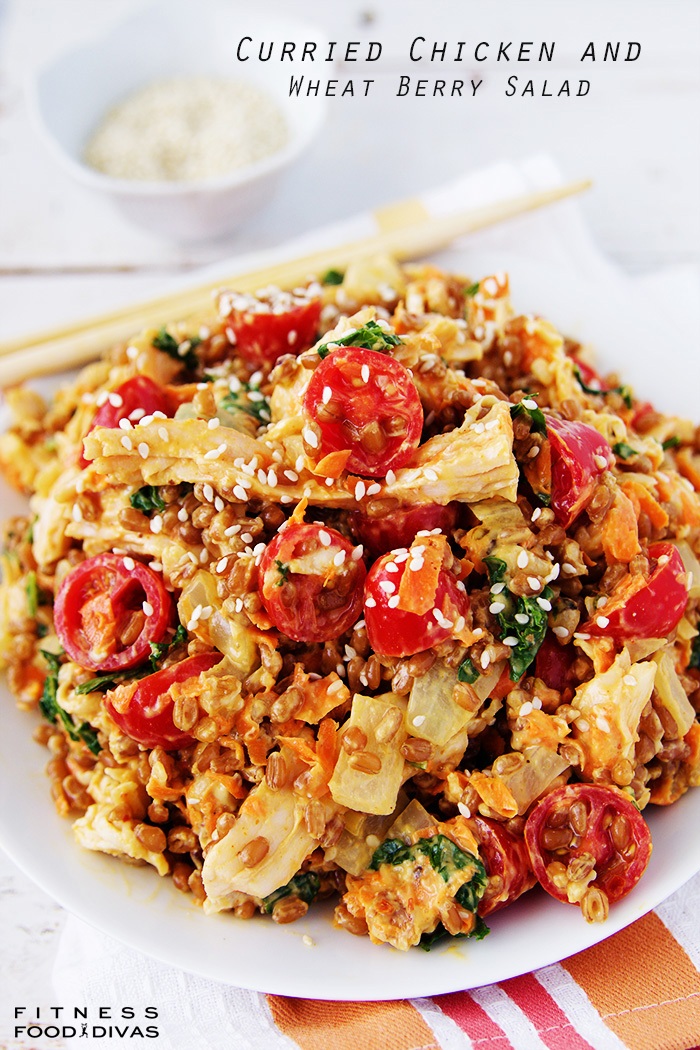 If you are not familiar with wheat berries well here is a recipe to try them out. They are little powerhouses of nuttiness that are cross between rice and quinoa, then you add the curry into the mix and this dish is pretty spectacular. I haven't cooked much with curry before, but I love to try out new things and the smell when curry is cooking is remarkable all by itself.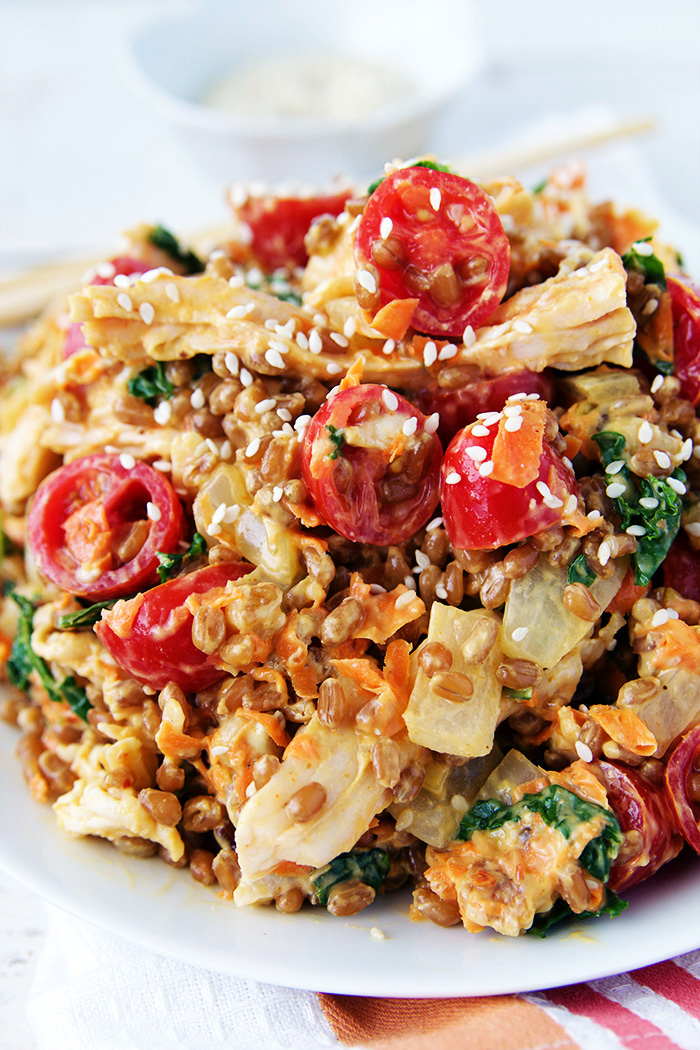 Curried Chicken and Wheat Berry Salad can be made up a day ahead of time (love that) and makes a great side salad, lunch or dinner on its own. Served with some fresh naan bread and presto your meal is done. I love all the different textures in this recipe, and how they all work together. There are some pretty strong flavor contenders in this mix, but one does not overpower the other and they all blend harmoniously.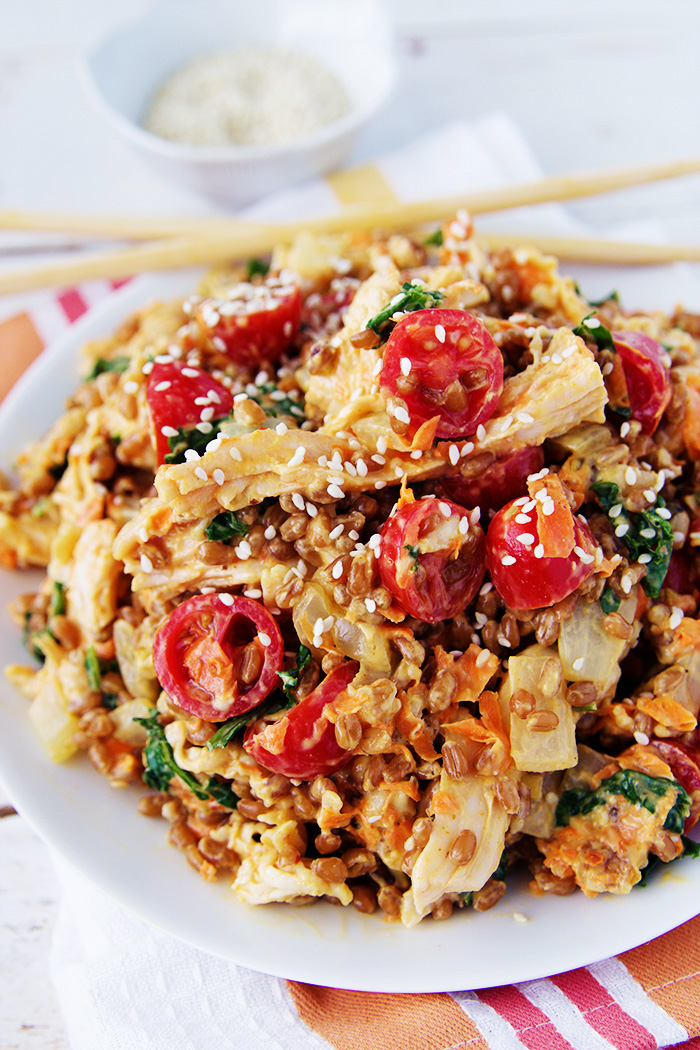 Using the rotisserie chicken allows the cooking process to be a little quicker, but I like to use just the breast meat chicken and shred it up into chunkier pieces. If you love curry then give this Curried Chicken and Wheat Berry Salad a try, it will make your mouth water from start to finish. xoxo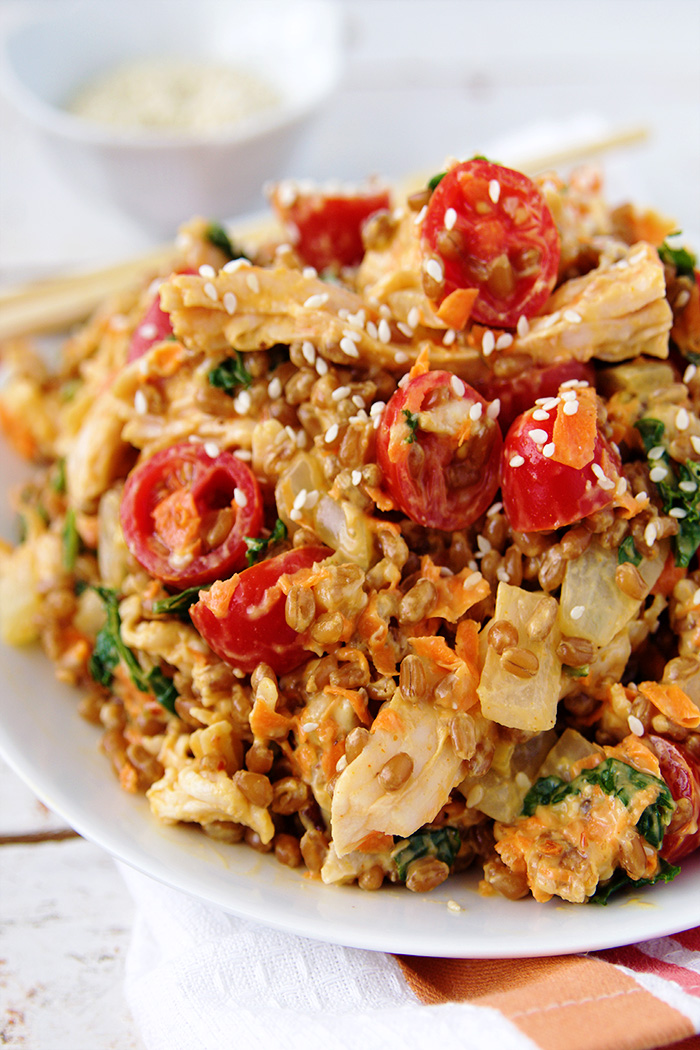 Curried Chicken and Wheat Berry Salad
2015-08-07 21:44:08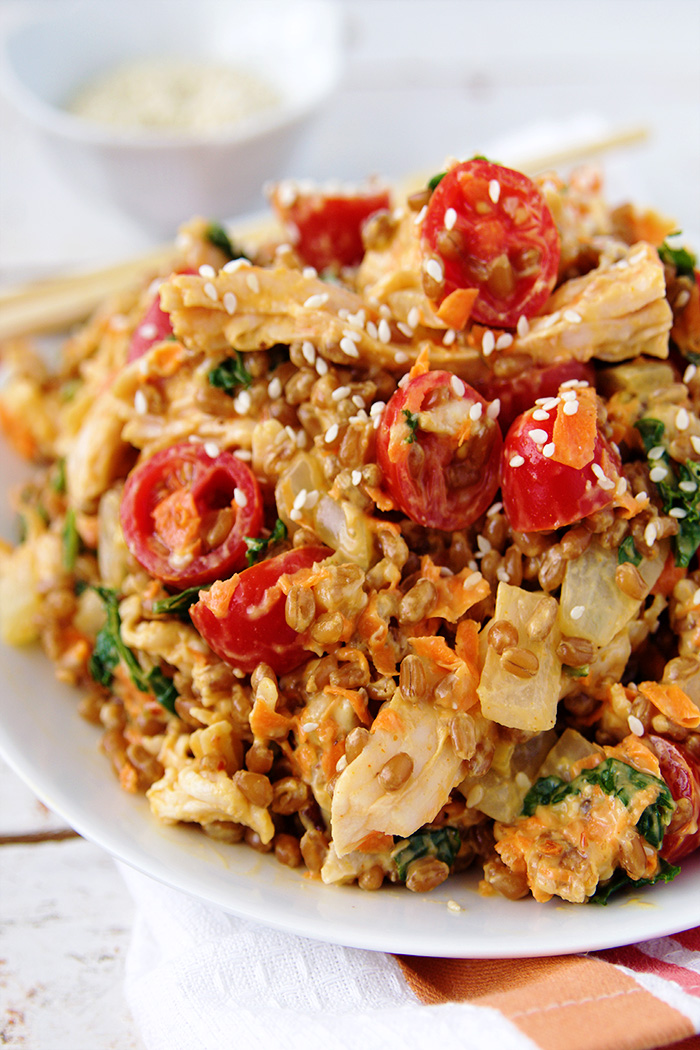 Serves 4
This aromatic dish of Curried Chicken and Wheat Berry Salad smells as amazing as it tastes.
Ingredients
1 cup wheat berries
3 tablespoons olive oil
2 small onions, diced
2 cloves garlic, minced
1-inch piece ginger, finely minced
½ teaspoon chili flakes
1 cup chopped kale, inner stem removed
½ cup fat free mayonnaise (not Miracle Whip)
1 teaspoon curry powder
½ teaspoon sugar or splenda sugar blend
¼ teaspoon sea salt
1 ½ cups shredded rotisserie chicken-breast meat
1 cup cherry or grape tomatoes, cut in half
1 carrot, grated
2 tablespoons sesame seeds, plus more for serving
Instructions
Place the wheat berries in a small pot and cover with 1 inch of water. Bring to a boil over high heat then reduce the heat to low. Simmer, covered, for 30-40 minutes, or until the wheat berries are chewy and no longer crunchy. Drain the water from the pot.
Heat the oil in a medium sized frying pan over medium high heat. Add the onion and cook until it is soft and light brown, about 5 minutes. Add the garlic, ginger, chili flakes and kale and cook for 1 minute more, or until the kale starts to soften. Set aside to cool.
In a large bowl whisk together the mayonnaise, curry powder, sugar and sea salt. Add the cooked wheat berries, cooled onions and kale, shredded chicken, raisins, cherry tomatoes, grated carrot and sesame seeds and toss well to coat.
Can be made up to one day in advance. Enjoy!
Adapted from Theendlessmeal
Adapted from Theendlessmeal
Fitness Food Diva https://fitnessfooddiva.com/

My Latest Videos