A delicious sweet and sour thai infused sauce covers these chicken enchiladas and then are smothered with just the right amount of cheese, avocado, cilantro, and pomegranates to tantalize your every taste bud.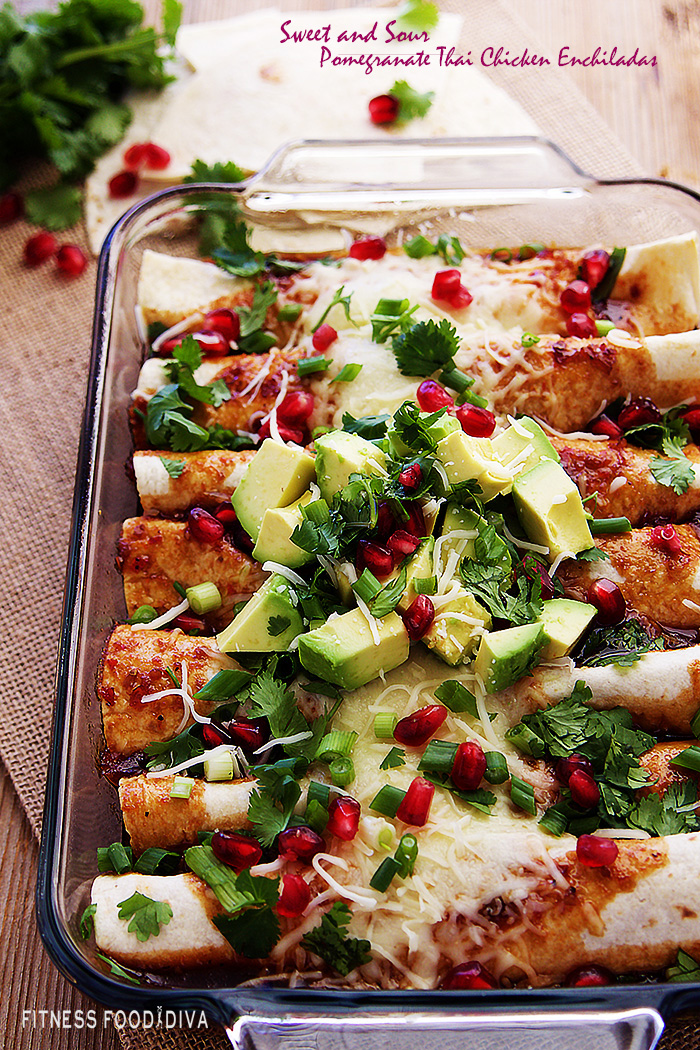 If you are a lover of enchiladas, you are going to be over the moon with these Sweet and Sour Pomegranate Thai Chicken Enchiladas! The flavor is beyond words, and the best way to describe it is by actually tasting it for yourself. I don't think I will make enchiladas without this sweet and sour sauce again, unless of course someone is allergic to peanuts. Enchiladas are such simple meal to make and they feed a hungry crowd perfectly.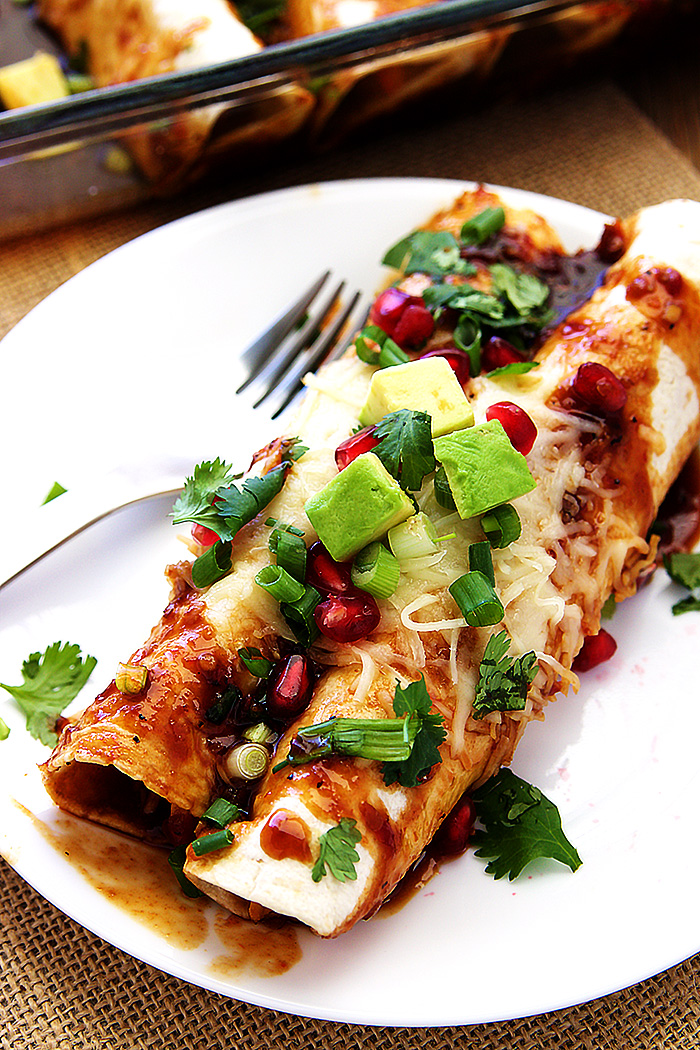 Not only do these Sweet and Sour Pomegranate Thai Chicken Enchiladas taste delicious, they look so pretty topped off with the sweet pomegranates, melted cheese, avocado and cilantro. Warning.. these enchiladas do have a little kick to them, but you won't even have time to notice since you will just keep eating bite after bite. My husband was immediately in love with the aroma wafting around the house as I was making these. He kept asking what I was making, and all I would tell him was "oh, enchiladas," but when he took a bite he was blown away with the flavor and said "these are better than just enchiladas!"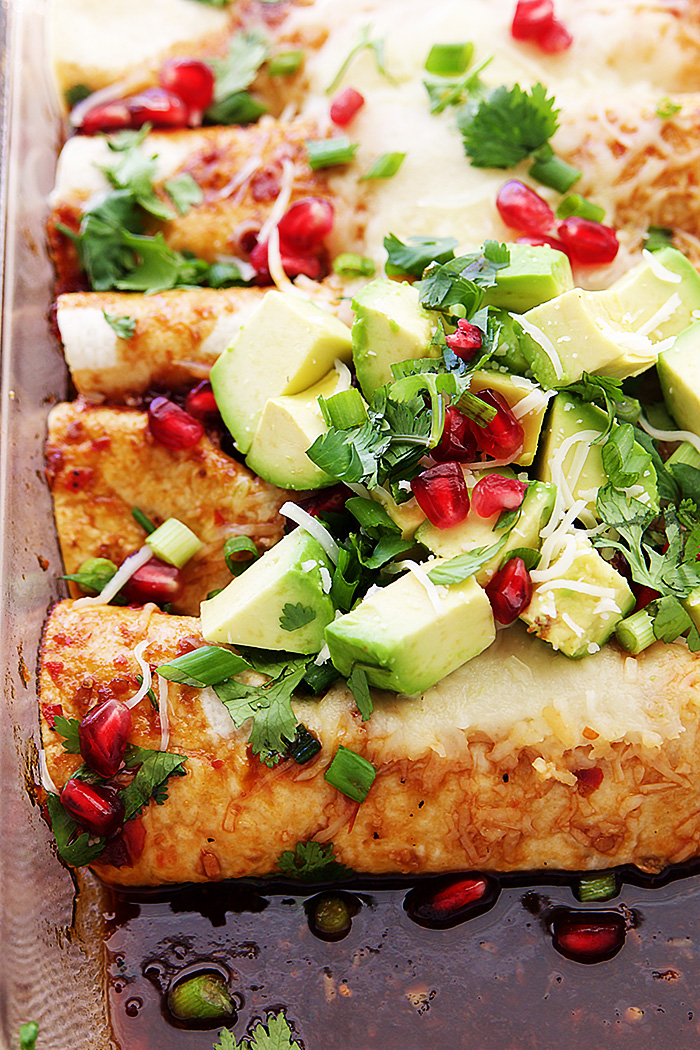 What I love about these Sweet and Sour Pomegranate Thai Chicken Enchiladas is not only are they easy to make, they taste just as good if you have left overs and re-heat them the next day. They don't get soggy, and actually the flavor is even better since the ingredients all get to marinate together. So bring on the fiesta and get out of the traditional, and enjoy every bite of these Sweet and Sour Pomegranate Thai Chicken Enchiladas. xoxo
Sweet and Sour Pomegranate Thai Chicken Enchiladas
2015-11-29 20:01:07
Serves 4
A delicious twist on the traditional enchiladas with an amazing thai flare!
Sauce
1 1/2 cups sweet thai chili sauce
1/2 cup reduce sodium soy sauce
8 teaspoons of Splenda brown sugar blend or 1/3 cup dark brown sugar
1 tablespoon all natural peanut butter ( I used Adams creamy)
1 tablespoon tomato paste
3/4 cup Cran-pomegranate juice
1/4 cup rice vinegar
1 lime, juiced
2 cloves garlic, minced or grated
2 tablespoons fresh ginger, grated
1/2 teaspoon crushed red pepper
1/2 teaspoon pepper
Enchiladas
2 chicken breasts, cooked and shredded (about 1 pound)
1 red pepper, sliced thin
1 orange pepper, sliced thin
1 1/2 cups skim milk mozzarella cheese, shredded (or more!!)
8-10 flour tortillas
for serving: diced avocado, pomegranate arils, chopped cilantro, and green onions
Instructions
Preheat oven to 350 degrees F.
Spray a 9x13-inch baking dish with nonstick spray.
To make the sauce: Combine the sweet thai chili sauce, soy sauce, dark brown sugar, peanut butter, tomato paste, pomegranate juice, rice vinegar, lime juice, garlic, ginger, crushed red pepper and pepper in a medium sauce pot.
Bring the sauce to a boil, reduce heat and simmer 10-15 minutes or until sauce has thickened slightly. Remove from the heat and set aside.
In the meantime, add the shredded chicken, sliced bell pepper, cilantro and 1 to 1 1/2 cups shredded mozzarella cheese to a medium size mixing bowl. When the sauce is done pour in about 3/4 cup or just enough to coat the chicken and make it saucy. Mix well to coat.
Wrap the tortillas in a damp paper towel and microwave for one minute. Now spoon a little of the chicken mixture down the center of each tortilla, tuck and roll, placing the tortilla seem side down into the baking dish.
Pour and spread the remainder of the sauce over top of the enchiladas and top with a good handful or so of shredded mozzarella.
Bake for 30 minutes, until the cheese is melted. Remove and top with diced avocado, pomegranate arils, cilantro, and green onions. Enjoy!
Adapted from Half Baked Harvest
Adapted from Half Baked Harvest
Fitness Food Diva https://fitnessfooddiva.com/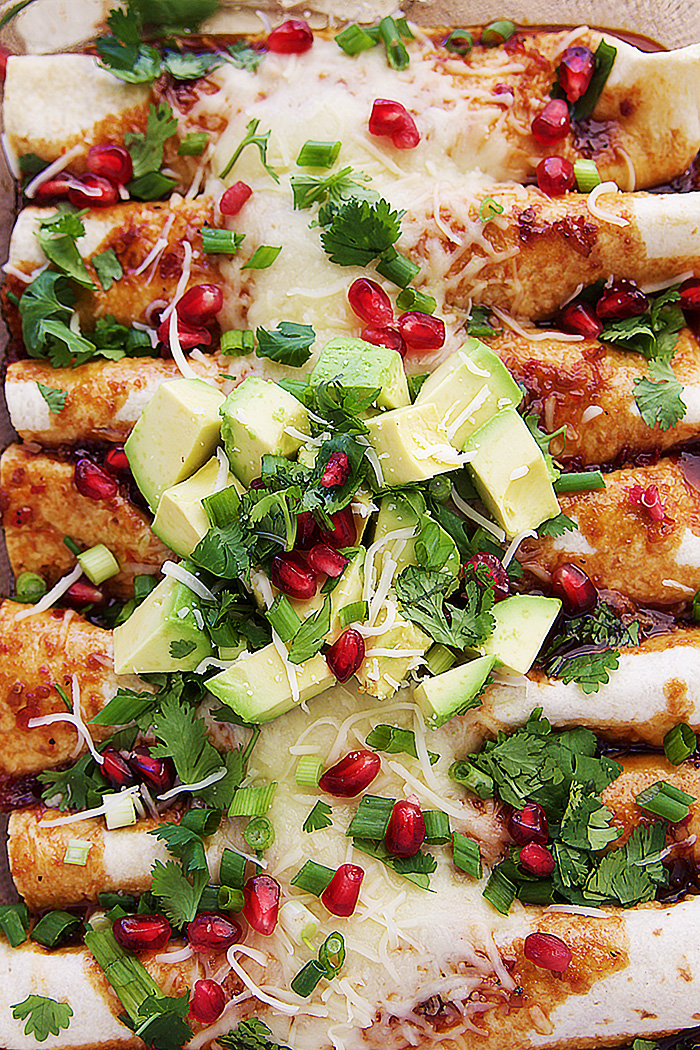 My Latest Videos