What a delicious way to turn your everyday grilled chicken into something fit-licious! Throw on some guacamole, pineapple, and hot sauce and "BAM" a TEX MEX CHICKEN SANDWICH is born.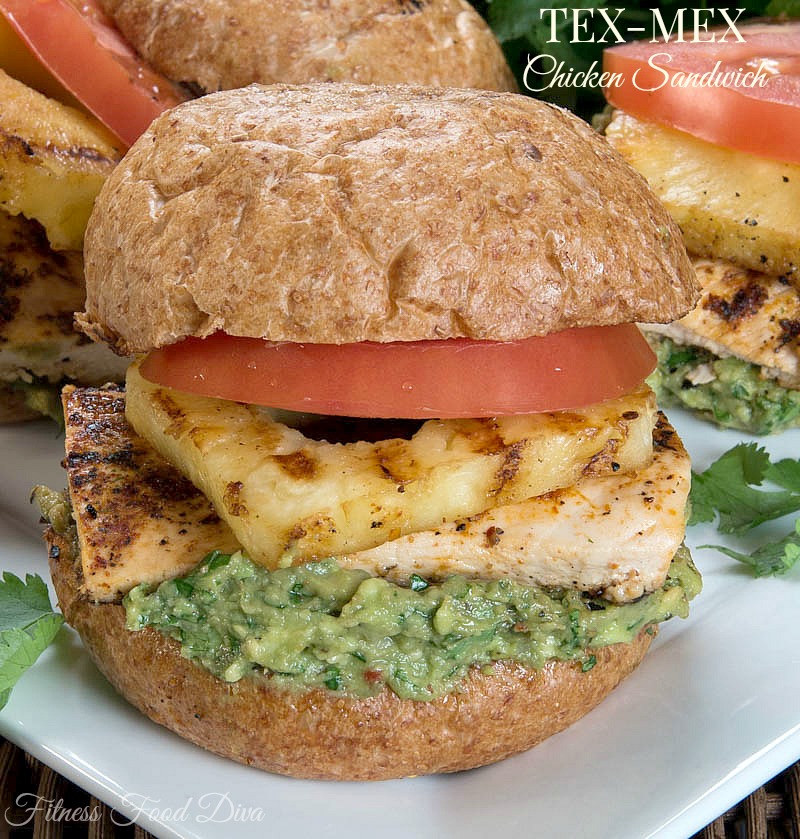 Grilled chicken is one of my favorite things to eat, so much so, that my Dad always tells me I am going to grow feathers and turn into a chicken. Plain old grilled chicken is great, but can get a little lonely. So when I made this Tex Mex Chicken Sandwich my lonely chicken flew the coupe. Chicken itself is a great source of lean protein and by adding fresh guacamole and tomatoes it amps up the healthy goodness of this sandwich. The sweet grilled pineapple and spicy hot sauce are sensational on this Tex Mex Chicken Sandwich. It adds just the right amount of sweet and spice in every bite.
It is always said "everything is better with butter," well in this case "everything is better with guacamole." Biting into this Tex Mex Chicken Sandwich will make you leave your lonely chicken days behind. From top to bottom the pineapple, guacamole, fresh sliced tomatoes, and spicy hot sauce infuse amazing, flavor, color and texture to this Tex Mex Chicken Sandwich that you will find yourself shaking your tail feathers. xoxo
Tex Mex Chicken Sandwich
2014-12-27 01:32:23
Serves 4
A delicious way to turn plain chicken into "Chicken-Licious!"
Ingredients
1-avocado peel, pitted, and mashed
2-tablespoons finely chopped cilantro
2-tablespoons chopped fresh garlic
1-teaspoon fresh lime juice
1-teaspoon sea salt, divided
4-boneless, skinless chicken breast ( I used the thin sliced breast)
1-teaspoon chili powder
1-teaspoon pepper
1-teaspoon safflower oil
4-1/2inch-thick slices of fresh pineapple
4-whole grain rolls, split and toasted
2-small tomatoes, each cut into 4 slices
Hot sauce of choice
Lets Grill
In a small bowl, mash avocado, and add cilantro, garlic, lime juice and 1/2 teaspoon salt, set aside.
Sprinkle chicken evenly with chile powder, 1/2 teaspoon salt, and pepper.
Heat a large grill pan on medium-high heat and brush with oil.
Grill chicken for 6-8 minutes, turning halfway until no pink remains in center. Transfer chicken to plate to rest for 4-5 minutes.
Just when chicken comes off heat, add pineapple to grill pan and cook until grill marks appear, about 2-3 minutes per side.
Divide the avocado mix over bottom halves of toasted rolls. Top each with 2 pieces of chicken, 1 pineapple slice and 2 tomato slices. Place hot sauce of your choice on top bun then add top to sandwich. Enjoy!
Adapted from Clean Eating
Adapted from Clean Eating
Fitness Food Diva https://fitnessfooddiva.com/

My Latest Videos