S'Mores Stuffed Cookies are everything you need to enjoy the outdoors while sitting around the campfire. So full of chocolate, marshmallow, and graham crackers you will be singing "Kumbaya" after the first bite.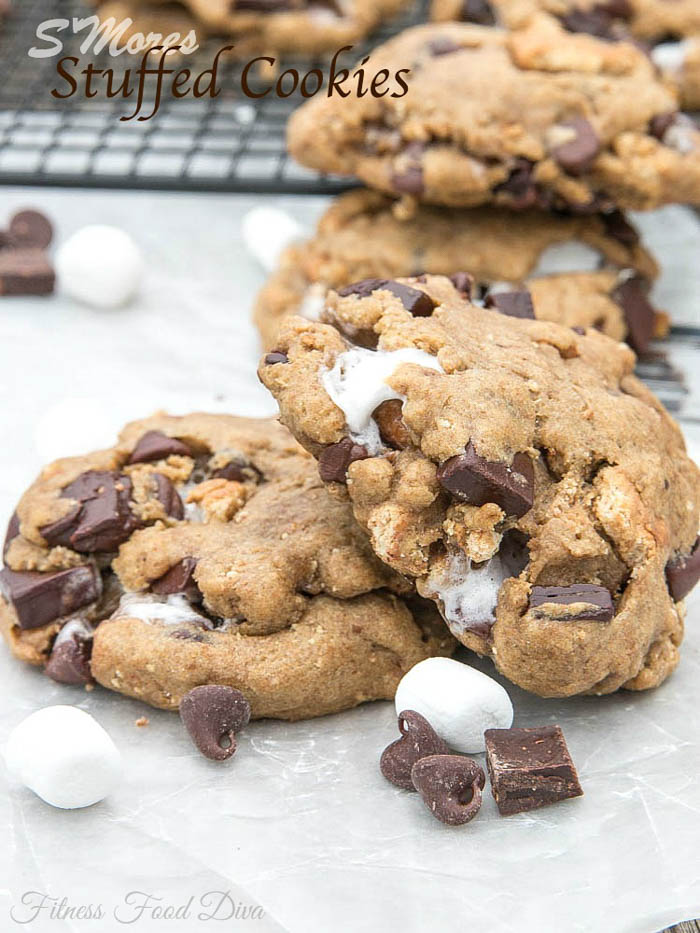 Where did these amazing little campfire treats come from? Well let me tell you, the publication of a S'Mores recipe was dated back to 1927 in "Tramping and Trailing with the Girl Scouts." Those girls scouts really new what they were doing, look how far and how many different variations of the S'More there is today. Well thank goodness, because these S'Mores Stuffed Cookies have never been a bigger hit among my family and my In-Laws. As the story goes, as soon as my husband brought them into his parents house they were gone before he could even call and tell me he made it to Utah safely.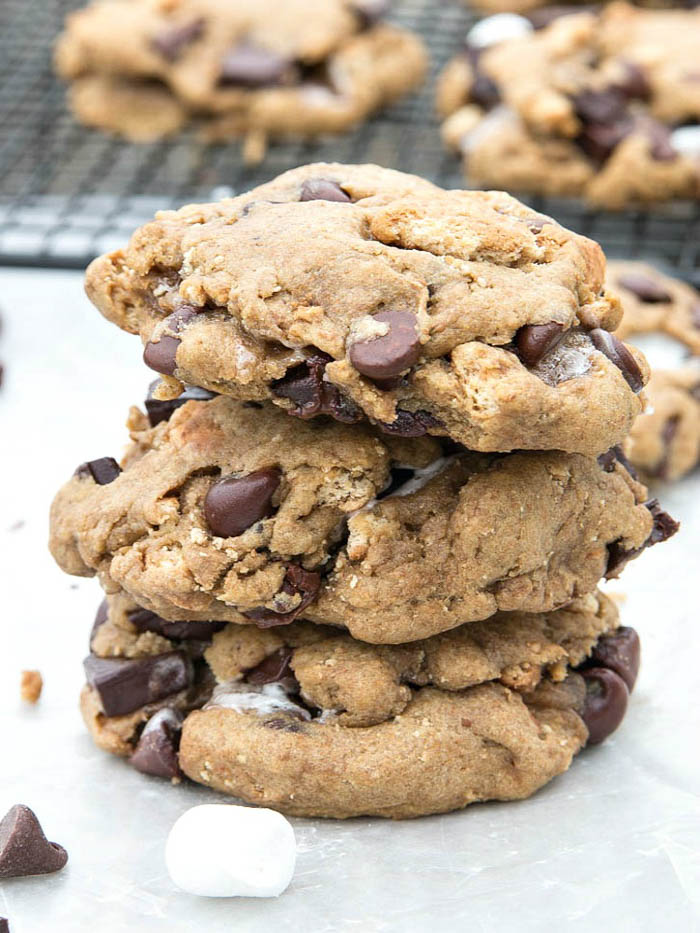 I love to make cookies, but making these bring back such happy memories of camping and campfires that I just had to share. Each bite is one mouthwatering, marshmallow, chocolate deliciousness after the next. There will never be a moment where this S'Mores Stuffed Cookie will leave you hanging. There will always be a chunks of chocolate, bursts of cinnamon, or marshmallow gooeyness that comes from eating S'Mores. And yes, they are made with avocado, it gives them a very rich and creamy texture and I promise no one will even know.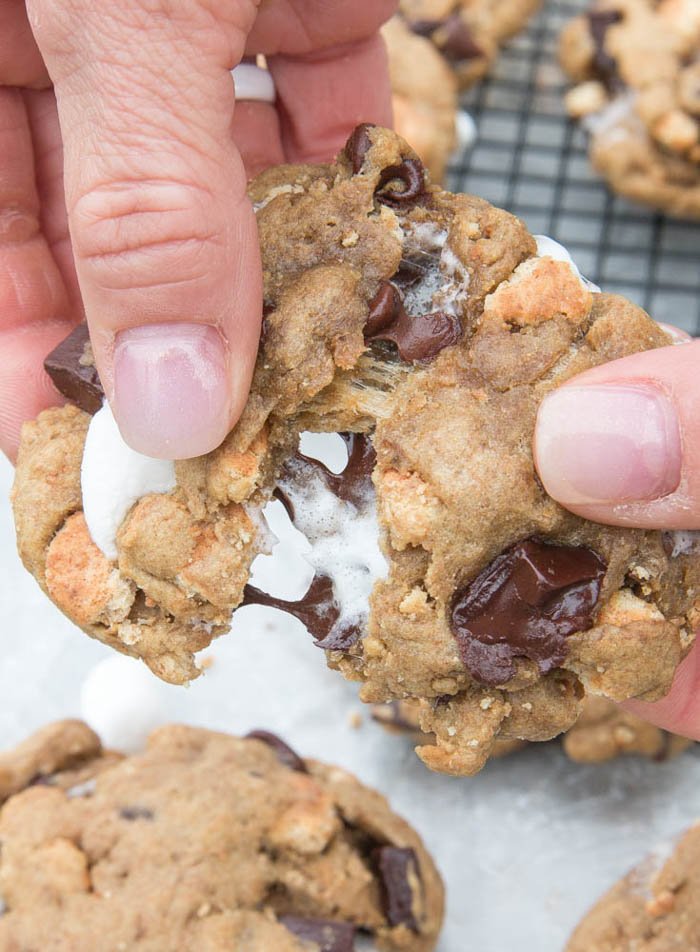 Don't forget August 10th is National S'Mores day, so bake a batch of these S'Mores Stuffed Cookies, sit around the campfire and sing Kumbaya, I promise you are going to want "Some More!" xoxo.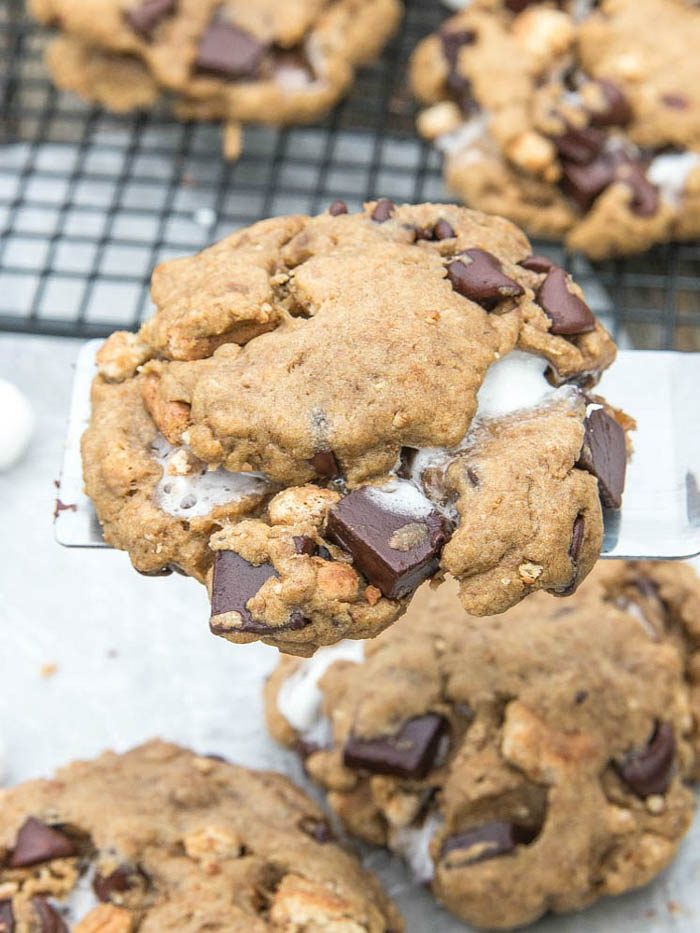 S'Mores Stuffed Cookies
2015-04-12 16:47:54
Ingredients
1¼ cup all purpose flour
1¼ cup whole wheat flour
½ teaspoon salt
1 teaspoon baking soda
½ teaspoon baking powder
8- sheets (about 1 cup) of cinnamon low-fat graham crackers, depending on crumb size
1½ teaspoon ground cinnamon
1/2 cup butter, room temperature
1/2 cup mashed avocado
1/4 cup + 2 tablespoons brown sugar
2 large eggs
1 teaspoon vanilla extract
1 cup semi-sweet chocolate chips
1 cup dark chocolate chunks
2 cups mini marshmallows
Instructions
Mix together both flours, salt, cinnamon, baking soda and baking powder. Set aside.
Break up the graham crackers into small pieces, but NOT into a fine powder.
Cream the butter, avocado, and sugar together until fluffy.
Slowly add the eggs one at a time, then the vanilla.
Slowly add the flour mixture until just incorporated.
Fold in the graham crackers and chocolate chips.
Take a tablespoon of the cookie and create a small indentation.
Stuff 4 - 5- mini marshmallows into the indentation. Top with another ⅔ tablespoon of cookie dough and press together covering some of the marshmallows. Repeat with the remaining dough and marshmallows.
Place the cookies on a baking sheet and cover with plastic wrap and chill in the refrigerator overnight, up to three days.
Preheat the oven to 350 degrees.
Uncover the cookies and bake for 15 minutes or until a light golden brown.
Use a spatula to immediately remove the cookies to cool on a wire rack. For the best results, place the cookies near a fan to cool them quickly.
Serve immediately or store in an airtight container and enjoy within 24 hours.
Adapted from A Cookie Named Desire
Adapted from A Cookie Named Desire
Fitness Food Diva https://fitnessfooddiva.com/

My Latest Videos