Valentine's Day is almost here and handing out Valentine's to our little sugars is such a fun tradition, but what about giving out these adorable Sweetheart Shortbread Cookies dipped in White Chocolate to that special guy or gal. These Shortbread Cookies are so light and flakey, but dipping them into a warm decadent white chocolate will make your hearts go pitter patter.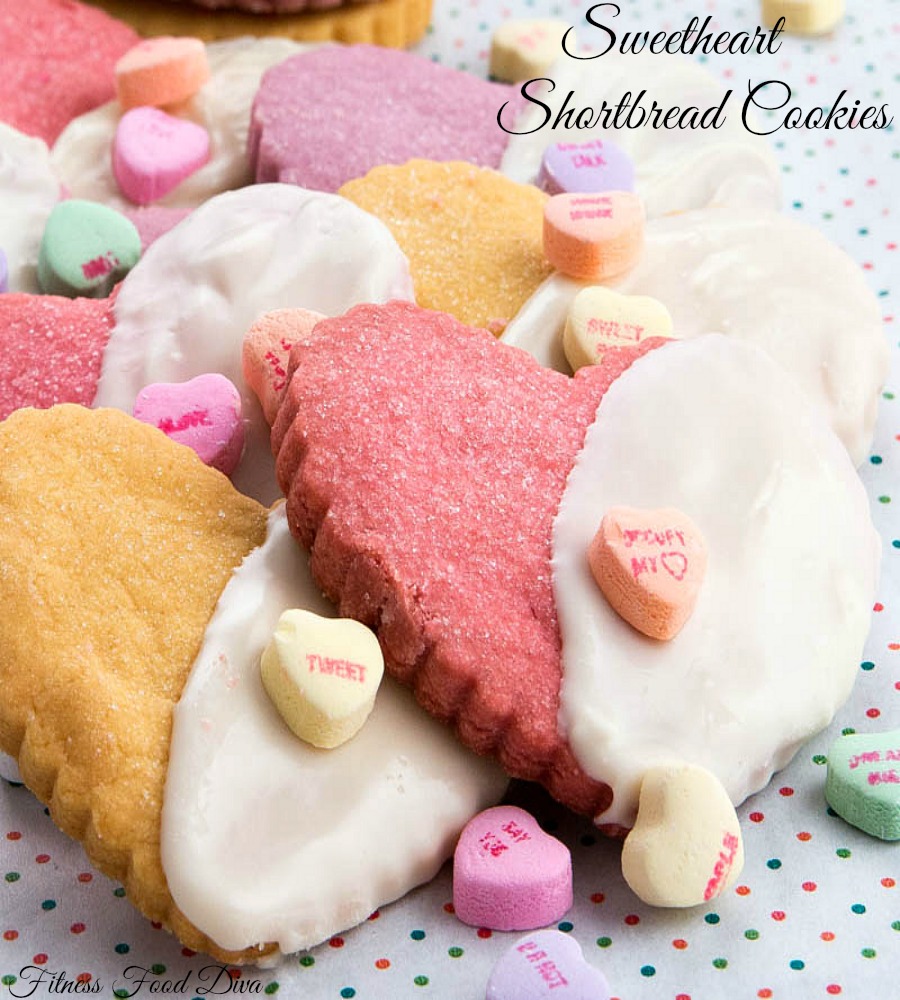 I always remember growing up and getting to have a Valentine's Day party at school and passing out Valentine's Day cards to all my friends along with fun sweetheart candies that would say something like "BFF" or "Call Me!" (wink wink). Now all we have to do is send a text and we miss out on the excitement of the sweet holiday of love. Sweetheart Shortbread Cookies are such a fun way to say "LOL," "Tweet Me," or "Hot Stuff." Sweetheart Shortbread Cookies are made with six simple ingredients are so fun to make. I know these don't fall under the "skinny" or "low fat" category, but we can't deprive ourselves some of the yumminess of life. All things in moderation, so show a little control and eat one or two of these Sweetheart Shortbread Cookies dipped in heavenly White Chocolate you won't be sorry you did and your someone special will sure LOVE you for thinking of them.
Sweetheart Shortbread Cookies Dipped in white Chocolate
2015-02-01 22:54:46
A light and flaky cookie drizzled in decedent white chocolate
Ingredients
1-1/2-cups unsalted butter, at room temperature
1-cup sugar, plus extra for sprinkling
1-Tablespoon vanilla
3-1/2-cups flour
1/4-teaspoon salt
6-7-ounces of good white chocolate (or dark)
1-bag of sweetheart candies
Food coloring of choice
Cookie Cutters
Lets Mix
Preheat over to 350 degrees
In a bowl, mix butter and sugar together until combined, then add vanilla.
In a separate bowl mix the flour and salt together, then add to the butter/sugar mixture.
Mix on low speed until the dough starts to come together.
Separate dough into 4 different balls, and with food coloring mix in until the desired color of choice. (it takes a little time to knead in the food coloring).
Then take each ball and wrap in plastic and place in the refrigerator for 30 minutes to firm.
Roll dough out onto floured surface and cut out desired shapes.
Place the cookies on a ungreased cookie sheet and sprinkle with sugar.
Bake for 20 minutes (don't over bake).
Let cookies cool and melt chocolate in microwave or double boiler until smooth.
Take a spoon and drip half of the cookie with chocolate, place on parchment paper add your sweetheart candies and let dry. Enjoy!
Adapted from Ina Garten-Barefoot Contessa
Adapted from Ina Garten-Barefoot Contessa
Fitness Food Diva https://fitnessfooddiva.com/

My Latest Videos