Cheddar Waffle BLT Sandwiches are a delicious and fun way to eat a sandwich. The waffle is packed with cheddar cheese and herbs and makes your whole wheat bread a thing of the past. Cheddar Waffle BLT Sandwiches are a perfect way to eat your bacon, lettuce, and tomato while stacked between mouthwatering waffles.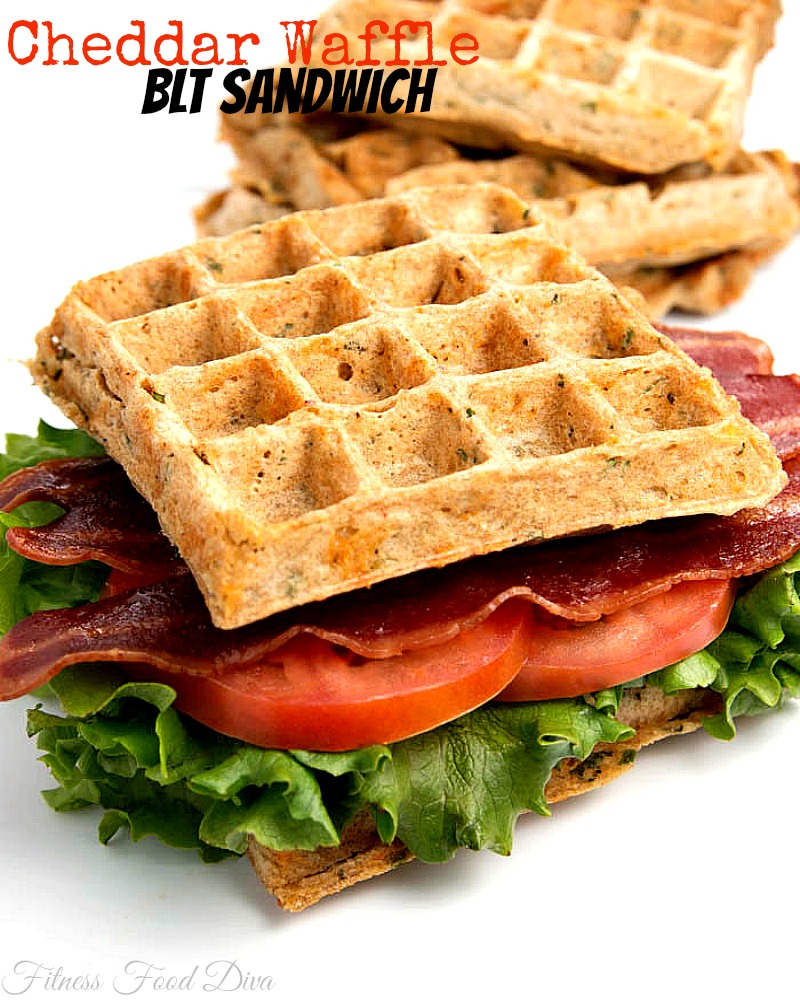 Cheddar Waffle BLT Sandwiches are a fun way to change up the regular sandwich. The waffle is made from whole wheat flour and is full of cheddar cheese and aromatic herbs making this waffle different from what you have for breakfast, but still taste amazing. I love sinking my teeth into the soft, but lightly toasted waffle that leads right to the crisp turkey bacon and lettuce all the way down to the tomatoes and the honey mustard which adds just the right amount of tang bite after bite.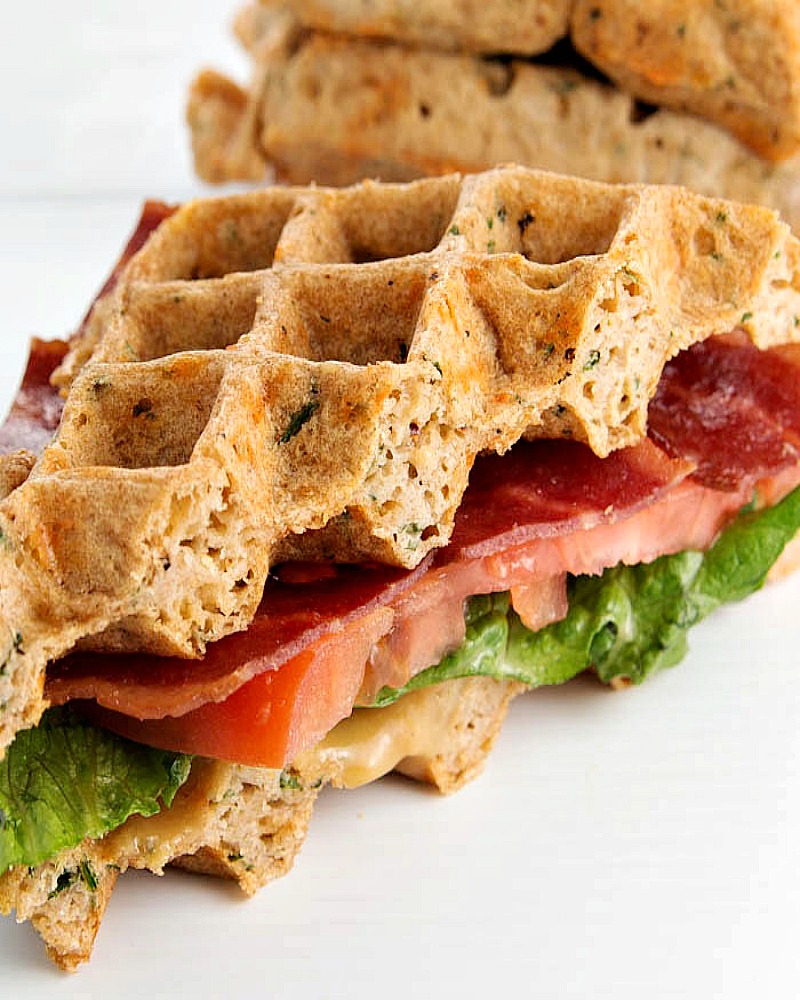 I made these Cheddar Waffle BLT Sandwiches a couple of weeks ago and had my husband close his eyes and take a bite, just to see his reaction. It is amazing what someones sense of smell can express to them when they cannot see what they are eating. To my pleasant surprise my husband loved it! His first response was how good the Cheddar Waffle smelled and little did he know there was still the BLT to really knock his socks off. Another way you could add more protein to these Cheddar Waffle BLT Sandwiches is by poaching an egg and putting it right between one of the layers, you could call that a "manwhich." These are so easy to make and it is amazing how fun two food groups come together in holy matrimony like this Cheddar Waffle BLT Sandwich. xoxo
Cheddar Waffle BLT Sandwich
2015-03-01 21:32:34
Serves 4
A fun and simple way to eat your breakfast and dinner too!
Ingredients
8-slices bacon (I used Turkey bacon)
1 1/2- cups whole wheat flour
2-teaspoons baking powder
1/2-teaspoon kosher salt
Pepper
1 1/2 cups-unsweetened almond milk (any milk will work)
1 egg (plus 4 more if you want to add an egg to the sandwich)
5 - 6-ounces sharp cheddar, grated (about 1 1/2 cups)
1/4-cup chopped fresh herbs, such as tarragon, parsley and chives
Honey mustard
Romaine lettuce leaves
Sliced tomatoes
Cooking spray
Instructions
Preheat the oven to 375 degrees.
Arrange the bacon on a broiler pan and bake until crisp, about 15 minutes. Remove the bacon and reduce the oven temperature to 200 degrees.
Preheat a waffle iron to high.
In a large bowl, whisk the flour, baking powder, kosher salt and few grinds of black pepper. In a medium bowl, whisk the milk, 1/3 cup melted butter and 1 egg. Add the milk mixture to the flour mixture and stir just to combine.
Stir in the cheese and herbs.
Spay the waffle iron with cooking spray and spoon in about half of the batter. Close and cook until the waffle is browned and crisp.
Transfer the waffle to a plate and keep warm in the oven. Make another waffle with the remaining batter. Quarter the two waffles, creating 8 smaller waffles.
Slather 4 of the waffles with the honey mustard. Top with the bacon, lettuce and tomato. If you're really hungry, add an over-easy egg to each sandwich.
Adapted from Everyday With Rachel Ray
Adapted from Everyday With Rachel Ray
Fitness Food Diva https://fitnessfooddiva.com/

My Latest Videos