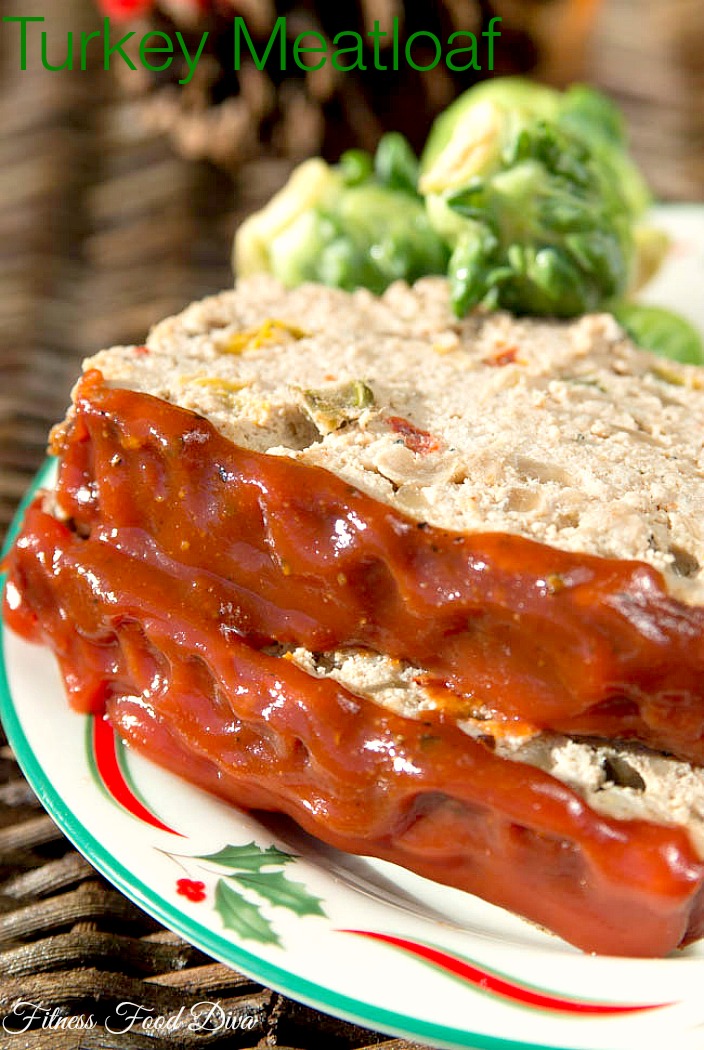 Meatloaf.. and I am not talking about the singer, is one of those confusing and funny named foods that makes you go hmm…and ask, "what is MEATLOAF?" Well let me tell you, traditional meatloaf is ground beef mixed with certain fillers and baked in a loaf pan. This Turkey Meatloaf is going to be a welcomed spin on the traditional meatloaf we are all use to. No bread crumb fillers, just onions, pepper, garlic, and spices to make every bite full of flavor. You will love how easy Turkey Meatloaf is to make and how moist and delicious it turns out. The added touch to Turkey Meatloaf is the ketchup and BBQ sauce mixture baked on top, and let's face it, who doesn't like a little sauce? I love using a spicy BBQ sauce to add that extra kick.
I first made this for my family while over at Lake Chelan, WA, on a long weekend vacation. We always take turns cooking and my night to cook I made Turkey Meatloaf, which was a fit-fabulous hit with my family. They all commented on how flavorful it was. Packed with lean protein, veggies, and finger licking sauce, Turkey Meatloaf will solve the on going question of what meatloaf really is!
Turkey Meatloaf
2014-11-30 02:11:10
Serves 24
Full of flavor, this comfort food will surly please.
Ingredients
1-12oz package frozen chopped onions and peppers
1/2-additional onion chopped
3-lbs lean ground turkey
1-teaspoon salt
1-teaspoon pepper
1/2-teaspoon dried thyme
3-tablespoon minced garlic
1/4-cup low sodium soy sauce
3/4-cup low sodium chicken broth
3-tablespoons tomato paste
1-cup QUICK cook oats
4-egg whites
1-cup reduced sugar ketchup
1-cup favorite BBQ sauce
Lets Cook
Preheat oven to 325 degrees.
Prep a 9x13 pyrex dish with non-stick cooking spray, set aside.
In a large saute' pan, cook the onions and peppers with salt, pepper, thyme, and garlic until onions are translucent (about 5minutes).
Add soy sauce, chicken broth, and tomato paste and cook until heated through. Set aside.
In large bowl combine turkey, quick cooking oats, egg whites, and saute' mixture (with all the liquid, don's drain).
Mix by hand until all ingredients are incorporated, and press flat into 9x13 Pyrex dish.
Mix ketchup and BBQ sauce together and layer on top of prepared turkey.
Place in oven and cook for 1hour 20minutes. Enjoy! xoxo
Adapted from Jamie Eason, bodybuilding.com
Adapted from Jamie Eason, bodybuilding.com
Fitness Food Diva https://fitnessfooddiva.com/
xoxo

My Latest Videos