Just one more reason to celebrate Summer is with this savory Grilled Salmon with Bacon and Corn Relish. Bursting with color and exuding amazing flavors this recipe is going to be a fish derby winner.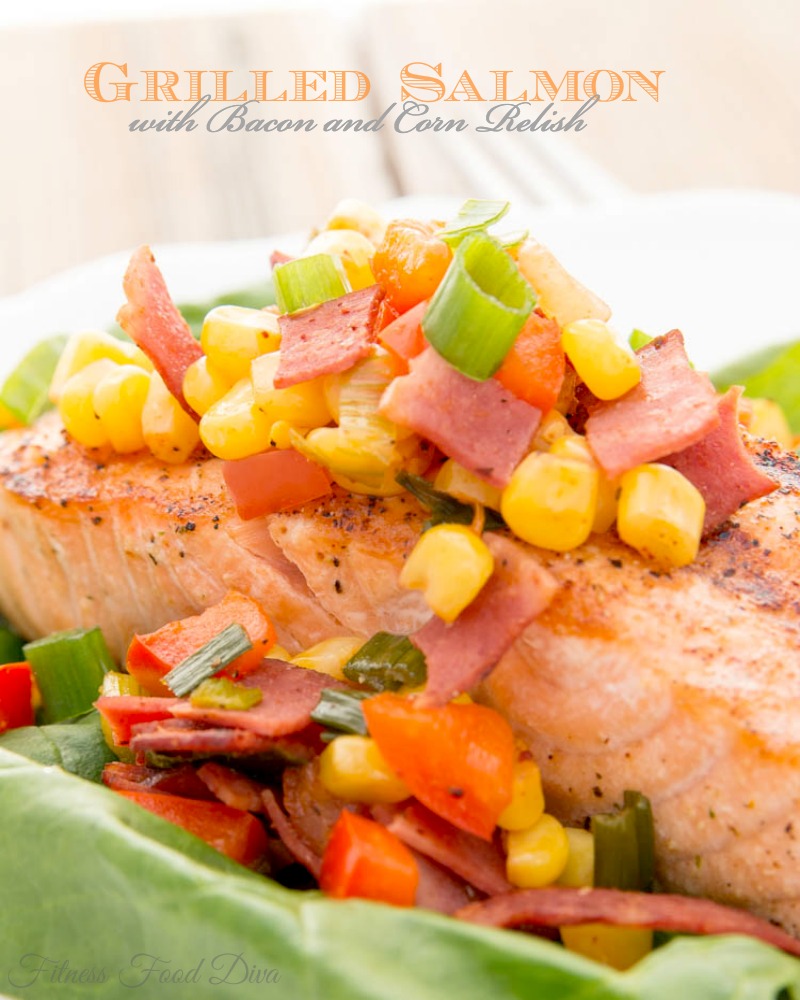 Salmon is one of my favorite fish and the beauty of living in the Pacific Northwest is that we get a lot of fresh fish so I couldn't pass up the opportunity to try this recipe out. The simplicity of it and all the different ingredients really got my eye. Let's face it, I can't pass on bacon. This Grilled Salmon with Bacon and Corn Relish may sound complex, but really is easy and doesn't take much time at all. Once the relish is made all you have to do is grill your salmon, assemble it and your meal is at the table hot and delicious and ready to eat.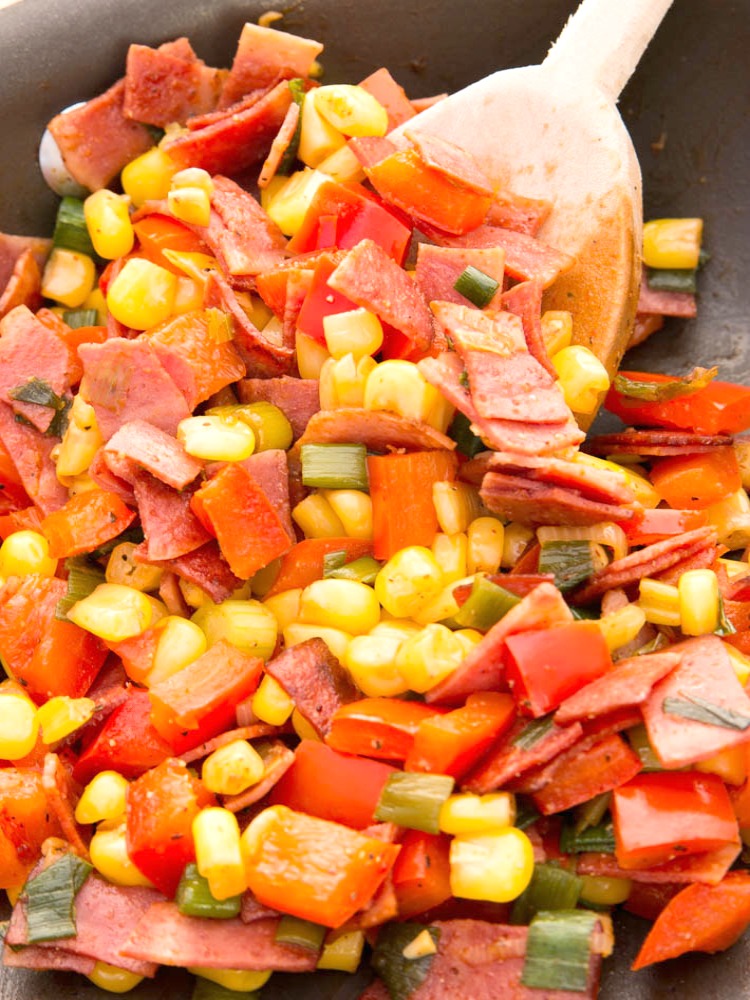 There is something about grilled salmon that just tastes so fresh and healthy and on a warm summer night with the breeze gently blowing and the sun starting to set, this Grilled Salmon with Bacon and Corn Relish is the perfect ending to a beautiful day. Each bite is moist and tender (as long as you don't over cook the salmon) and just the perfect combination of sweet and spicy.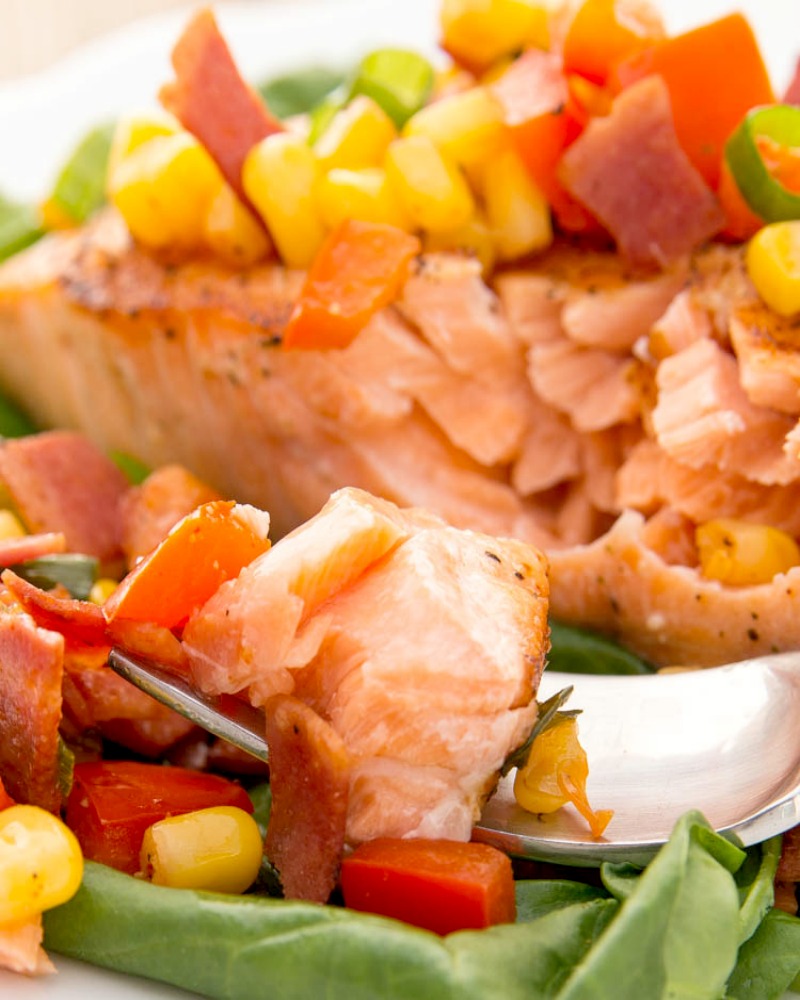 So if you want to explore the succulent side of salmon, and have a healthy meal that is easy to prepare, fast to make, and delicious to the taste, then I would highly recommend this Grilled Salmon with Bacon and Corn Relish. xoxo
Grilled Salmon with Bacon and Corn Relish
2015-05-31 18:28:28
Serves 4
A grilled to perfection salmon dish that is topped with an amazing summer relish.
Ingredients
6-slices bacon( i used turkey bacon), cut crosswise into 1/2-inch pieces
1-cup frozen yellow corn, thawed
1/4-cup chopped green onions - white and light green parts separated from green tops
1/4-cup diced red bell pepper, or pepper of your choice
Salt and ground black pepper to taste
1 pinch cayenne pepper, or to taste
1 tablespoon rice vinegar, or more to taste
4-(8 ounce) center-cut boneless salmon fillets
1-pinch cayenne pepper, or to taste
1-cup fresh spinach leaves (optional)
Nonstick cooking spray
Olive oil
Instructions
Preheat an outdoor grill (or grill pan) on high heat and spray with nonstick cooking spray.
Place bacon in a skillet over medium heat and cook until browned and crisp, 8 to 10 minutes.
Stir white and light green parts of green onions into bacon and add red bell pepper; cook and stir until vegetables just start to become tender, about 2 minutes.
Stir corn into bacon mixture and let corn just warm through. Season with salt, black pepper, cayenne pepper, a few chopped dark green onion tops, and rice vinegar.
Turn off heat under relish.
Lightly spread olive oil onto both sides of salmon fillets and season fish with salt, black pepper, and cayenne pepper.
Cook on preheated grill until fish shows good grill marks, the flesh flakes easily, and fish is still slightly pink in the center, about 5 minutes per side. A crack that opens up in the salmon flesh as you cook will let you see how done the salmon is in the middle.
Divide spinach leaves onto 4 plates and top each with a salmon fillet and bacon relish. Sprinkle on a few green onion tops for garnish. Enjoy!
Adapted from Allrecipes.com
Adapted from Allrecipes.com
Fitness Food Diva https://fitnessfooddiva.com/

My Latest Videos