Cook up some bacon and mash up some avocados, this Open Faced Salmon and Avocado BLT is going to take your sandwich from ordinary to extraordinary in just one bite.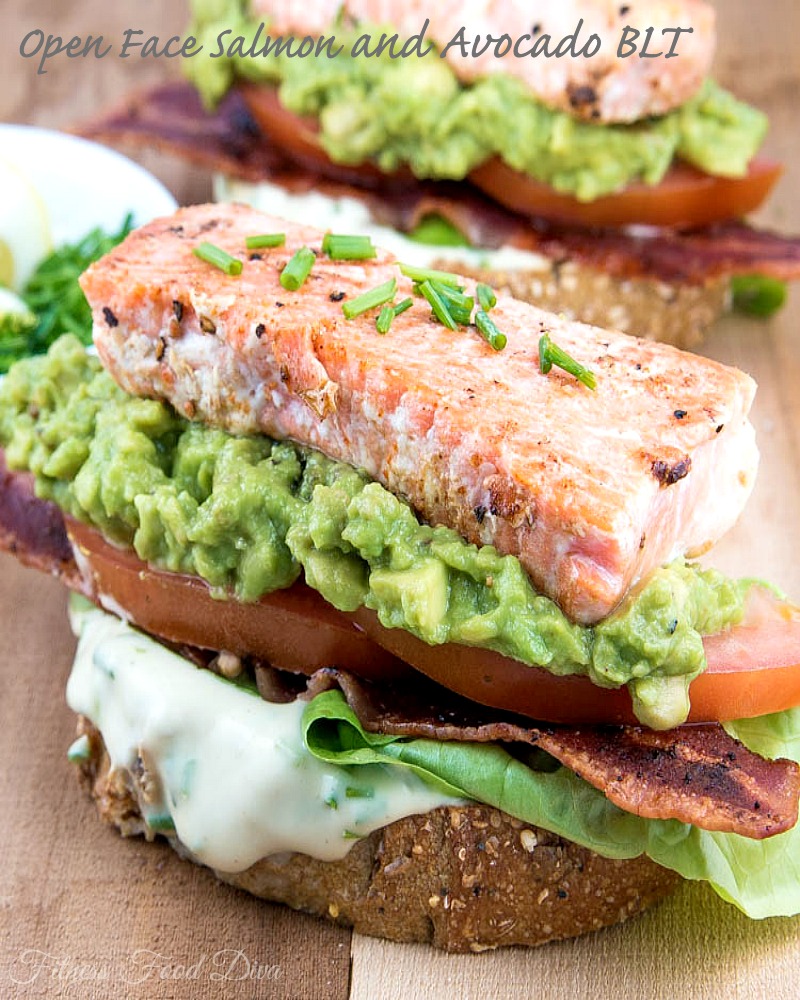 The power of the Omega-3 is all stacked up in this amazing Open Faced Salmon and Avocado BLT. I have to admit living in the Pacific Northwest and having a Dad and Brother who are avid fisherman made making this BLT with fresh caught salmon a must. Each bite was just a good if not better than the first. The creamy tarter sauce like spread really is the secret layer to this Open Faced Salmon and Avocado BLT, with a kick of dijon and minced chives it really sets the tone for how delicious this sandwich really is. Don't worry this BLT is very easy to make and worth the wait. Cooking the salmon in the same skillet as the bacon drippings really gives it a perfect flavor and help to make a sweet, crisp edge, while keeping it nice and moist on the inside.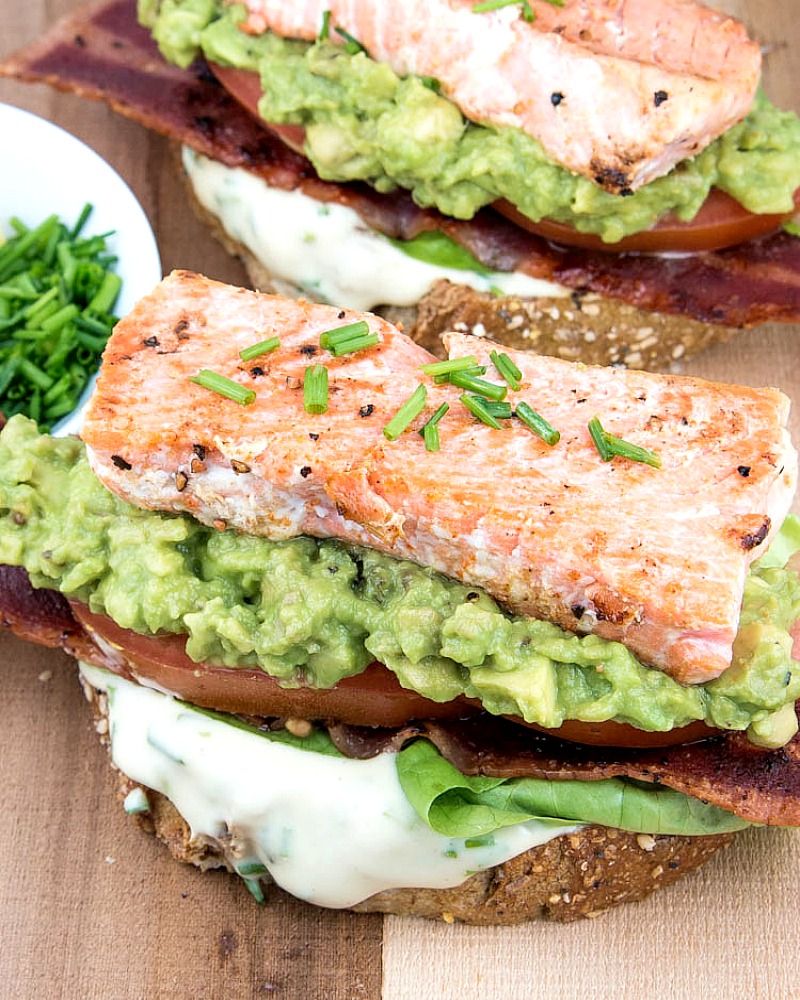 I chose to mash my avocados up to make more of a guacamole feel to it, but you could thinly slice the avocado and lay it on the sandwich too. However you choose to use the avocado, sliced or guacamole style it adds such a smooth and creamy pièce de résistance. Yet nothing says BLT like sizzling bacon and of course I love to use turkey bacon. Cooked nice and crunchy on the outside, but not too cooked that there is still a little tenderness to it. This Open Faced Salmon and Avocado BLT is spectacular and I hope will be the next catch of the day at your dinner table. xoxo.
Open Faced Salmon and Avocado BLTS
2015-03-25 15:52:41
Serves 4
Turn a piece of salmon into something extraordinary.
Ingredients
4 (1-ounce) slices diagonally cut ciabatta or rustic Italian bread
4 center-cut turkey bacon slices ( or regular bacon)
4 (4-ounce) sustainable salmon fillets, skinned (about 3/4 inch thick)
1/4 cup nayonaise ( or sandwich spread of choice)
2 tablespoons water
1 tablespoon minced fresh chives, divided
1 1/2 teaspoons Dijon mustard
4 Bibb lettuce leaves
4 (1/2-inch-thick) slices tomato, halved
2 avocados mashed
4 lemon wedges
Instructions
Preheat broiler to high.
Arrange bread slices on a baking sheet; broil 1 minute on each side or until toasted.
Cook bacon in a large nonstick skillet over medium heat until crisp. Remove bacon from pan. Add fillets to drippings in pan; cook 4 minutes on each side or until desired degree of doneness.
Combine nayonaise, 2 tablespoons water, 2 teaspoons minced chives, and Dijon mustard in a small bowl, stirring with a whisk. Spread nayonaise mixture evenly over bread slices; top each with 1 lettuce leaf, 1 bacon slice, 1 halved tomato slice, mashed avocado and 1 fish fillet. Sprinkle evenly with remaining 1 teaspoon chives. Serve with lemon wedges.
Adapted from Cooking Light 20 minute Meals
Adapted from Cooking Light 20 minute Meals
Fitness Food Diva https://fitnessfooddiva.com/

My Latest Videos