Don't be fooled by the "devil," Deviled Egg Macaroni Salad lets you enjoy two yummy foods in one.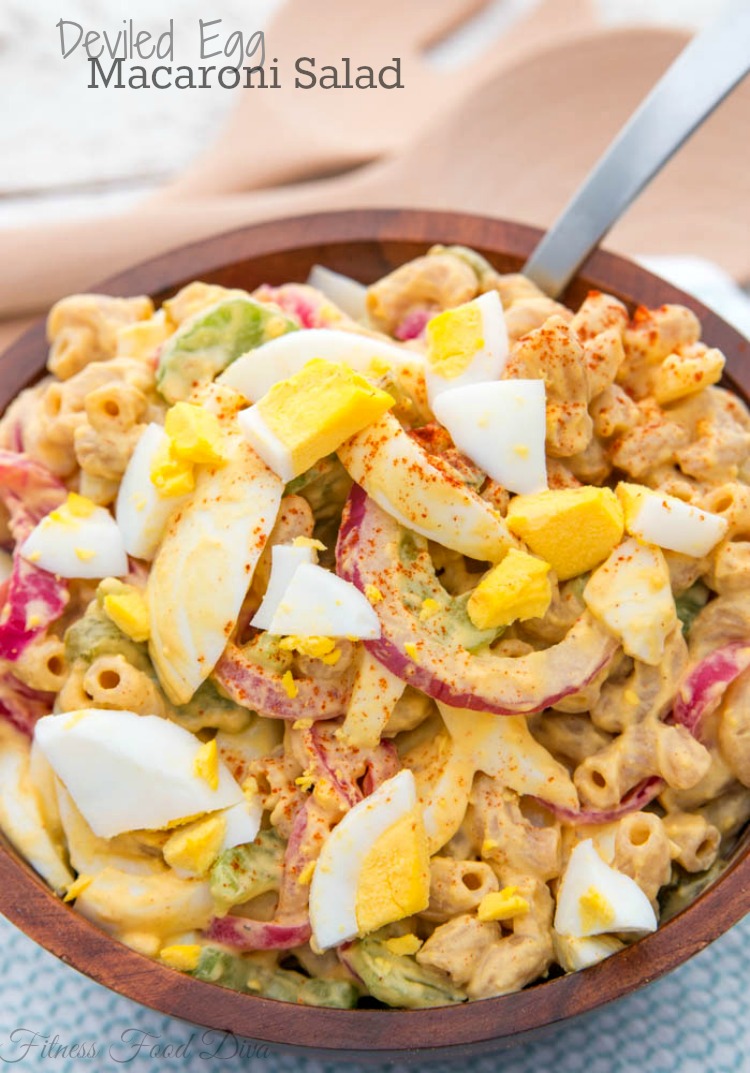 I love when two popular dishes can come together and make one fabulously flavorful dish and all under 30 minutes. How many times have you been to a party, BBQ, or holiday feast to find what sitting on the meticulously decorated table when you arrive? beautifully made deviled eggs and a creamy pasta salad. Well this Deviled Egg Macaroni Salad fuses those two popular party flavors into one amazing dish.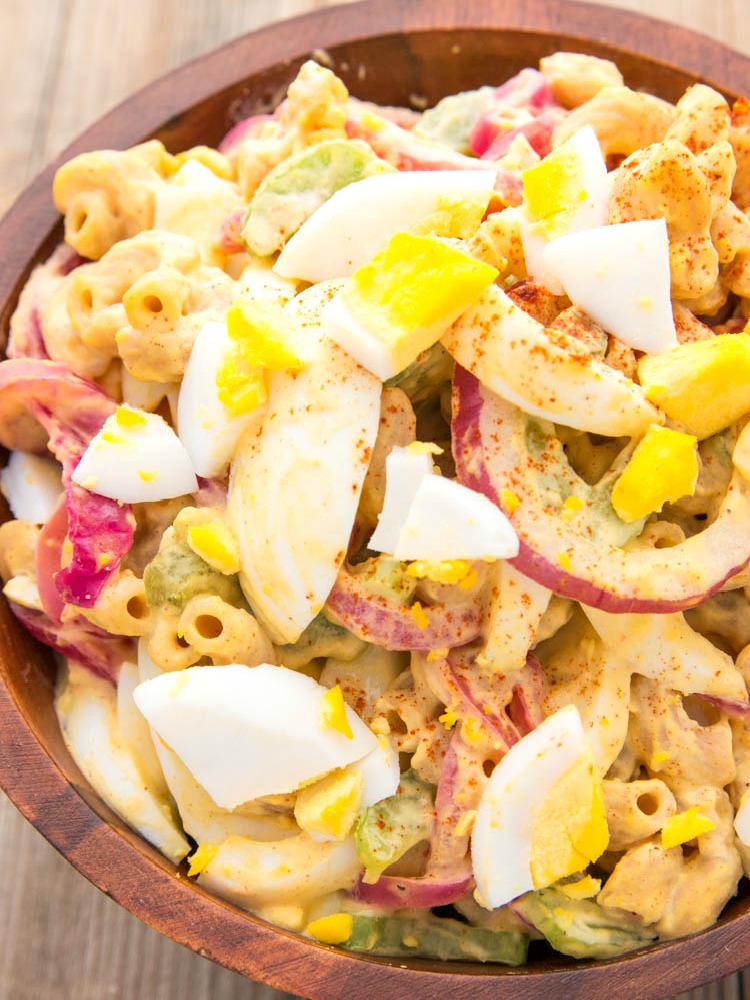 Loaded with all the flavors we love of a decadent deviled egg, but infused with the creaminess of a macaroni salad, making this the perfect match of egg meets pasta. I used whole wheat macaroni pasta and fat free mayonnaise to lighten things up a bit and stick to the healthier side, and it really did turn out phenomenal. Deviled Egg Macaroni Salad is very simple to make and using ready made hard boiled eggs really speeds up the preparatory process making it faster to enjoy.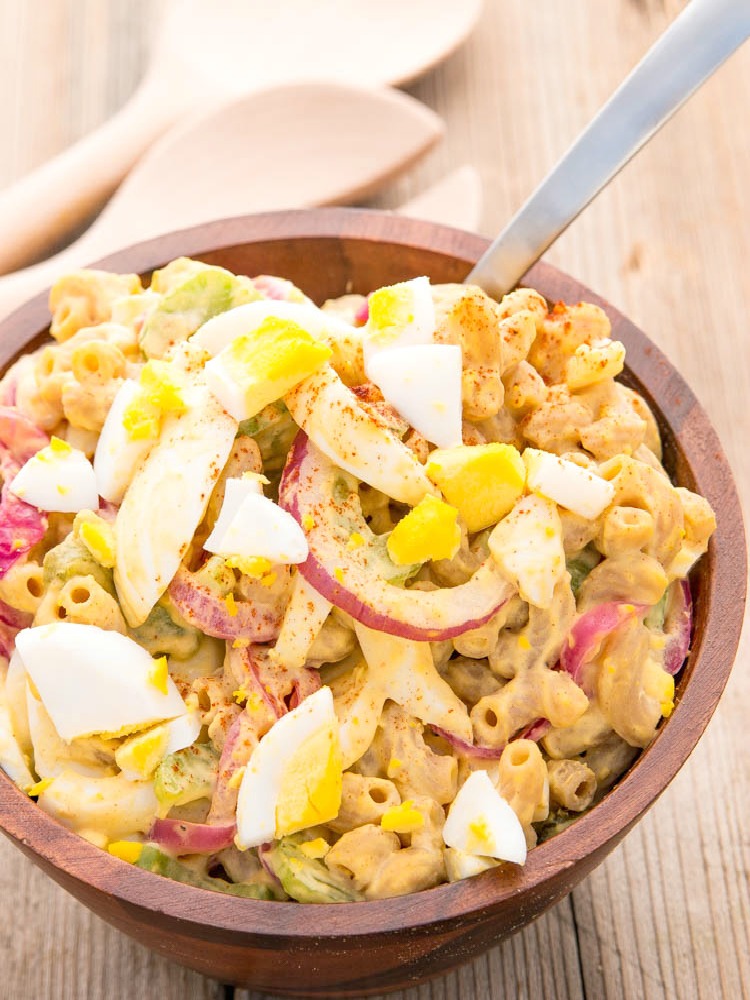 Deviled Egg Macaroni Salad would be a great "new" addition to the standard pasta salads and deviled eggs we all have come to love and expect at parties, backyard cookouts, and holidays. So why not put a little devil into the mix and take this creamy, aromatic, slightly sweet with a little bit of heat, Deviled Egg Macaroni Salad to shake things up at your next soiree!
Deviled Egg Macaroni Salad
2015-06-02 21:53:41
Serves 10
A delicious way to eat your macaroni salad deviled egg style.
Ingredients
1/2 cup thinly sliced red onion
1/4 cup cider vinegar
1/2 teaspoon splenda-sugar blend
8 ounces large elbow macaroni ( I used whole wheat macaroni)
12 hard-cooked eggs (I used 2-15.5oz bags of Egg-lands Best hard cooked boiled eggs)
1/2 cup fat free mayonnaise
3 tablespoons country Dijon-style mustard
1/2 teaspoon salt
1/2 teaspoon smoked paprika
1/4 teaspoon cracked black pepper
1/2 cup chopped sweet pickle
1 1/2 cups very thinly sliced celery
Smoked paprika and/or pepper (optional)
Instructions
In a small saucepan combine onion, vinegar and sugar. Bring to a simmer, stirring occasionally. Remove from heat; set aside.
Meanwhile, cook macaroni according to package directions. Drain and rinse well with cold water; set aside.
Coarsely chop one egg; set aside. Halve remaining eggs; separate yolks from whites. Coarsely chop egg whites; set aside.
For dressing
Place yolks in a medium bowl; mash with a fork. Add mayonnaise, mustard, and onion and vinegar mixture. Gradually stir in 2 Tbsp. water, salt, paprika, and pepper. Set aside.
In a large bowl combine the egg whites, pickles, celery, macaroni, and dressing; toss to combine. Top with reserved egg; sprinkle with additional smoked paprika and pepper. Serve at once or cover and chill up to 6 hours. Enjoy!
Adapted from Better Homes and Garden
Adapted from Better Homes and Garden
Fitness Food Diva https://fitnessfooddiva.com/

My Latest Videos