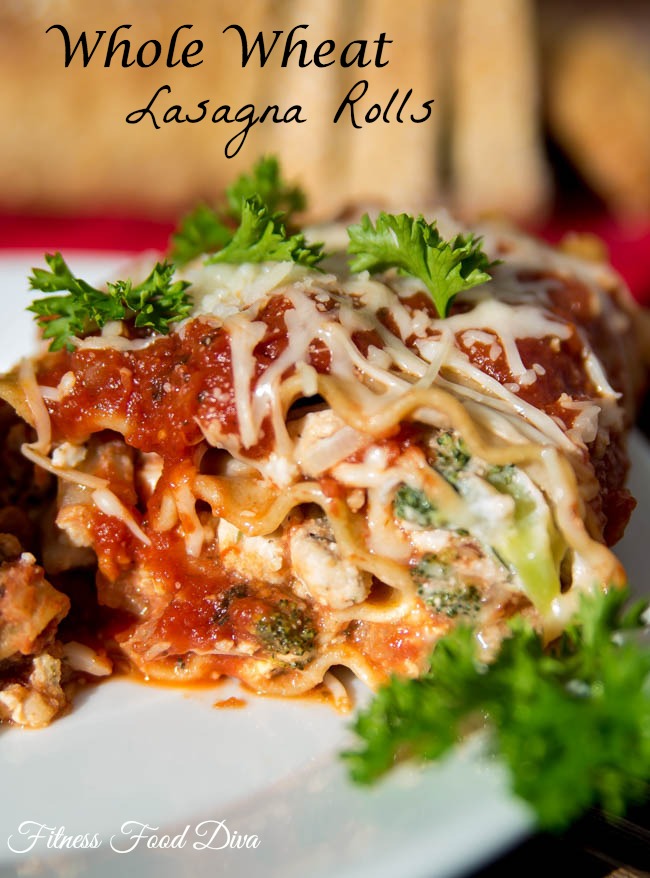 Rolling, rolling, rolling, look whats rolling in for dinner tonight! Whole Wheat Lasagna Rolls. Whole Wheat Lasagna Rolls are a fun and easy way to change the pace of the traditional lasagna we all know and love. These Whole Wheat Lasagna Rolls were made with extra lean ground turkey, packing it full of lean protein. They also have potassium, folic acid and vitamin C, from the broccoli, which are only a few of its health benefits. Using whole wheat noodles makes eating carbs that much better. Each bite is so creamy with ricotta cheese, while the wafting smell of turkey, cheese and thyme busts into flavor once it hits your mouth.
I was always asked by my family to make lasagna for our get togethers or for my nephews birthday's, so one day I decided to test out my lasagna recipe and added turkey instead of lean ground beef and whole wheat noodles. To my surprise they loved it. However I think I gave away my secrets with the little smirk I had on my face. It led my oldest nephew to ask the question, what did you do to it Auntie Shannon?" Laughing, I happily told them it was turkey not beef, and whole wheat noodles. Whole Wheat Lasagna Rolls are such a family favorite, why not make it a Fit-Fabulous meal you can indulge in. xoxo
Whole Wheat Lasagna Rolls
2014-11-22 00:20:35
Serves 4
Whole Wheat Lasagna never rolled so good!
Ingredients
1 box whole wheat lasagna (use 4 lasagna noodles for this recipe)
1-lb extra lean ground turkey
1 large onion, chopped
1-cup chopped fresh broccoli
1/4-cup water
1-cup (8oz) reduced-fat ricotta cheese
1-package fat free (or low fat) mozzarella cheese
1-cup parmesan cheese
1/4-cup tomato paste
1 egg, slightly beaten
1-tablespoon fat-free milk
1/2-teaspoon dried thyme leaves
1/4-teaspoon sea salt
2-cups spaghetti sauce (divided)
Lets Cook
Preheat oven to 375 degrees.
Cook noodles according to package directions, rinse and drain.
In a nonstick skillet, cook turkey and onion until turkey is no longer pink.
In a small saucepan, bring broccoli and 1/4-cup of water to a boil. Reduce heat, cover and simmer for 5 minutes until tender, drain.
Add the broccoli, ricotta cheese, milk, tomato paste, thyme and salt to the turkey mix and combine.
Spread mixture over each noodle, and then spread 1/4-cup spaghetti sauce on top.
Carefully roll up each noodle.
Place them seam side down in a 8-in square baking dish, prepared with nonstick cooking spray.
Drizzle with remaining spaghetti sauce.
sprinkle with non-fat mozzarella cheese.
Cover and bake for 45-50 minutes
Sprinkle with parmesan cheese and enjoy!
Adapted from Taste of Home
Adapted from Taste of Home
Fitness Food Diva https://fitnessfooddiva.com/

My Latest Videos