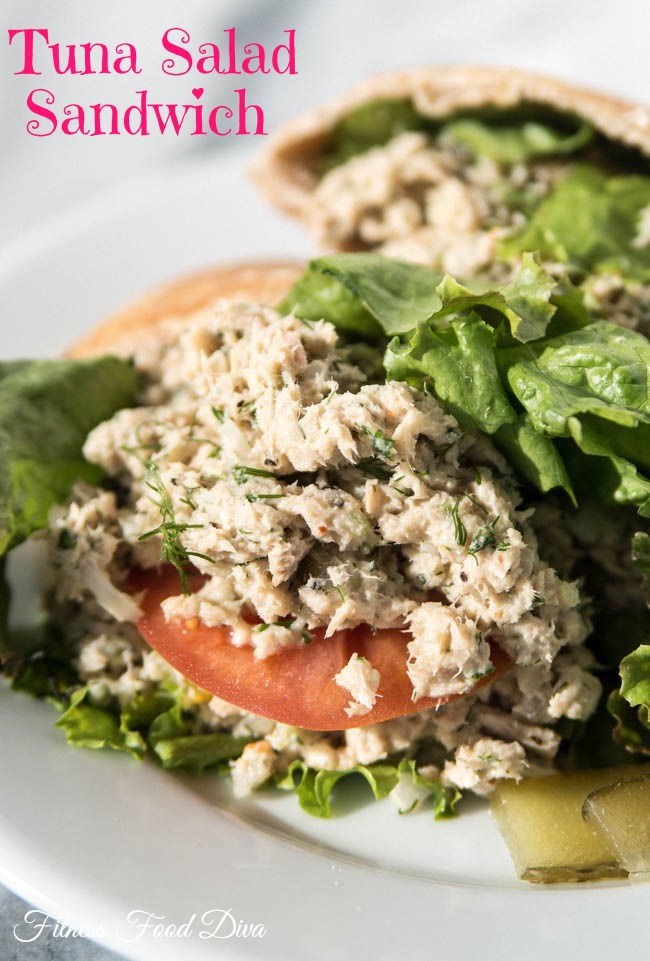 Tuna Salad Sandwiches are one of my favorite things to eat at lunch. They are just the right amount of fuel and protein to get me through my work day. This Tuna Salad sandwich has the perfect amount of tang from the mustard, dill, and yogurt, and a delicious taste of sweet from the pickles. Planning ahead and preparing the Tuna Salad, pita, and sliced tomatoes the night before makes it so easy to just grab and go once I have finished my morning workout and head out to work.
The first time I made this Tuna Salad Sandwich I left it in the refrigerator to eat when I came home from my weekend workout. However, much to my surprise, when I opened the refrigerator, after my workout the Tuna Salad Sandwich was gone. I quickly called out "Justin did you eat my Tuna Salad Sandwich?" His response was "yes, thanks for the delicious treat." So now I always double the recipe so he has a healthy snack to eat during his busy day.
So the next time you need a little midday protein pick me up, think Tuna Salad as a healthy fit-fabulous way to energize your day. xoxo
Tuna Salad Sandwich
2014-11-16 19:26:41
A fit-fabulous tuna salad sandwich
Ingredients
1-package weight watchers whole wheat pita bread ( or pita bread of choice)
17-oz can of water-packed low sodium tuna, rinsed and drained
1/4-cup chopped celery
1/4-cup chopped onion
1/4-cup chopped fresh dill
2-TBSP fresh parsley
1/4-cup nonfat plain yogurt
1/4-cup dijon mustard
4-5-sweet pickles, chopped
pepper to taste
Instructions
combine all ingredients in a mixing bowl
serve on pita bread
(optional): add tomatoes, lettuce and a dollop plain yogurt on top.
Adapted from Bodybuilding.com
Adapted from Bodybuilding.com
Fitness Food Diva https://fitnessfooddiva.com/

My Latest Videos