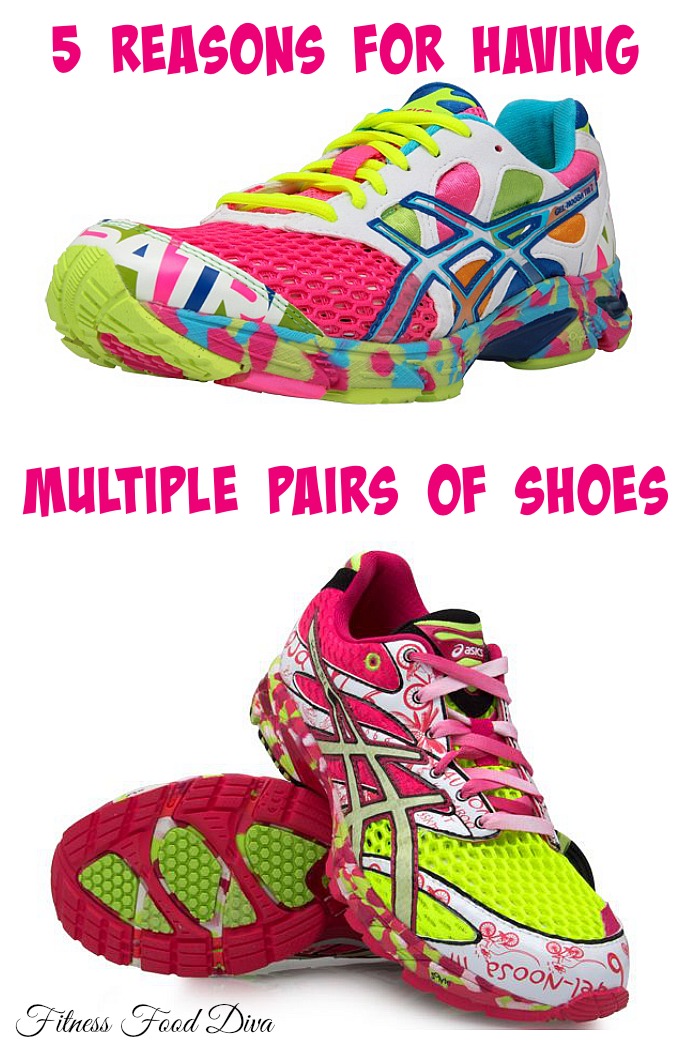 I love shoes, particularly my workout shoes! If you look in my closet you will easily find more running shoes than high-heel shoes! But, honesty, my love of running shoes is a mixture of both function and fashion. Everyone should consider having at least two pairs of their main running/workout shoes that they are actively using at one time. I actually have 3-6 pairs that I am actively using at one time. Now, before you call me crazy, let me explain with my list of reasons for using more than one pair of running/working out shoes. Here are 5 Reasons To Use Multiple Pairs of Running Shoes.
1. Your shoes last longer
Most shoes need to be replaced somewhere between 300-400 miles. Your shoes will last longer as your miles are distributed across more than one pair of shoes.
2. Your shoes provide maximum support for each run
Running and working out may cause your shoes to experience forces that may be 1.5 to 3 times your body weight. Generally speaking, your shoes will require between 24 and 48 hours for the shoe cushion to return back to their original state. Wearing the same pair of shoes for each run does not allow the foam in your shoes ample time to decompress and return to their original state. Shoes need "recover time" too! 🙂
3. Reduced Injury Risk
A recent study conducted in Luxembourg gathered information on athletes that trained using the same shoe as compared to athletes training in more than one pair and style of shoe during their training! The RESULT?
The group that rotated more than one pair of shoes and style of shoes reduced their risk of running related injury by 39%!!!!!
4. Wear different types for different runs
Not all shoes are created equal. If you are going to have multiple pairs of shoes, have a pair of shoes for specific runs or workouts! For example, for faster/shorter runs or aerobics, I use a lighter pair with a little cushion. For longer runs, I select a shoe that provides a little more cushion.
For example, I have been running now for over 15 years and my favorite shoe of all time is the ASICS Women's GEL-Noosa Tri Running Shoe. This shoe is designed for runners who require high performance from their shoe's and want an ease of use as they take part in active workouts. So, I usually have 3-6 pairs of these that I use for my faster and shorter distance runs. For my longer runs, I use ASICS Women's GT 2000. These are great shoes too and I love wearing them. Can you tell I love ASICS running shoes?
5. There is no increase in cost (and may be a savings!)
Think about it! Whether you buy one pair now and then replace them after they are "worn out" as compared to buying multiple pairs of shoes at the same time, your cost is the same. Remember, shoes usually should be replaced every 300-350 miles. Hence, with using only one pair you will be replacing the worn out pair more often. With multiple paris of shoes, you are able to extend the amount of time between buying shoes. For example, let's assume you are running 30 miles per week. Assume now you are only using one pair of shoes. At this pace, you would be need to replace the pair of shoes every 3 months (360 total miles). In one year you would have purchased a total of 4 pair of shoes. Now, assume you are using two pairs of running shoes that you are actively using and rotating each time you run. At the same pace of 30 miles per week, you would be replacing these two pair of shoes at the end of 6 months (360 total miles on each pair of shoe). See, the math is simple and you can even take advantage of all the half yearly SALES!!!! YIPPEE! I try and take advantage of half yearly sales by timing may purchases with these sales. I usually can save up to $40 per pair of shoes!