The soup is on! The nights are getting cooler and this creamy and flavorful Potato Soup is just what you need to heat up the night.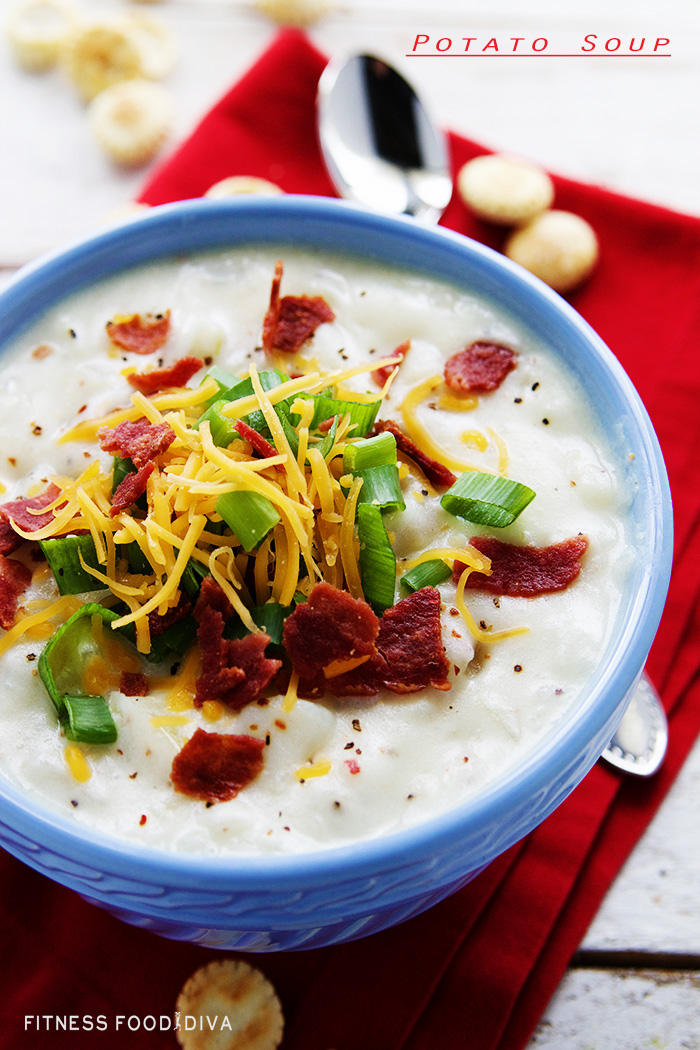 One of my favorite things about the cooler days and nights, well I should say the only thing I like about the cooler weather, who am I trying to kid, is all the soup options there are to make. Not to mention how easy some of the best soups can be. This Potato Soup is exactly the kind of soup that is fast and easy to make and the result is a creamy, heart warming soup that tastes amazing.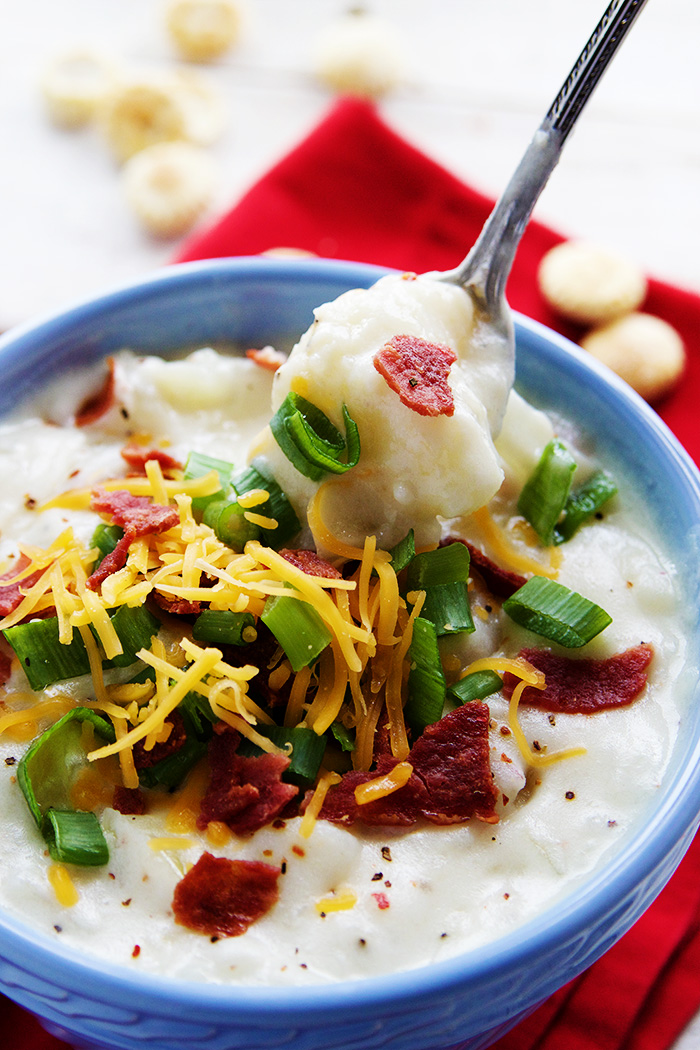 In just 30 minutes you can have this Potato Soup go from ingredients to a meal that your whole family will enjoy. I made this last weekend after we went to my nephews football game and served it up with some whole wheat rolls to dip in and devour. A fun way to serve it would be in some warm sourdough bowls, mmmm. It was so good, and just the perfect thing to warm our insides after sitting on the cold bleachers for 4 quarters. Hey, I am not complaining just stating the facts, those bleachers don't do much for the rear end. I love to watch my nephews play!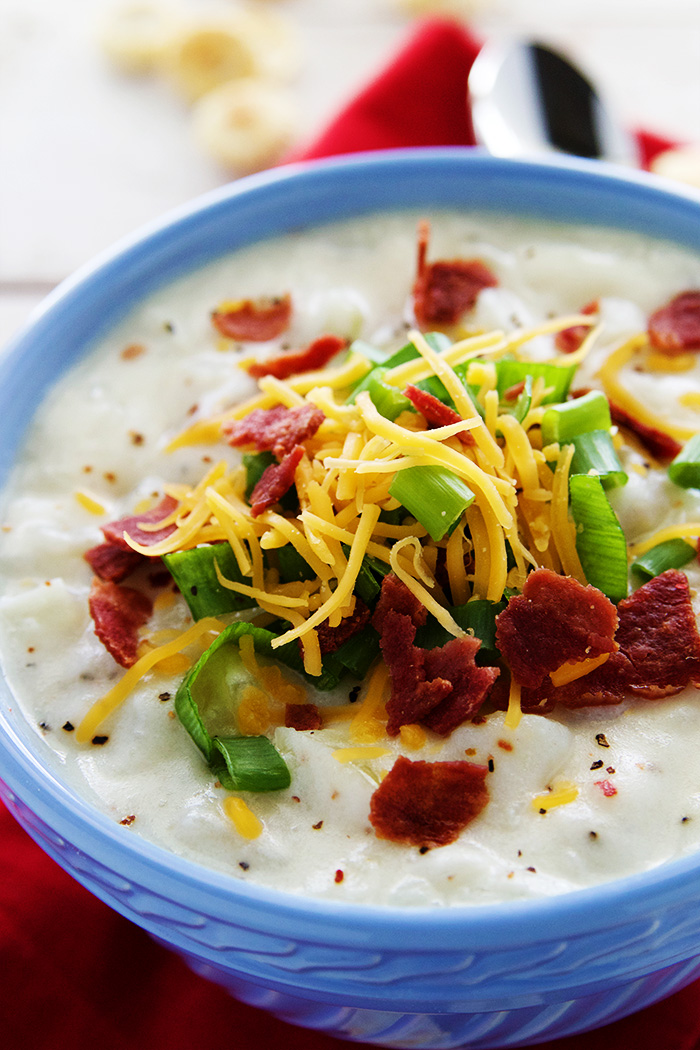 Potato Soup isn't overdone with tons of spices and ingredients, it has the perfect amount of flavor, especially with the bacon cumbles on top. It would make a great base for clam chowder, just throw in some fresh clams and you have two soups in one. So gather your family around the table, play some games and start to warm up those cold nights with a delicious bowl of creamy Potato Soup. xoxo.
Potato Soup
2015-09-27 22:56:21
Serves 4
A creamy delicious low fat potato soup, ready in 30 minutes.
Ingredients
4 (6-ounce) red potatoes
2 teaspoons olive oil
1/2 cup chopped onion
1 1/4 cups fat-free, lower-sodium chicken broth
3 tablespoons all-purpose flour
2 cups 1% low-fat milk, divided
1/4 cup reduced-fat sour cream
1/2 teaspoon salt
1/4 teaspoon freshly ground black pepper
3 turkey bacon slices, cooked and crumbled
1.5 ounces cheddar cheese fat free, shredded (about 1/3 cup)
4 teaspoons thinly sliced green onions
Instructions
1. Pierce potatoes with a fork. Microwave on HIGH 13 minutes or until tender. Cut in half; cool slightly.
2. While potatoes cook, heat oil in a saucepan over medium-high heat. Add onion; sauté 3 minutes. Add broth. Combine flour and 1/2 cup milk; add to pan with 1 1/2 cups milk. Bring to a boil; stir often. Cook 1 minute. Remove from heat; stir in sour cream, salt, and pepper.
3. Arrange bacon on a paper towel on a microwave-safe plate. Cover with a paper towel; microwave on HIGH for 4 minutes. Crumble bacon.
4. Discard potato skins. Coarsely mash potatoes into soup. Top with cheese, green onions, and bacon.
Adapted from MyRecipes.com
Adapted from MyRecipes.com
Fitness Food Diva https://fitnessfooddiva.com/

My Latest Videos