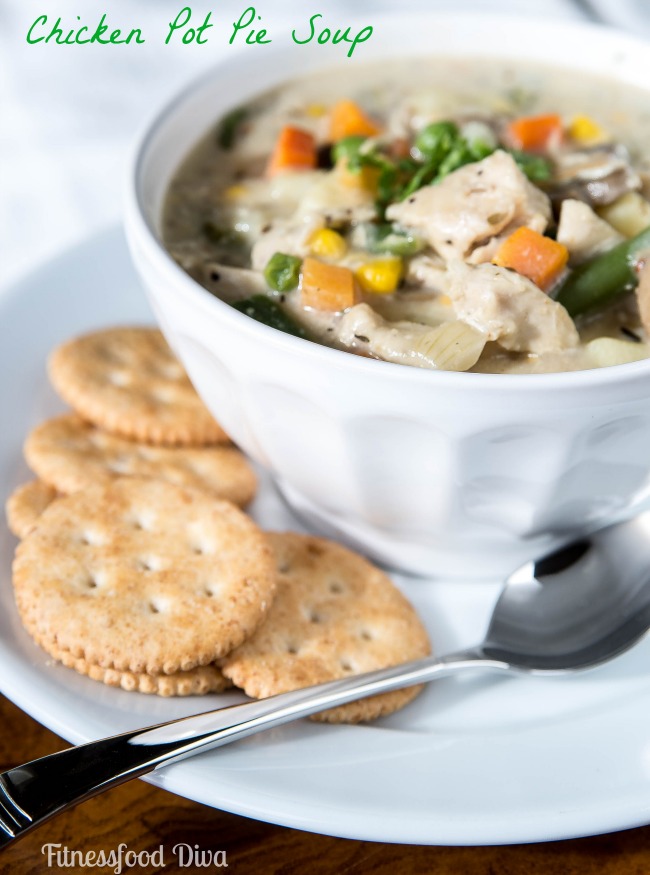 Chicken pot pie soup for the soul! Fall has fall-in, and nothing is better than a healthy delicious soup to cozy up next to the fire (or even watching football). This soup is bursting with flavor, yet packed with protein and fiber. Each bite of creamy goodness will leave you wanting more. I made this soup for my husband's family in Utah on a beautiful sunny day and they gobbled it up. I knew this recipe was a winner when my brother-in-law finished his bowl and looked up and asked "this is healthy?" Having to laugh at his comment, I told him he was going to be fit and fabulous in no time.
Chicken Pot Pie Soup
2014-11-02 22:55:43
Serves 8
Chicken Pot Pie Soup
Ingredients
cornstarch
2 cups water
4 cups Fat Free milk
1 large onion-chopped
1 large celery stalk-chopped
8oz sliced portabella mushrooms
3 chicken bouillons
Fresh ground pepper -to taste( I like seasoned pepper)
2 tsp thyme
10oz frozen mixed vegetables ( peas, carrots, beans, corn)
2 medium sweet pototoes, peeled and cubed
4-5 chicken cooked chicken breast, or 1 package chicken tenders
1 tsp stevia
Lets Cook
Put chicken in large pot, cover with water and add the chicken bouillon. Boil chicken until cooked about 15 minutes. Remove chicken and reserve 1-1/2 cups of water.
Place the 1-1/2cups water back in the pot and add 4 cups of Fat Free milk and bring to a boil.
Add: celery, onion, mushrooms, thyme, sweet potatoes, pepper, and frozen vegetables, return to a boil. Partially cover and simmer until vegetables and pototoes are soft.
Add Chicken and stevia and bring back to a boil, whisk in cornstarch while boiling to thicken soup as desired.
adjust pepper and thyme to taste.
Notes
A fit-fabulous twist on chicken pot pie!
Adapted from Skinnytaste
Adapted from Skinnytaste
Fitness Food Diva https://fitnessfooddiva.com/

My Latest Videos